Halloween Witch's Finger Cookies Recipe for Your Halloween Party or Bake Sale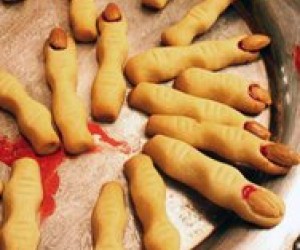 Every year a mom at our school makes these fabulous Halloween cookies and I've always wanted to try them myself. They're such a simple, clever idea and I love that they're not overly sweet with lots frosting like most theme cookies are. Feel free to improvise on the recipe. Some people add a little green food coloring or paint the fingernails. You can also add red gel to the "severed" ends or put some strawberry jam under the fingernails. Get creative.

Halloween Witch's Finger Cookie Recipe
1 cup butter, softened
1 cup confectioners' sugar
1 egg
1 teaspoon almond extract
1 teaspoon vanilla extract
2 2/3 cups all-purpose flour
1 teaspoon baking powder
1 teaspoon salt
3/4 cup blanched almonds
Combine first five ingredients. Beat on medium speed until well combined. Add the remaining ingredients except the nuts, and mix on low speed just until incorporated.
Wrap the dough in plastic, and chill 20 to 30 minutes.
Preheat oven to 350 degrees.
Work with one heaping teaspoon at a time, on a lightly floured surface or on wax paper, roll each piece back and forth like play dough into long skinny finger shapes, 3 to 4 inches long. Pinch dough in two places to form knuckles. Score each knuckle lightly with the back of a small knife to make knuckle wrinkles. Push almond nails onto finger tips.
Transfer fingers to greased baking sheet.
Bake until lightly browned, about 20 minutes.
Sign up for our FREE newsletters to get posts like this delivered to your inbox.
This post originally published in October 2009.