8 Indoor Sports Programs for Long Island Kids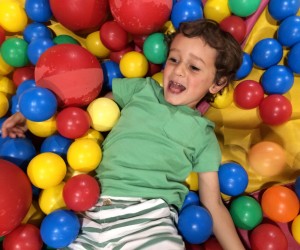 As the weather gets cooler and activities turn indoors, there's no reason kids have to stop playing the sports they've grown to love--or are expressing an interest in trying out. Luckily, there are a few places across Long Island that offers children the chance to stay active no matter what the weather is like outside. These complexes offer indoor sports facilities that cater to leagues for little ones, clinics, birthday parties and more. And for more extra-curricular activities, check out our Long Island Classes Guide.
Long Island Sports Complex
103 Mill Road, Freeport
516-546-0900
Camps, clinics, programs and birthday parties are all offered at Long Island Sports Complex. Soccer, baseball, softball, lacrosse, football and gaga are all featured here. Registration is ongoing for Super Soccer Stars and Lil Sluggers. The facility boasts 25,000 square feet of turf fields. The lobby offers a full view of the field, so parents don't have to miss a minute of the action.
Long Island Sports Hub
165 Eileen Way, Syosset
516-364-4000
This sports arena has over 70,000 square feet of indoor play area. It hosts field-based sporting activities, leagues, camps, clinics, events and birthday parties. For little ones, the My Little Athlete multi-sport classes offer three age appropriate programs for ages 18 months to 4 years old.
Ultimate Gaga
575 Underhill Blvd, Syosset
At Ultimate Gaga, classes are offered for toddlers up to second grade. It also offers weekly kids' fitness classes and multi-sport classes for 3-4 year olds and 5-6 year olds. The birthday parties include a variety of activities, including bouncy houses, glow-in-the-dark themes, Zumba and ping pong.
Turf Island Indoor Sports Facility
3573 Maple Court, Oceanside
516-543-4345
Turf Island features two indoor multi-sport fields house in over 20,000 square feet of space. Hitting instruction, football instruction, youth sport and agility classes, Kidnastics, boys and girls lacrosse clinics are all offered here. Sports and gymnastic-themed birthday parties are also held here.
NorthSport Athletic Facility
469 Fort Salonga Road Northport, 11768
631-757-BALL
At NorthSports, age-appropriate multi-sport classes are offered, called Lil Ones, Twos, Threes and Four/Fives. These classes focus on skill building for multiple sports. Boys and girls youth basketball clinics are also offered here. Birthday parties are offered for kids ages 9 and up.
Long Island Sportsplex/Sayville Coastal
246 N Main Street, Sayville
631-244-0400
After-care, holiday and summer camps, Kids FunFit programs and more are offered at The Plex. Happy Feet soccer program, fall basketball clinics, fall and winter session girls field hockey clinics, fall volleyball clinics are currently holding registration at this 18,500 square foot indoor sports facility. Your child's first class is free.
The Sports Arena
620 Middle Country Road, St. James
631-361-9288
A youth basketball league, dek hockey, flag football and roller hockey are all offered at The Sports Arena. It also hosts birthday parties and offers a special needs sports program.
KK Athletics
755 Horseblock Road, Farmingville
631-736-2511
With locations in Farmingville and Brentwood (34,000 square feet), KK Athletics is an indoor soccer complex, offering field rentals, training programs, birthdays, tournaments and leagues. Clinics include skill building, goalkeepers training and technique training. For little ones, the SoccerTots program is run out of KK Athletics as well.