5 Christmas Tree Delivery Services in NYC for Procrastinators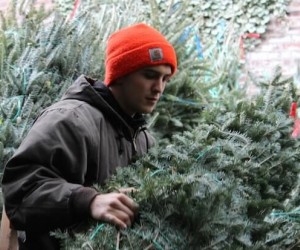 Shopping for a Christmas tree in New York City can be a lovely family holiday tradition—or a messy, last-minute hassle. Think crowded, picked-over sidewalk tree displays, sap-covered hands and aching lower backs from dragging trees home on the subway or around several neighborhood blocks.
Sure, if you plan ahead, a day trip out to a nearby farm with the kids to cut your own tree can be a lot of fun, but now that we're well into December, the clock is running out!
So whether you're a last-minute procrastinator or just prefer the ease of NYC's everything-can-be-delivered culture, a door-to-door tree delivery service might be just right. We've round up five local companies that will deliver that tree right to your door, even on Christmas Eve. There's an East Village collective that ferries its trees to your stoop by cargo bike (of course there is!) and a Brooklyn tree business run by a couple of Mainers that delivers to every borough. Whether you're in Manhattan, Queens or the Bronx, you're really out of excuses for not scoring the perfect tree for the kiddos.
You can order from any of these shops by either phone or online, but we've included locations where applicable in case you want to stop by to pick out a tree in person.
NYC Trees — Online
(908) 318-4220
Owned and operated by two NYC-native brothers, NYC Trees delivers Fraser firs locally grown in New Jersey and will honor orders right up until December 23. With trees ranging from tabletop size to 15-footers, NYC Trees delivers to Manhattan, Queens and Brooklyn but may accommodate special requests outside those zones. Prices, which start at $79 for a tabletop tree, include delivery, installation and a tree stand. For an extra $50, the company will remove your tree once the holidays are over, and bring it to an NYC mulching center.
RELATED: NYC Holiday Activity and Event Guide for Families
SoHo Trees — Manhattan (various locations)
145 6th Avenue
(212) 920-9094
With a varied tree selection including Fraser, Grand, Nordmann and Noble fir and Canadian Balsam, SoHo Trees offers Manhattan delivery and installation starting at $119.95 for a small tree. Want to give the kids that experience of picking out their very own Christmas tree? Drop by one of its seven city locations to ogle the options, but let SoHo deliver it to your door. For the truly time-crunched, SoHo Trees will even decorate your tree. It's taking orders until Christmas Eve. Not in Manhattan? SoHo is typically open to stretching its delivery range a touch.
Tree Riders NYC — East Village
131 East 10th Street
(646) 470-6326
Tree Riders NYC, run by local artists at a pop-up location at St. Mark's Church, offers Fraser, Douglas and Canaan firs with free same-day cargo bike delivery. Come for the bargains: Prices start at $20 for a small tabletop tree and delivery prices can range from as little as $3 for delivery within a block or two to $25 for the Upper West Side, according to a company representative. They've even delivered a few trees to Brooklyn. You can pick out your tree by visiting the East Village location, or order by phone. There's also a tree-removal and sweeping up service for $50.
Christmas Tree Brooklyn — Prospect Heights
184 Underhill Avenue
(347) 474-0079
Christmas Tree Brooklyn, run by a couple of siblings from Maine, is the only service included on this list that offers FREE, same-day delivery to all five NYC boroughs on every tree. Prices overall are on the more reasonable size at this Brooklyn purveyor with Fraser firs starting at $36 for a 3-foot tree. Tree stands and setup cost extra and start at $19.95. In Brooklyn? Take the kids to pick your own tree on-site in Prospect Heights. Out of time? Let the experts choose and just order it online or by phone.
Tyler's Trees — Online
(646) 543-0861
Tyler's Trees delivers Fraser fir trees ranging from five to 13 feet tall, and starting at $139 for a small tree, to all five boroughs. Prices include delivery, installation, a tree stand and skirt. Add on a string or two of lights and you may never schlep to that corner stand again! For those who work best under a deadline (who moi?): The last chance to order your tree or wreath for home delivery from Tyler is 11:00am on Christmas Eve. The company also removes trees after the holidays, with prices starting at $50 for a 5-foot tree.
When you're ready to bid your tree farewell but don't feel inclined to spend $50 on tree removal or watch it rot in the sidewalk snowbank, check out Mulchfest Treecycle 2016 for tree recycling locations and times. Bonus: you'll get a chance to watch the wood chippers in action and your kids will be thoroughly entertained (or freaked out). All trees and wreaths, once chipped, are used to mulch trees and plants throughout the city.
Top image: The Maine family that runs Christmas Tree Brooklyn offers same-day service across all five boroughs. Photo provided courtesy of the venue.