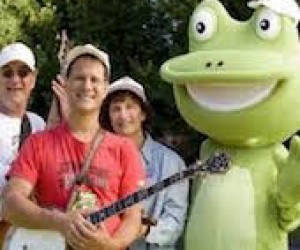 25 Free (or Nearly Free) Summer Concert Series for Families in Fairfield County
One of my favorite things about summer in Fairfield County is the plethora of outdoor concerts at local beaches, parks, and playgrounds—most of them absolutely free. There is music for all ages and tastes, whether you're hoping to catch an American Idol champion or create your own music. As my family discovered last summer, the rise of the food truck means that many of these venues also offer fantastic eats for purchase on-site.
A few tips: not every concert listed here is specifically intended for children, so be sure to check the lineups to determine whether the acts are appropriate for your family. Also, while many concerts are billed as free admission, some (particularly those at beaches) involve a parking fee. Finally, concerts are frequently canceled, postponed, or relocated due to bad weather. Before heading out, be sure to check the concert's official website to confirm it's still happening as scheduled.
1) The CJH Municipal Center lawn is home to a Sunday early evening concert series that begins on July 5th and runs through the end of August. It's a lovely way to ease out of the weekend.
1 School Street, Bethel
2) The lineup for this year's Downtown Thursdays series at McLevy Green in Bridgeport hasn't been announced yet, but we have high hopes: this year's American Idol winner Nick Fradiani used to play here!
McLevy Green, Bank Street, Bridgeport
3) The quaint town of Brookfield in northern Fairfield County sponsors a fun, Friday night concert series from June through August, and on select evenings, concerts are followed by a drive-in movie at dusk.
100 Pocono Road, Brookfield
4) Darien Summer Nights—A different act is scheduled to play in this outdoor plaza in downtown Darien every Friday night from June 5th until August 12th.
Grove Street Plaza, Darien
5) The very family-focused Weed Beach concert series in Darien kicks off on June 3rd, and runs every Wednesday in June. Admission is $10 per car, which is gets you access to the beach and the fabulous beach-side playground, which would ordinarily require a beach sticker or guest pass.
Weed Beach, Nearwater Lane, Darien
6) The Danbury Fair Summer Stage series kicks off on July 2nd, but thereafter these free shows are held every Wednesday night in July. Free.
Danbury Fair Mall, 7 Backus Ave, Danbury
7) The big draw at Jennings Beach on Friday nights (and one Thursday night) is the outdoor summer movie, but these evenings kick off with the very child-friendly Sand Jam that features music starting at 6:30. Parking fees apply if you do not have a Fairfield resident sticker.
880 South Benson Road, Fairfield
8) The daytime Peanut Butter Jam concert series in the Sherman Green Gazebo is a perfect outing for family with younger kids.
Post Road and Reef Road, Fairfield
9) Bring a chair or a blanket to this lovely summer concert series on many Wednesdays, Thursdays, and Sundays during the summer at Sherman Gazebo in downtown Fairfield.
Post Road and Reef Road, Fairfield
10) Head to Binney Park in Greenwich for a Sunday night concert with a small town feel.
Sound Beach Avenue, Greenwich
11) Right on the harbor in Greenwich, Roger Sherman Baldwin Park is home to a family friendly Wednesday concert series that feels like the very essence of summer.
100 Arch Street, Greenwich
12) Head to Wolfe Park on Friday nights in July for Monroe's 27th annual summer concert series--a fun evening for the whole family.
Cutlers Farm Rd, Monroe
13) Waveny Park in New Canaan is a wonderful place to while away a summer evening. On Wednesday evenings, bring a picnic, chairs, and a blanket for this fun, free series.
677 South Avenue, New Canaan
14) Bring a blanket to the Dickinson Park Bandshell on Thursday nights to celebrate a lovely evening out of doors.
50 Elm Drive, Newtown
15) Who doesn't love a picnic lunch with musical accompaniment? Kids entertainers including the Bossy Frog Band and Steve Songs are a part of the Summer Jam concert series on Tuesdays in Newtown.
50 Elm Drive, Newtown
16) The Norwalk Library sponsors a weekly Sounds of Summer series on Thursday nights beginning June 11th. Bring a picnic or enjoy the G+G Pizza truck, which will be on site.
1 Belden Ave, Norwalk
17) Looking for more of a DIY concert event? Check out Open Mic Night on Tuesdays at Freese Park in Norwalk.
Wall and Main Street, Norwalk
18) By day, Matthews Park is home to Stepping Stones Museum, but on Thursday nights during the summer, there's a rocking concert series that begins at 7:00pm.
303 West Avenue, Norwalk
19) Ballard Park in Ridgefield is home to a fantastic series on Tuesdays and Thursdays. On your way, swing by 109 Cheese for grilled cheese sandwiches to go that will please both child and adult palates.
Main Street, Ridgefield
20) The lovely seaside town of Rowayton sponsors a fantastic Sunday evening concert series that takes place at Bayley Beach and Pinkney Park. Bayley Beach concerts require a resident parking sticker or guest admission
Pinkney Park, Rowayton Avenue or Bayley Beach, Pine Point Road, Rowayton
21) The Alive@5 series in Stamford features more grown up music, but children are welcome (and children under 12 are free), but they must enter the venue before 7 pm and once they cannot leave and re-enter. This year's fantastic lineup includes Michael Franti, Boys II Men, and more.
Columbus Park, Stamford
22) Spend your Saturday mornings at Mill River Park, with free entertainment that will appeal particularly to younger kids.
Mill River Street, Stamford
23) The Sunset Concert series on Paradise Green in Stratford features music for every taste. Right downtown, Paradise Green offers easy access to a variety of restaurants for help in creating a perfect picnic.
Main Street, Stratford
24) Children's music on the grounds of an old mine? What child wouldn't love that? Head to Old Mine Park in Trumbull on Tuesdays for a little lunchtime fun. No spelunking required.
121 Old Mine Rd., Trumbull
25) Levitt Pavilion in Westport is one of our favorite music venues in Fairfield County, especially since last year's renovation. It is home to a children's music series on Wednesdays as well as other events throughout the week.
40 Jessup Road, Westport