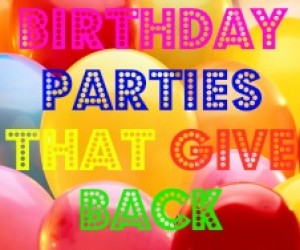 Parties with a Purpose: Kids' Volunteering Birthday Bash To Help Those in Need
Kids' birthday parties should be a blast, but they don't necessarily need to be two hours of lavish expense resulting in a mountain of under-appreciated gifts. Just as you can organize an at-home volunteering project during a playdate, it's easy to throw a party with a purpose. This goes beyond encouraging guests to donate to charity in lieu of presents (which is great, too). We've rounded up fun and easy things kids can do to help those in need that can be incorporated into many themes, and all of our ideas can be done at home. Make sure you have a brief discussion with the kids before you get started about why you've chosen to host a party with a purpose, and who will benefit from their generosity. That way the children not only understand the concept, they can feel good about giving to others. Isn't that the greatest birthday gift of all?
Slumber/Pajama Party: Pajama Program
Pajama Program is a nonprofit that provides new pajamas and books to children in need through a nationwide network of service agencies. Its One Million Good Nights campaign aims to provide 1 million new pairs of pajamas and 1 million new books to children in need by the end of 2015. Help the org reach its goal by hosting a slumber party (or a "sleep-under" party for younger kids who attend in PJs but go home before bedtime) that doubles as a pajama and book drive. Ask guests to bring a new complete set of PJs or a nightgown, and a children's book for a designated age range. Invitations, posters and signs for the party can be downloaded and customized on the Pajama Program website. Plan fun themed activities, like decorating a pillowcase with fabric markers, which can be used as a bag for each pair of PJs and accompanying book. Also consider making cards for the kids who will receive the donations. Afterward, enjoy the usual slumber party fun, like popcorn, movies and pillow fights. Post-party, report your donation to the Pajama Program via the website and you'll be connected with a local org where you can drop off the items.

Arts and Crafts Party: SoleHope
This nonprofit has a very simple mission: to provide closed-toe shoes to children in Africa to help them avoid foot infections. If you have an arty kid who's old enough to use real scissors, consider hosting a Shoe Cutting Party. You can purchase a kit (just $15 for 10 people) on the website that includes an instructional DVD, pictures, sponsorship cards, patterns and stickers. Fabric and scissors aren't included, so you'll have to buy them or contact your local fabric store to request a donation. Instead of gifts, ask guests to donate $10 to cover the cost for SoleHope to ship the materials to Africa where fairly paid seamstresses will turn them into shoes. The SoleHope website includes printable invitations and other important information about hosting the party. When the guests arrive, have them gather to watch the DVD and then get cutting! It's a great way to teach kids that basic human necessities we take for granted (shoes, clean water, protection from insects) can save the lives of less fortunate children around the world.

Animal Lovers Party: Animal Shelters
Have a dog, cat or other creature lover in your home? Throw a party with activities that benefit abandoned or abused animals in shelters. For younger kids, start the party by reading a book like Fur and Feathers by Janet Halfmann, about a little girl helping her animal friends, and then create pet toys to donate. The Humane Society has a great list of easy, inexpensive projects that use recycled materials like paper towel rolls, scraps of fleece and plastic eggs. Party games can be tailored to the theme, like "pin the nose on the puppy". To find the shelter nearest you, search by zip code on the ASPCA website. Be sure to call the shelter in advance to find out what types of donations are accepted.

Sports/Soccer Party: Soles4Souls and Charity Ball
If your child wants an athletic-themed party, try hosting a sneaker drive. Soles4Souls is a global nonprofit that collects new and gently-used shoes and clothes to distribute to people in need. Register your "It's My Party" shoe drive online—you can even download the Soles4Souls logo and materials to use on invitations. Ask guests to bring sneakers or shoes for donation, and have kids make cards to include with each pair. Note: You are responsible for shipping the shoes to Soles4Souls. If you're planning a soccer-themed bash, Charity Ball provides new, quality soccer balls to kids in poverty-stricken communities around the world. A $25 donation buys a new ball that's hand-delivered to the recipients. Ask guests to donate $5 or $10 (or the amount of their choosing) and the kids can add up all of the money to figure out how many charity balls the birthday child will be able to donate.

Baking/Cupcake Party: Family-to-Family
This national organization fights hunger and poverty by connecting flush families with impoverished ones. You'll find lots of great projects for kids on its website including how to throw a Giving Party. Kids create party packages to give to kids whose families don't have the resources to throw birthday bashes. Ask guests to bring boxes of cake mix, cans of frosting, gently-used children's books and birthday candles. Have shoe boxes and wrapping paper, tape and scissors on hand so kids can decorate the top and bottom of each package. They can also create cards with birthday wishes for the recipients. Pack the donated items into the boxes. Post-party, contact Family-to-Family to be connected with a local social service agency that will accept the donations.

One more cool resource to help you host a party that gives back: ECHOage is a website that allows party guests to make a monetary gift of any size to a charity of your child's choosing. That amount is split 50/50 between the charity and your kid. Your child can use the money received to purchase one special gift to keep, knowing that the equivalent amount is being donated to a good cause. ECHOage takes care of everything including online invitations, secure gift and charity giving, contribution tracker, RSVP management and even thank-you notes.

Read our other posts about throwing great birthday parties in your area.