Washington Heights & Inwood Family-Friendly Restaurants: 12 Places to Eat with Kids in Upper Manhattan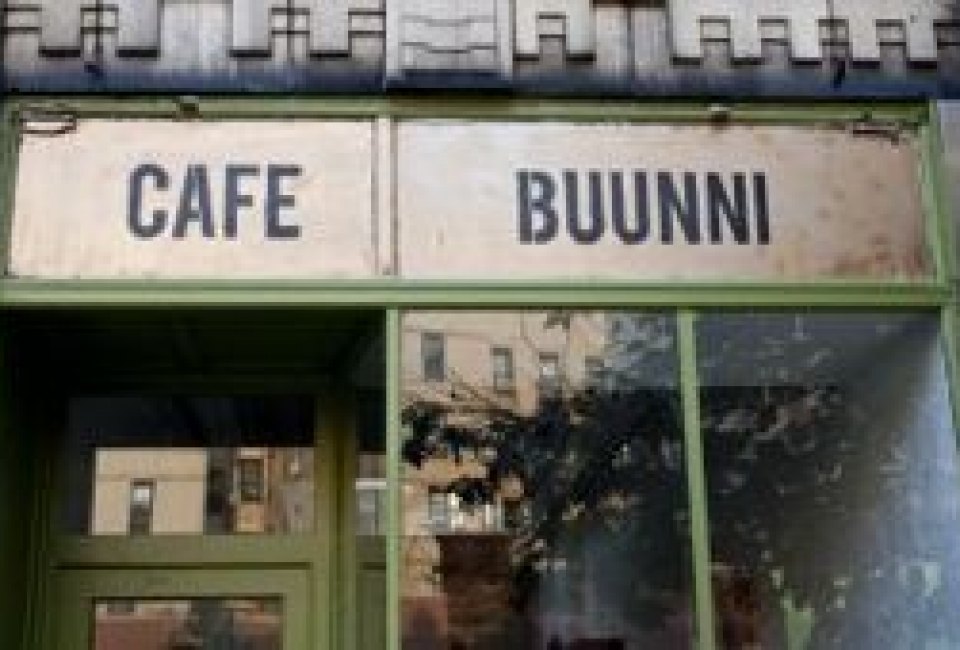 7/28/13
- By
Sarah G
We continue our month-long focus on Washington Heights and Inwood with a look at our favorite places to eat with kids in the area. While both neighborhoods are known for their hundreds of acres of parkland and fun things to do with kids, neither is considered a culinary hot spot. But there are some delicious kid-friendly restaurants if you know where to look, and many are owned and operated by local families. From a new soda fountain serving up retro treats, to a 24-hour Dominican mainstay to fine-dining with incredible views in Fort Tryon Park, here are a dozen family-friendly restaurants in Washington Heights and Inwood.
Washington Heights
Pick and Eat
4179 Broadway at 177th Street
Fresh and healthy is the mission here and it extends well beyond the menu. Opened in 2010, the restaurant features energy-saving LED lights and seating fashioned from reclaimed wood. Dishes are made from local, free-range and organic ingredients and there are lots of kid pleasers on the menu like burgers, pizzas, pastas, tacos and wraps. There's also a fresh juice bar and a cute kids' breakfast for under 5 bucks.
181 Cabrini
854 West 181st Street at Cabrini Boulevard
Opened by restaurateur James Lee, who's known for his low-key neighborhood eateries, this laid-back spot serves salads, burgers, sandwiches and wraps. The dinner menu includes fancier entrees like black pepper crusted yellow fin tuna and grass-fed skirt steak, along with a bargain $5.50 kids' menu with sliders and fries, chicken fingers, spaghetti marinara and cheese fries. Note: Although the front of 181 Cabrini is a bar, seating in the back is more family-friendly.

Le Chéile
839 West 181st Street at Cabrini Boulevard
Looking for carbs? You've come to the right place. This welcoming Irish pub serves delicious mac and cheese, sweet potato fries and fried calamari, plus sinful staples like chicken pot pie, bangers and mash, and fish and chips. There's even a kids' menu with PB&J or Nutella and banana sandwiches, and mini-grilled cheese.

Hudson View Restaurant
770 West 181st Street at Fort Washington Avenue
If quick and simple food is what you seek, Hudson View Restaurant fits the bill (though it is lacking in Hudson River views). Like others of its ilk, this diner features a friendly staff, a casual atmosphere and a huge menu with lots of great choices for kids.

Cafe Buunni
213 Pinehurst Avenue at 187th Street
Drop into this cozy cafe for fair trade organic treats like smoothies, sweet and savory pastries, teas and brews. You can also peruse a small selection of artisan wares and pick up micro-roasted Ethiopian coffee beans to go.

Refried Beans
591 Fort Washington Avenue at 187th Street
Kid-friendly and mellow, this Mexican eatery has all the standards like guac, big burritos, quesadillas, fajitas and an awesome pomegranate margarita. There's outdoor seating in the front and a small patio out back in addition to the cheery main dining room.

Inwood
Dyckman Express
101 Dyckman Street at Nagle Avenue
Local families rave about this 24-hour Dominican restaurant, in particular its roast chicken, fried plantains, and large portions but low prices. Order food to go or snag an outdoor table during warmer months.

Garden Cafe
4961 Broadway at 207th Street
A nice spot for brunch or an early dinner with a continental menu. The main attraction is the backyard, where you can dine alfresco in warmer months and is covered in winter. The restaurant also frequently hosts live jazz.

Grandpa's Brick Oven Pizza
4973 Broadway at 211th Street
Quick and easy, Grandpa's is a sure bet for a solid, no-frills slice of thin-crust pizza.

Dichter Pharmacy
4935 Broadway at Isham Street
Although this old-school apothecary has been in the neighborhood since the 1940s, its original location was destroyed by a fire in 2012. But in 2013 the family-run business came back bigger and better than ever, and even added an old-fashioned soda fountain serving shakes, malteds, egg creams and whimsically titled concoctions like the Anti-Depressant (two scoops of cookies 'n' cream ice cream, one piece of ice cream cake, chocolate syrup, rainbow sprinkles, whipped cream and a cherry) or the Pharmacist's Choice (two scoops of chocolate, one scoop of vanilla, butterscotch syrup, whipped cream and a cherry). You'll also find a full-service pharmacy with a nice selection of gifts and toys.

New Leaf Restaurant
1 Margaret Corbin Drive in Fort Tryon Park
Located in the stunning northern Manhattan green space and formerly run by the New York Restoration Project, New Leaf closed for renovations in early 2015 and will reopen under the management of Coffeed in the spring. We're waiting to see how the menu and prices change, but regardless, the big attraction here is the gorgeous park setting, which can't be beat. Afterward, be sure to check out the Cloisters, which is just a short walk away.

Indian Road Cafe
600 West 218th Street at Indian Road
Run by a pair of local families, this bar, restaurant and coffee shop is Inwood's informal meeting place, where locals chat and chow down on sandwiches, salads, soups and delicious homemade pastries. The $6 kids' menu includes pasta with tomato sauce, mac and cheese, chicken fingers and grilled cheese. The cafe also hosts frequent events like live music and trivia nights.

Read all of our posts about things to do with kids in Washington Heights and Inwood.