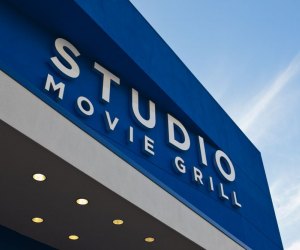 Dine-In Movie Theaters Around Houston Perfect For Family Outings
Looking for a fun way to enjoy dinner and a movie as a family? Knock both items out in one fell swoop when you visit a dine-in movie theater around Houston with your kids. While watching a movie at home might offer you and your kids the chance to enjoy a meal with your show, dinner just tastes better when you don't have to cook it. At these local theaters, you can enjoy more than just the standard popcorn, candy, and soda from the movie theater snack bar. From bite-sized appetizers and tapas-style small bite plates to full-blown dinner menus (with kid's menus, too!), you and your kids can enjoy an elevated food experience served right to your seat all while catching the latest flick.
If you've never been to a dine-in movie before, here's a run down of what you can expect. With only a couple of slight exceptions noted below, most dine-in theaters work the same way. You'll want to make a reservation online or by phone ahead of time to secure your seat as most dine-in theaters offer quite a bit fewer seats than traditional theaters. When you arrive, a server will take your order right from your seat and deliver it to you. They'll generally come back around another time during the movie to take dessert orders or refill drinks. You'll receive a check to pay for your meal when your movie is finished, just like you would at a traditional restaurant. It's a pretty fun way to see a movie and enjoy a great meal.
Studio Movie Grill - Multiple Locations
Multiple locations throughout Houston. Find the location closest to you here.
The family-friendly atmosphere of Studio Movie Grill is very similar to what you might expect from a regular movie theater, with the only main difference being that you'll be dining while you watch your movie. Studio Movie grill suggests arriving at least 20 minutes prior to your scheduled show time so that you can place your food order directly from your assigned seat. Their menu offers a spectacular kids menu selection that includes personal pizzas, mini cheeseburgers, macaroni and cheese, and chicken tenders. Your kids can even enjoy a juice box with their meal. And for the grownups, Studio Movie Grill offers a full bar menu with a wide variety of mixed drinks, as well as an expansive menu with salads, appetizers, and main courses, as well as desserts.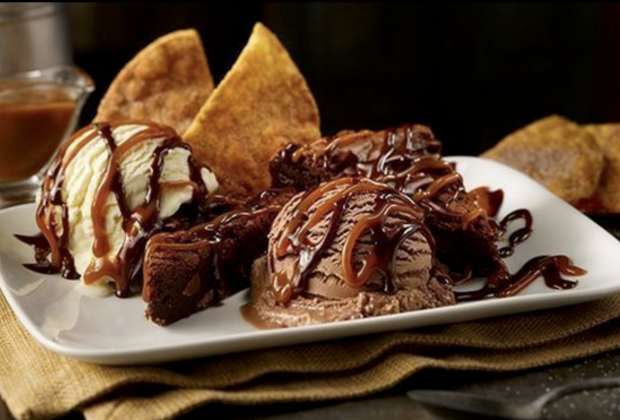 Delicious dessert options abound at Studio Movie Grill. Photo courtesey Studio Movie Grill via Instagram.
Star Cinema Grill - Multiple Locations
Multiple locations throughout Houston. Find the location closest to you here.
With five locations throughout the Houston area, enjoying a night out with your kids at Star Cinema Grill needs to be at the top of your family's to-do list. Their screenings regularly include the latest kid-friendly films, and they also feature special events for kids and families throughout the year as well. Their extensive dining menu has great sharable appetizer choices and your little ones will delight in the plethora of kid-friendly options on Star Cinema's kid's menu. And they will absolutely go wild for the decadent desserts available like a hot fudge brownie a la mode and tres leches cake. Unfortunately, Star Cinema Grill does not admit children younger than 3 into their theaters, and children ages 3-5 are only permitted for showings of G and PG-rated movies. Specific Star Cinema Grill locations run weekly specials including discounted tickets and elevated meal options, so be sure to check your local theater's website for deals.
IPIC Theaters - River Oaks
4444 Westheimer Road, Houston
832-709-2146
By far the most posh theater in the Houston area, IPIC Theaters offers an upscale dine-in movie experience that is perfect for when you want to really treat the entire family. While the lounge-like atmosphere skews more toward a date night feel, they do regularly show kids movies, and their luxury seating options make it easy to enjoy cozying up with your kiddos for a show. At IPIC, you can choose from two levels of ticketing options. The first is an elevated option that secures the use of a private pod area with a designated waiter, blankets, pillows, and unlimited popcorn, and the second is an extra-wide reclining seat where you can enjoy fine food purchased at the on-site dining lounge. Either way you go, you'll be able to enjoy a chef-driven menu that gives you fine dining-level bites right inside of a movie theater.
Movie Tavern
Multiple locations throughout Houston. Find the location closest to you here.
Enjoying dinner and a movie is easy and fun at Movie Tavern. Simply arrive 30 minutes prior to your selected movie's start time and a designated server will come to your theater seat to take your order. You can choose from an entire menu of food options ranging from soups and salads to steak and shrimp, as well as a bevy of scrumptious dessert options including milkshakes. One unique part of the Movie Tavern menu is that they feature breakfast items all day long, which is fantastic news for kids who could devour french toast sticks or waffles any time of day. Movie Tavern offers specials throughout the year including special showings of classic holiday movies, value savings days, and more, so be sure to check with your local theater to stay up-to-date on their specific offerings.
Top photo courtesey Star Cinema Grill