News: No Central Park Pumpkin Fest, Bank Street Bookstore Moving, 2-for-1 Off-Broadway Tickets, Final High Line Section Opens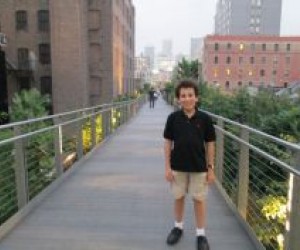 As we gear up for fall and Halloween, we're bummed to report that two of our favorite seasonal family events aren't happening this year. But not all of our news is bad. We've got the scoop on a pair of veteran NYC businesses that have been saved from extinction, two enhanced green spaces, a fabulous two-for-one Off-Broadway ticket deal, a contest for photo-happy teens, how families can get involved with the People's Climate March and, just when you thought it was safe to finally "Let It Go," prepare yourself for more Frozen!
Openings & moves (no closings!) The third and final section of the High Line opens on September 21. (It's certainly changed a lot since we originally visited.) Starting this Sunday, you can stroll all the way from Gansevoort Street to 34th Street 30 feet in the air—assuming you're really good at navigating hordes of people. Celebratory opening week activities include FREE yoga, meditation and Tai Chi sessions, live music, art projects, a kids' construction zone, storytelling and tours.

Meanwhile, Williamsburg's waterfront East River State Park recently debuted its half-a-million-dollar makeover featuring replenished sand and a new kayak launch. The stunning Manhattan views remain the same.

Also brand-new in Brooklyn: Court 16, a 15,000-square-foot indoor tennis club created specifically for children ages 3 to 11. Classes are customized by age and skill, and played on five USTA-sanctioned, kid-size courts. Members can enjoy drop-in classes, tournaments, screenings of historic matches and family game play, too.

One of our favorite independent bookshops for children, the Bank Street Bookstore, is moving. After considering closing, the decades-old Morningside Heights staple instead opted to move five blocks south of its current location to 107th Street and Broadway. The new site, which is slated to open in February 2015, will be one floor instead of two, but the owners promise more room for kids and grown-ups to cuddle up and read. In anticipation of the move, lit lovers can pick up books at bargain prices at the current 112th Street outpost.

More good news for bookworms: The historic U.S. Lighthouse Tender Lilac, currently docked at Tribeca's Pier 25, is hosting a Floating Library through Friday, October 3. Come read on the water and check the calendar for special events. Or, if you're looking to unload old titles, the library is accepting donations of books good for high-school and college-age students.

And finally, a NYC classic has been saved! After putting the building that houses the original Brooklyn Junior's on the market earlier this year, the owner of the restaurant has reconsidered and won't be selling the iconic spot after all. Yay! We can't wait to fill up on celebratory cheesecake the next time we're near Barclays Center.
Unfair fall We're sad to report that two beloved fall events for families aren't happening in 2014. The Garment District Alliance (formerly known as the Fashion Center BID) has decided not to host its annual Kite Flight atop the Port Authority Bus Terminal this year but as per its Facebook page, "it may be back in 2015." Meanwhile, the New York City Department of Parks & Recreation has nixed one of its biggest Halloween events, the annual Central Park Pumpkin Fest, but promises lots of other holiday events, including the popular Halloween Parade and Pumpkin Flotilla at Central Park's Harlem Meer.
Cheap theater tickets A few weeks ago we raved about 20at20, a deal that lets you snag $20 to participating Off-Broadway shows 20 minutes before curtain, which runs through Sunday, September 28. If you miss out on that, you can buy two-for-one tickets to a host of Off-Broadway shows during Off-Broadway Week, which runs Monday, September 29-Sunday, October 12. All five of our top Off-Broadway family shows are eligible, along with other kid-friendly productions like The Fantasticks, and The Lion, the Witch and the Wardrobe. Or leave the tots at home and see Avenue Q or 50 Shades! The Musical —The Original Parody... we won't tell! Tickets are already on sale so book now.
Cool culture Ready for more Frozen? Well even if you're not we bet your kids are, and Disney is happy to give it to them. In spring 2015, the studio promises to debut a new animated short, Frozen Forever, featuring Anna, Elsa and the gang, along with a brand-new song by Oscar-winners Robert Lopez and Kristen Anderson-Lopez. No word yet on which movie it will accompany but whatever it is, the Frozen -obsessed are going to want to see it.

Got an aspiring shutterbug teen? Have them submit their snaps to the City Through Your Eyes Photo Contest sponsored by H and B Digital. The competition is open to students in all five boroughs ages 14 to 21, and the deadline to enter is Tuesday, September 30. Ten finalists will win digital cameras, and the top three will snag various prizes.
Kids are the People's Climate March, too You may have heard that this Sunday, September 21, there's going to be a huge People's Climate March in Manhattan to draw attention to this global environmental concern. Families are invited to participate and there's even going to be a designated Kids Bloc. If you're interested in joining the group, show up at the Matthew P. Sapolin Playground at 70th Street and Amsterdam Avenue between 8:30 and 10:30am, where kids can make banners about climate change. Parents should wear blue so the bloc will make a visual impact. The march kicks off at 11:30am nearby. For more info about how your family can get involved with the march, check out the official website.