Best of August: County Fairs and More Top Things to Do in DC with Kids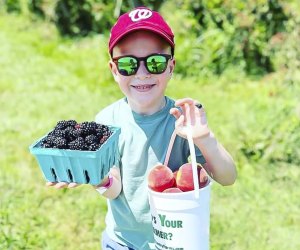 Summer is not over yet! August in DC is a great time to enjoy outdoor movies and concerts, summer fairs and festivals, and the best beach days.
Whether your family is looking to cool off at a water park, relax at an outdoor movie or concert, or explore our region with a day trip, there's plenty of fun left before school starts.
August also kicks off county fair season across the DC region. From Montgomery County to Prince William County to Arlington County, kids can enjoy classic rides, games, funnel cake, and more.
If you're looking for an indoor activity to beat the heat, two show-stopping performances are headed to DC. Hamilton is back at the Kennedy Center beginning August 2, and for younger Disney fans, the Encanto Sing-Along Film Concert is coming to Wolf Trap on August 11.
Find more top August fun in our lists of sprinkler parks, spraygrounds, and splash pads near DC and fun indoor and outdoor activities to beat the heat in DC.
We're adding more events to our family activity calendar every day, so don't forget to check it frequently.
Get our picks for every weekend in your inbox—sign up for our newsletters.