Best Playgrounds with Water Play and Splash Pads in Eastern Connecticut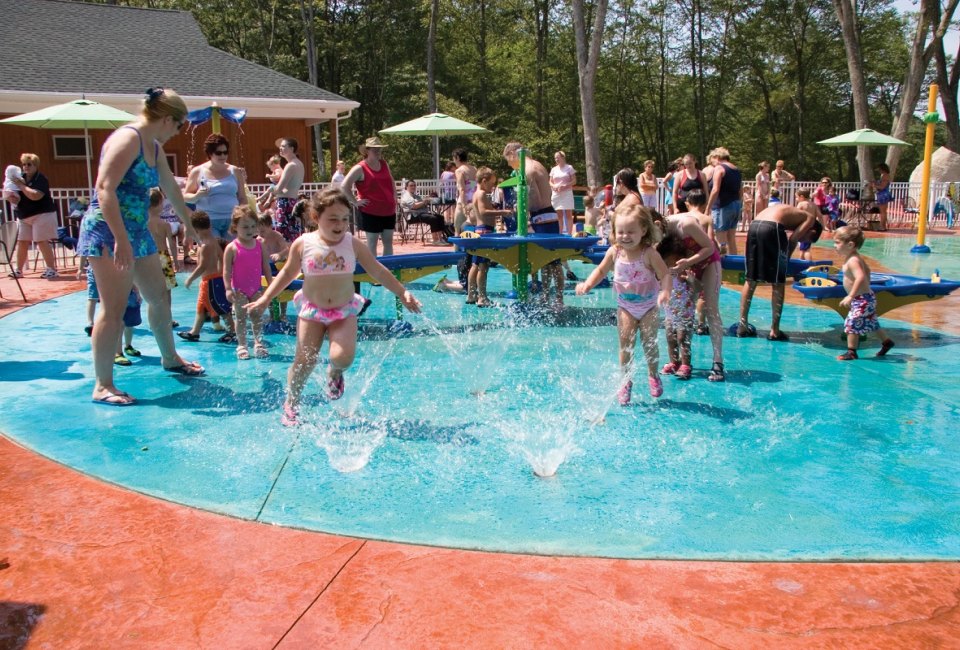 6/13/17
- By
Sherry Pardy
There's still summer left which means lots of time to check out play areas cropping up in Eastern Connecticut that include both a playground and some type of water play. Here's a few to check out for yourself. After you dry off, make sure you check out our Eastern CT Family Guide and Summer Guide to get the most out of your day.
Ocean Beach Park - Besides the half-mile beach, arcade, amusement rides and olympic size pool, Ocean Beach also boasts a HUGE nautical themed playground just across the boardwalk on the beach. Next to the playground is OBP's newest attraction, a splash park with sprayers, fountains and buckets that dump cool, refreshing water! Both are accessible with admission to the park.
1225 Ocean Avenue, New London, CT 06320
Dinosaur Place - Perhaps our favorite water play area, Dinosaur Place's zero depth Splashpad, is a fully enclosed water extravaganza! Touted as "The largest Splashpad in New England, it has 30 dinosaur themed water features, a seperate play area for younger kiddos, and did we mention it's almost as much fun for the adults as the kids?
1650 Hartford-New London Tpke, Oakdale, CT 06370
Colchester Recreational Complex - Affectionately known as the RecPlex, Colchester's splash area is free, and houses a convienient bath house for changing the little ones. It's also enclosed with a fence to keep the little ones from running off. Next door is a playscape that offers a dry option once everyone's sufficiently cooled down.
215 Old Hebron Road, Colchester, CT 06415
Lauter Park - Lauter Park's splash pad offers a large area of splash opportunity! Locals tell me this place is usually pretty empty early in the afternoon, and its limited hours (noon-5pm) make for very busy evenings. But, it's worth the trip!! And it's open until Labor Day weekend!
625 Jackson Street, Willimantic, CT
Owen Bell Park - Another new splash pad, opened in Dayville, CT in 2013, is a welcome addition to the already active Owen Bell Park. Besides the new pad, full of buckets and streams and sprinklers strategically placed on a soft surface, Owen Bell Park also offers trails for walking and hiking, a playground, basketball and tennis courts, even a skateboard park, too! Just a tip, the splash pad is not fully contained with a fence.
19 Town Farm Road, Dayville, CT
Kavanaugh Park- Run through an arc of rainbow sprinklers at this splash pad!. This small water play area is tucked into the larger Kavanaugh park, which boasts tennis courts, playground, ball fields, courts, bathrooms, and picnic tables. The splash pad is open seasonally Mon., Tue., Thu., Fri. 11 a.m.-3 p.m.; Wed. 1 p.m.-6 p.m.; Sat. & Sun. 11 a.m.-4 p.m.
5 Trask Road, Old Saybrook, CT
​Watrous Park- Located near the Middle School, Watrous Park Splash Pad is filled with squirting obstacles from cannons to umbrellas. There is also an adorable playground located near by. This pad will dry up on Labor Day.
Geer Street, behind Cromwell Middle School, Cromwell, CT
Image courtesy of the Dinosaur Place
Originally published 8/13/13.
Sign up for the Mommy Poppins Newsletter today!
i