FREE Museum Days in the Fairfield and New Haven Area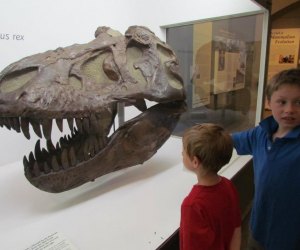 A host of museums in Fairfield County and New Haven County offer free admission on certain days of the month or promote free admission all the time for young kids. Check out the latest exhibit at the Aldrich, see a classic at Yale Peabody, or something from the bronze age at Fairfield University. Best part is that you can do it for free during their free admission times in these Fairfield County and New Haven area museums.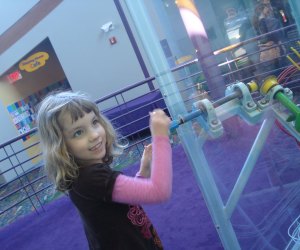 Stepping Stones Museum for Children (Photo courtesy of D. Whittemore)
Stepping Stones Museum—Norwalk
The crown jewel of kids' museums in lower Connecticut has offered it's 'Get Into It! FREE' program for quite some time. Every first Thursday of the month, Stepping Stones swings open its doors for a freebie evening of fun, from 5 to 8 p.m.
Bruce Museum—Greenwich
Children under 5 are always free at the Bruce, but on Tuesdays, their adult caregivers and older siblings can come in for nothing as well.
The Aldrich Contemporary Art Museum—Ridgefield
This independent art museum is the only one in Connecticut devoted to contemporary art. Admission is always free for children under 12, K-12 teachers, and military families. Anytime you visit, you can also catch a docent-led tour free of charge. On third Saturdays and school holidays from noon - 5 p.m., the Aldrich also offers free family art activities called "Creative Family" with the price of parent admission.
New Haven Museum—New Haven
Why not check out the Puritanical roots of this New England city on the first Sunday of every month (from 1 pm to 4 pm) -- it won't even cost you a nickel. Children under 12 are free all the time.
Yale Peabody Museum of Natural History—New Haven
During the school year, you can pop into this world-renowned museum for free on Thursdays from 2 pm to 5 p.m. They also offer free admission on the Sunday and Monday of Martin Luther King Jr. weekend for the Martin Luther King Jr. "Festival of Environmental Justice", the last Saturday in August for "Summer's Last Roar," and during their annual "¡Fiesta Latina!" event, typically in October. That all being said, museum parking is very limited on weekdays, so bring some cash for that!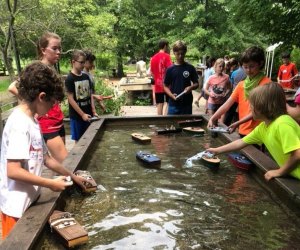 Eli Whitney has regular, hands-on programs for kids. (Courtesy Eli Whitney Museum)
Eli Whitney Museum and Workshop—Hamden
The site of the Eli Whitney Museum preserves the location of the inventor's first American factory, built in 1798. The museum is FREE and open on weekends for all to enjoy its permanent installations: The Factory Model, the Water Lab, The Marble Wall and the Gun Collection. For a small fee, kids can get hands-on in the Walk-in Program.
The Barnum Museum—Bridgeport
In June 2010, a rare-for-these-parts tornado devastated the historical building housing the iconic entertainer's collections. The historical building is in restoration for now. But you can take a look at how they evacuated the valuables during the storm, and how they're repairing others. Just enter through the back at the People's United Bank Gallery entrance to view the display. Thursdays and Fridays only, 11 a.m. to 3 p.m.
Housatonic Museum of Art—Bridgeport
If your kids are like mine, they whine when I mention an art gallery. Then, I can't drag them out once we get there! The Housatonic Museum of Art is the perfect venue for the whole family to take in art at your own pace. Free and open to the public all year long, except weekends (check the calendar before you go). Open until 7 p.m. on Thursday evenings. With a vibrant permanent collection and changing exhibitions, the HMA is a hidden gem in the center of Fairfield County.

Fairfield University Art Museum (FUAM)—Fairfield
The FUAM opened in 2010, offer permanent rotation exhibitions in the Bellermine and Walsh Galleries. It boasts a collection of art that spans the globe and time. You and your brood can view pieces from the Bronze Age to the Baroque, Tuesday through Friday from 10 a.m. to 4 p.m. The Walsh is also closed on Tuesdays. They do open on occasional Saturdays, and close on University holidays, so check their calendar before you go.
Yale University Art Gallery—New Haven
Unlike the FUAM, you won't get through this one before lunch. The collection spans three buildings, so pick a continent or medium, and see what you find! Stop by the Information Desk first to gather supplies for self-guided family activities, including drawing materials, worksheets, and felt kits. The second Sunday of the month is Family Day, when they use unique storytelling to help children view art in new ways. They even provide drawing materials for older children. There is a monthly Family Program (check the calendar for more details).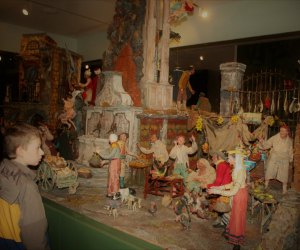 The Knights of Columbus Museum creche display. (Coe)
Knights of Columbus Museum — New Haven
This is a state-of-the-art museum located in the heart of New Haven where entrance is always free. Learn about who the Knights of Columbus are and their deeply rooted history in Southern Connecticut. Permanent exhibits include the Papal Gallery and the Wall of (KOC) History. During the Christmas-season, come and see an amazing display of creches from around the world.
Boothe Memorial Park — Stratford
Open year round and always free, the Boothe Memorial Museum/Park consists of several buildings to peruse pertaining to Americana and history. The historic buildings on-site include the Clocktower Museum, the Miniature Lighthouse, the Blacksmith Shoppe, and the Boothe Homestead, just to name a few. Really fun and really interesting.
Fairfield Museum — Fairfield
Children under 5 are always free. Open Tuesday through Friday, the Fairfield University offers visitors rotating historical exhibits which are both artistic and historic in nature. The museum does many different educational programs for the public and is available for rental as well. Don't miss the Holiday Express Train show every December.
Photo courtesy of the Eli Whitney Museum and J. Coe.
Updated 10-18-2018