A Visit to Boothe Memorial Park and Museum
I've been to Boothe Memorial Park in Stratford a few times, and only one word comes to mind to explain it: quirky. If you're interested in Americana, it's here. Architecture, here. Railroads, here. Genealogy? Yep, it's here. There's even an observatory on the grounds. Oh, and a chicken house. And a HAM radio club. I'll stop there for now. And while the 32-acre property is inundated with curiosity-filled buildings, there is also LOTS of room for young ones to roam. Massive grassy hills shaded by 100-year-old oaks practically beg for someone to roll down them.
Which is promptly what my 18-month-old proceeded to do, as soon as I freed him from his car seat. Enter and park where the sign says Boothe Memorial 'Park' (the other one says Boothe Memorial 'Museum'). Down the big, grassy hill toward the Housatonic, the kids will happen on an impressive (and handicap accessible) playground, including two rock climbing walls -- one for the itty bittys, and one for more seasoned kiddie climbers. I'd suggest letting them get good and worn out here before trudging back up the hill to take in the myriad of museums.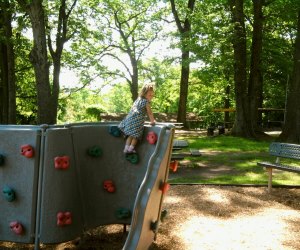 photo by Elizabeth Howard
And here's where I let you in on the ENTIRE catch to Boothe Memorial Park and Museum: timing!! When we visited, I had to work around a midday nap. I knew the Homestead buildings would be closed, as they are only open Tuesdays through Friday, 11 a.m. to 1 p.m. and Sundays 1 p.m. to 4 p.m. What I didn't realize was that ALL of the Museum buildings keep those hours. Except the Railway Museum, which is open only on Saturdays from 1 p.m. to 4 p.m.

SO.
If you don't have a midday napper, plan to get there around 10 a.m. or so. Pack a late-morning snack for after your playground time. That way your brood can't start the 'I'm hungries' two minutes into the museums! Take in as much as you can:
The Clocktower contains Civil war memorabilia, Native American artifacts, antique dishes
The Boothe Homestead claims to be the oldest continually occupied in the nation, as its built on a foundation from 1663
One of barns contains the most comprehensive assemblage of farming tools you've ever seen, some of them dating back hundreds of years. It's practically art to see all of it displayed in such close quarters.
The Blacksmith shop, open and filled with handmade metalworks... and a real-live blacksmith at work!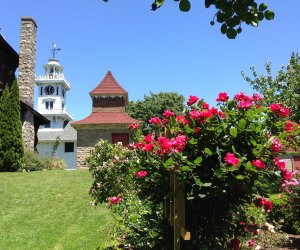 photo by Elizabeth Howard
When you have overloaded on the indoor offerings, take the kids back out for some fresh air and stroll through the park's award-winning rose garden (even if it's not still blooming). Or wander over to visit the neighboring cache of chickens. Or clamber through the sunken garden. Or check out the former Merritt Parkway toll booth. I'm not kidding! All this stuff is here! And none of this is to mention the absolute treasure of architecture everywhere you look. That alone is worth the free visit.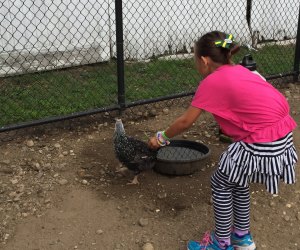 photo by Elizabeth Howard
Oh yeah, did I mention all of this is FREE?! The Boothe Family turned their property over to the city of Stratford in 1949 as a place to be freely enjoyed by future generations. Being just one minute off exit 53 of the Merritt, you hardly have an excuse to not at least give it a whirl. Before you go, print this handy informational walking map.
In the summers you may be able to catch Shakespeare performances in the sunken garden by The Putney Players. In October, the town hosts a huge Pumpkin Festival for families-- with costumes, contests and prizes! If you've got the nerve, come back on Halloween night with your teenagers -- rumor has it the place is haunted, too! Like I said, quirky, quirky, QUIRKY!

Finally, when you need a bite to eat after your explorations at Boothe, Stratford's Paradise Green is a 5-minute drive. Visit Hong Kong Cafe for Chinese, or the family-friendly Paradise Pizza for Greek salad and pasta and pizza. If you packed a picnic lunch for Boothe, but wouldn't mind a little ice cream snack afterwards, stop at Parad-Ice Cream to satisfy your sweet tooth and shop local! Enjoy!
--
Main image by Elizabeth Howard