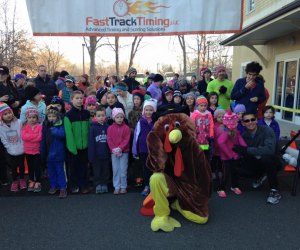 Fun Things for Kids to do on Thanksgiving Weekend
The annual holiday season fast approaches and everyone is getting busy making preparations for Thanksgiving. Your family may be eating with relatives or dining alone, but at some point, kids want the turkey to make his grand appearance a lot faster than he usually can. Or the food has all been eaten and you're looking for something to do. Have fun at one of these great events/places on Thanksgiving weekend.
1. A great way for kids to engage in Thanksgiving day events is to watch the Macy's Day Parade. Celebrating it's 90th anniversary in 2016, the parade has been entertaining families for decades. Watch as Charlie Brown, Pikachu and Thomas the Tank Engine come rolling down the street. The parade begins at 9 a.m. and can be viewed on several television stations as well as online. And if you're looking for a little early Turkey fun, attend the USB Parade Spectacular in Stamford! One of the largest helium balloon parades in the country will be held on November 20. 12 noon step off.
2. Run/walk in a local Turkey Trot! If it's not your job to cook the bird, spend the morning getting exercise and building up a huge appetite for a good cause. Some towns hosting turkey trot events include: Newtown, Madison, Ridgefield and Southbury.
3. It's craft time! Kids love crafts and some of them can be super useful on Thanksgiving Day! Here are some really good boredom busters for kids waiting for the stuffing and gravy: Kids Crafty Boredom Busters, Homemade Shrinky Dinks, Make a Toy Parachute and Indoor Bowling.
4. If you have family visiting from out of town for the weekend, check out one of these events and destinations while they are here: Fairfield Historical Society's Pie Night event (November 23), Hartford Wolfpack game (November 23), Leonardo Davinci: Machines in Motion at the Connecticut Science Museum, Kidcity Museum, or Imagine Nation or stop by Wilton Library's Day After Thanksgiving Movies event.
5. Need to find somewhere open to eat on Thanksgiving? Several restaurants plan to be open on Thanksgiving Day and/or weekend. Restaurants open on Turkey Day are: Denny's (Wethersfield, West Haven, Middletown), Mill on the River (South Windsor), Apricots (West Hartford), J. Gilbert's (Glastonbury), and Grant's (West Hartford).
6. Keep the holiday feeling going and attend Simsbury Celebrates on November 26, an annual town-wide community holiday celebration. There is a parade, fireworks and and you can even meet Santa himself.
7. Catch a Thanksgiving Day movie. A family I know has made this an annual tradition for years. They eat, then they jet out to a local movie theater and take in a flick. Some theaters open on Thanksgiving day include Bow Tie Cinemas in Hartford, Majestic 6 in Stamford, Wilton Cinema 4 and AMC Plainville 20. Check your local listings.
8. Check out a local one of the many fabulous Connecticut museum's or child-friendly art galleries: Barker Animation (Cheshire),
9. Go for a hike and work off some of that pumpkin pie! Some great places to go are: Overbrook Nature Center (Stamford), Webb Mountain Discovery Zone or the New Canaan Nature Center.
10. Bring your children to Turkey Daze at Roaring Brook Nature Center November 25-27. Learn all about the Meliagris Gallopavo (the wild turkey) from which today's modern turkey comes.
Photo Courtesy: Southbury Turkey Trot