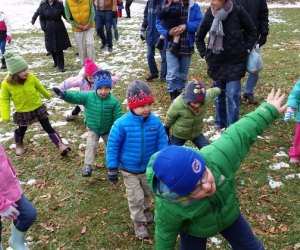 Things to Do with Thanksgiving Visitors in Fairfield County
Recently, my daughter invited a friend home from school, and, as this new friend stepped inside our house and looked around appraisingly, she asked, "Is this the whole house?"
So yes, our house might best be described as cozy. Though I think it suits our family perfectly, once you throw in some out of town guests and a stuffed bird or two, it starts to feel very crowded very quickly. Happily, there are many places close by in Fairfield County where the kids can get their sillies out while grown ups can chat or snap pictures or generally be thankful for one another's company whether at a road race, a turkey waddle, or a free family movie.
These are some of the ideas we've collected for Thanksgiving weekend. For more inspiration, check out the event calendar and Holiday Fun Guide, which we continue to update each day.
Turkey Trots
I am not a runner, but my husband is, so the fun, festive turkey-themed races across Fairfield County are a great way to start Thanksgiving day. Visiting runners will love the picturesque courses in Rowayton, Southport, and Redding on Thursday. On Saturday, the Cow Chip Cross Country Run and Greenwich Turkey Trot (among others) will provide ample family entertainment.
Nature Centers
As mentioned above, I am not a big runner, but I am an inveterate stroller, especially at parks and nature centers, and there are quite a few of these lovely spots offering special programs for the days after Thanksgiving: Earthplace and the New Canaan Nature Center have all scheduled drop-in activities on Saturday where you can learn a bit about the local ecology and take in some fresh air (there are some great photo ops at each so don't forget to bring your cameras). The Stamford Nature Center holds their last Sunday Explorer session of the fall on Sunday, and while you're there you can check out this year's Billion Bricks Exhibit: LEGO Superheroes in Gotham, which includes five famous architectural landmarks made completely out of LEGO brick.
Beaches, Parks, and Playgrounds
One of my favorite things about Connecticut is the proximity to the beach, and a stroll along a windswept coastline can be just the thing to inspire and entertain a cranky crew. Most of the beaches that require resident stickers or parking passes during the summer are open to non-residents (but note that most of the amenities at these locations--bathrooms, water fountains, etc.--will not be operational). We love Compo Beach in Westport, with a great playground right on the water; Cove Island Park in Stamford, which has a flat 1-mile loop, perfect for strolling; and Tod's Point in Greenwich, which has a long, wide beach that is wonderful for exploring at low tide.
Movies
Your children are probably going to be clamoring to see the new Disney epic Moana, but there are some other options--including a few that are totally free. While most libraries are closed on Friday, Wilton and Darien Libraries will be open and showing Finding Dory. The Maritime Aquarium will kick off their extended IMAX run of The Polar Express on Friday.
Christmas
If your house is anything like mine, you won't even be done cleaning up from Thanksgiving before the kids start asking about Christmas. But that's okay because Christmas in Connecticut is a month-long affair and there are plenty of ways to start celebrating this weekend. If you're in the mood for a theatrical experience, the whole family will love Frosty the Snowman at the Downtown Cabaret Children's Theater or the second annual Hawleyville Fire Department Light Show, in which 40,000 lights are synchronized to music. If you're interested in visiting with the big man himself, Santa will arrive via fire truck at Sherman Green in Fairfield, along with his reindeer in Greenwich (at a new location this year!), and already in position for photos at Stamford Town Center and Danbury Fair.
Photo: Courtesy of the New Canaan Nature Center.