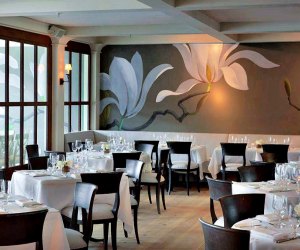 Thanksgiving Dinner Out in Litchfield and Fairfield Areas for Connecticut Families
If you live in the Fairfield or Litchfield areas and would rather relax than cook this Thanksgiving, you're in luck: Some of the tastiest Nutmeg-state restaurants are in this part of Connecticut, and are keeping their doors open on Thanksgiving. These family-friendly restaurants will be serving up pumpkin soup, butternut squash ravioli, pecan nut tarts, and eggnog creme brulees—not to mention a perfect slice of turkey. Live mid-state? Check out these Hartford County restaurants serving Thanksgiving dinner.
Fairfield-Area Restaurants Serving Thanksgiving Dinner


Cozy up by the fireplace at L'escale. Image courtesy of the restaurant

L'Escale —Greenwich
If the idea of an elegant, three-course Thanksgiving feast that includes flavors from the south of France is appealing, head to Greenwich's L'Escale. Attached to the prestigious Delamar Hotel, the dining room at L'Escale overlooks Greenwich Harbor. The menu includes such temptations such as local chowder, roasted squash, Amish turkey, and NY strip steak. L'Escale is open Thanksgiving day from noon to 7pm and serves up a meal that costs $85 for adults and $25 for children under 12.
Bernard's —Ridgefield
This Thanksgiving you can go full-on French or turkey-driven traditional at Bernard's in Ridgefield, where the presentation is on a par with the food on the menu. Think penne ala vodka, traditional turkey with all the fixings, pan-seared red snapper, and tiramisu or chocolate lava cake for dessert.
Cafe on the Green—Danbury
This award-winning restaurant overlooks one of the Top 25 public golf courses in the nation. Their Thanksgiving prix fixe menu features traditional and Italian options such as roasted rack of lamb, salmon Siciliano, pan-seared snapper, and traditional turkey with all the fixings. The fixed price is $65 per person.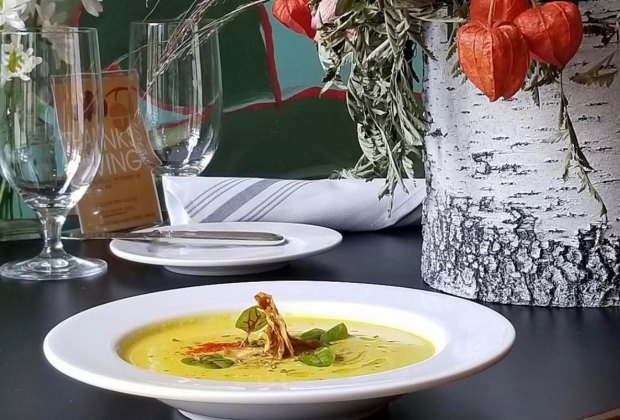 Artisan offers a tasty deal, from soup to fluffy pumpkin pie. Photo courtesy of the Artisan
Artisan—Southport
This swanky spot and sister restaurant to Greenwich's L'escale might be the best deal of the bunch. Their menu includes some fancy things such as cauliflower-pear voulette, endive and honey crisp, and then move on to apple-cider brined turkey with roasted squash and mushroom stuffing. Before you leave, dive into some flufffy pumpkin pie with cranberry marmalade. Seatings are from 12 to 7.

Blue Goose Restaurant—​Stratford
The affordable Blue Goose will offer a selection of entrees, traditional Thanksgiving grub, and favorites from their regular menu. Dishes are available with plenty of sides, dessert, and coffee. You can enjoy turkey and gravy, sea bass with herb crust, and chicken and shrimp marsala.

Elm—New Canaan
Most of the food at Elm comes from local farms, so this Thanksgiving feast menu features diver scallops, roasted mussells, pumpkin risotto, and (of course) turkey breast. Finish the meal with some dark chocolate ganache or chocolate lava cake.
The Spinning Wheel—Redding
Talk about a traditional setting for a traditional meal: This completely updated historic restaurant is serving a reasonably priced, savory meal with a large side of charm. Seatings are from 12pm to 5:30pm and you can choose from butternut squash soup or pumpkin ravioli. Moving on to your entree, choose from Yankee pot roast, Vegetarian stuffed squash, or traditional turkey.
Harbor Lights—Norwalk
Offering a gourmet Thanksgiving menu, you can expect all of your traditional favorites such as slow roasted turkey and honey glazed ham. The cost for this culinary experience is $59 per person.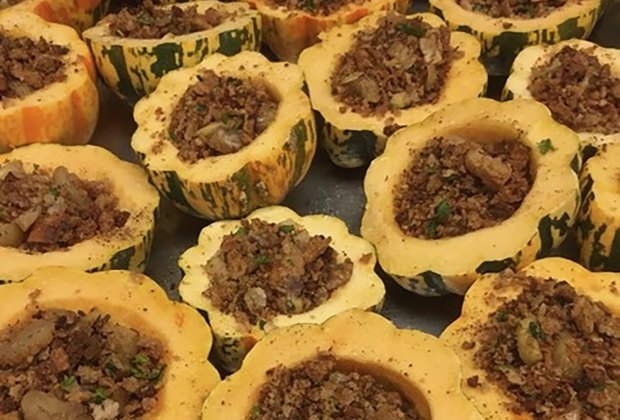 Delicious stuffed squash is one of many vegan entrees at Bloodroot. Image courtesy of Bloodroot.

Bloodroot—Bridgeport
Bloodroot offers a truly unique vegan and vegetarian menu year round, but on Thanksgiving, this Bridgeport gem truly shines. Enjoy stuffed winter squash, house-made vegan cheeses, and other vegan (and gluten-free, too) dishes.
Long Ridge Tavern — Stamford
Traveling up Long Ridge Road to the tavern is like taking a trip back in time. The tavern provides a warm New England atmosphere and a complete Thanksgiving prix-fixe menu. From traditional (turkey) to your different (try the Wiener Schnitzel), there are plenty of offerings for picky eaters. Seatings are from 12pm to 7pm, and cost $48 per adult and $18 per child (10 and under).

Roast turkey and all the trimmings, including localy oysters, are on the table at the Mayflower Grace. Photo courtesy of The Mayflower
Litchfield-Area Restaurants Serving Thanksgiving Dinner
The Mayflower Grace, Washington
This luxe inn with a fancy dining room and cozy lounge is truly a treat that's worth breaking out the patent leather shoes and little blue blazers for. Roast turkey and all of the traditional trimmings will be served on their menu as well as Plymouth Rock oysters, Fairytale Pumpkin Agnolotti, and poached Maine lobster.
The Hopkins Inn, New Preston
The historic Hopkins Inn overlooks the beautiful Lake Waramaug and surrounding Litchfield Hills. The meal includes an appetizer, entree, and dessert. The traditional roast turkey as well as salmon, Wienerschnitzel, Veal Picatta Hopkins, roast pork loin, and roast duck are choices. All of the entrees come with the traditional sides. For children, they also offer grilled cheese or pasta as well as a desert. Meals cost $55 per person.
Winvian, Morris
Winvian is an amazing Relias Chateaux 113 acre property. For Thanksgiving there will be one seating family style in their fine dining restaurant. Reservations are required for all guests in house and outside guests. Enjoy turkey with all the trimmings, winter salad, and Maine lobster, all prepared by Chef Eddy. Cost is $115 per person.
Litchfield Inn - Litchfield
Enjoy your holiday at the Litchfield Inn, where guests can choose from traditional favorites like roasted turkey with pan gravy, roasted garlic whipped potatoes, butternut squash, and creamed onions. Desserts include pumpkin pie and coconut custard pie. This is an affordable meal at $36 for adults and $20 for children ages 10 and under.
Originally published November, 2012