A Visit to Imagine Nation in Bristol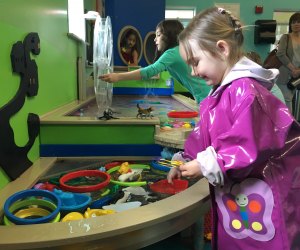 Are you interested in a destination where children can play all day and meet new friends, while expanding their knowledge and skills? Look no farther than Imagine Nation. On the list of our Fun Things To Do With Kids in Bristol, this Hartford-area museum recently underwent an interior redesign and does not disappoint. With three floors of hands-on exhibits and an outdoor play area, your child will be entertained for hours.
Children will get excited from the moment they enter the building and feast their eyes upon the old-fashioned Imagine Cafe, but don't let them linger because ice cream might be the bribing tool you need later in the day to get them to leave. As soon as you get them through the glass doors into the play area, prepare for them to excitedly scatter in all directions.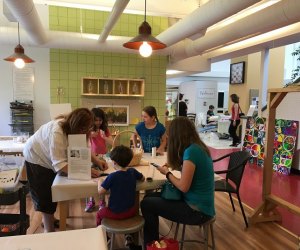 In the Art Studio, children can dream in color.
A major attraction is the Farm to Table area where imagination is truly the limit. No detail was overlooked, and the fully-equipped kitchen attracts boys and girls alike. Here they can pretend to play house or restaurant, shop for fruits and vegetables, head to the grocery store, or fill the bakery cart with scrumptious goods. Child-sized appliances and adorable touches like menus, a vase of flower, ice cubes, and delicious-looking pretend food make for a fun and lasting play experience. Don't be surprised if you end up joining your children at the bistro tables, collecting eggs from the chickens, or milking the cow.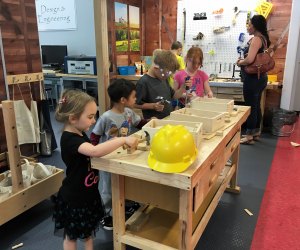 Children tinkering with tools in the Design & Engineering section. Hard hats optional.
Another areas that will delight children (well, there really isn't one that won't) is the Art Studio where they can explore with various mediums using different paints, canvass, and even recycled materials. Whether your child wants to paint a masterpiece, glue googly eyes on a seashell, work with beads and wire, or anything in between, this is the place. Bonus: the staff is absolutely terrific in helping children achieve their creative aspirations.
Whether they dream of becoming scientists, veterinarians, ballerinas, or woodworkers, or they desire to go fishing and get up close to small reptiles, here they have have the opportunity to explore at every turn. My youngest daughter especially loved the medical office area where she pretended to be a pediatrician, listening to heartbeats, reviewing x-rays, and administering medication. Further proof that no detail was overlooked is the tiny "waiting room" equipped with little couches and a book rack; children learn to be patient, practice manners and take turns, and even make new friends while waiting for their "appointment."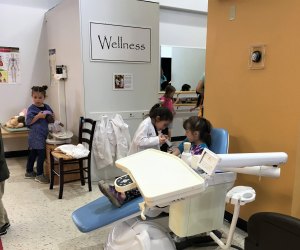 Future doctors and nurses begin their training at Imagine Nation.
As a parent, I really enjoyed the Around the World section where children explore musical instruments from other cultures, locate major cities on a light-up map, and practice words in foreign languages. Overall, our outing to Imagine Nation was very enjoyable. Furthermore, the museum offers terrific family-friendly events throughout the year, including summer specials, such as puppet shows, a water carnival, and a picky eaters workshop. Bottom line: three floors featuring 12 interactive play-areas makes this museum definitely worth putting on your "must see" list.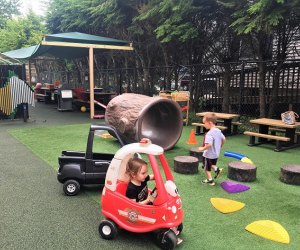 The fun extends outdoors at Imagine Nation.
Things to Know:
Imagine Nation is closed on Sundays and Mondays; it is open Tuesday through Saturday, from 9:30 a.m. to 5 p.m.
The museum gets loud because it is filled with excited children whizzing from one play area to the next. To accommodate children with special needs, the museum offers Sensory Saturdays on the second Saturday of each month. During these hours, the environment is modified into a sensory-friendly space with lowered sound and lighting.
Parking is free, but you have to drive around the block. If you are using GPS to navigate you, it will direct you to the front of the building, but the museum parking lot is behind the building. Drive down the one-way street towards West Sreet and around to Upson. Street signs will guide you.
The museum offers elevator access and can accommodate strollers and wheelchairs.
Bathrooms are available on each floor and feature changing stations.
An outside play area is equipped with sand, water, a playscape, and other fun toys.
You can pack lunch or purchase sandwiches, soups, and snacks at Imagine Cafe.
Admission is $10 per person. Membership is available and you can also receive discounts with library passes or a Big Y card.
Photo Credit: all photos courtesy of the author.