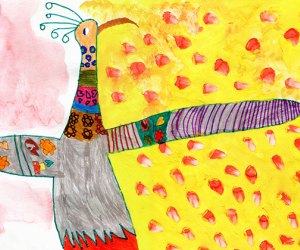 Fun Things to Do With Kids in Cheshire, Connecticut
Located on the northeast edge of New Haven County, Cheshire has twice been named by Money magazine as one of "100 Best Places to Live", and for good reason. Packed in an area of 33 square miles, you will find charming neighborhoods filled with tree-lined streets, history, art, culture, playgrounds, delicious places to eat, Connecticut's tallest single drop waterfall, and one awesome cartoon museum. Whether you choose to spend a day in town, or just a few hours, there is plenty to do here.
Barker Character, Comic and Cartoon Museum
From the moment you enter its parking lot, the Barker Museum will put a smile on your face. The property outside is chock full of cartoon character cut-outs and statues. Inside you will find one of the largest toys collections in the country, sure to delight your children while triggering your childhood memories. Owners Herb and Gloria Barker began collecting animation and entertainment art in the 1960s and opened the doors to the Cheshire museum in 1994. Whether you played with bobble heads, superheroes, or rubber duckies - and no matter what toys are currently in your children's collection - this museum, open Wednesday through Saturday 12:00-4:00pm, will be an enjoyable destination. Admission is $5 for adults, $3 for children, and free for ages 3 and younger.
1188 Highland Avenue, Cheshire
Artsplace

Artsplace is a spacious and colorful environment where nationally-acclaimed instructors teach a variety of classes and workshops (for ages 3 and up) suitable for all skill levels and interests: drawing, watercolor, animation, clay, painting, pottery, pastels, and more. Students and staff can choose to sell their creations in the Artsplace Gallery and Boutique, with 15 percent of proceeds benefiting Art Heals, an art program for homebound Cheshire residents. Participants must pre-register for classes (to ensure sufficient space and supplies). Since children are dropped off (and the waiting area is very small), you might be interested in the adjacent dog park where you can exercise Fido while the kids exercise their creativity.
1220 Waterbury Road, Cheshire
Cheshire Historical Society
Located in the Hitchcock Phillips House, a Georgian-style home built four years after the end of the American Revolution, the historical society is a wealth of local information. You can tour the house, which features seven fireplaces, a beautiful parlor, and original woodwork and flooring. The society hosts many community events, such as antiques and collectibles sales, and family friendly programs, so keep an eye on the Mommy Poppins calendar.
43 Church Drive, Cheshire
Whippersnaper's Play Gym

Rain or shine, stop here for an open play session ($7) and let the little ones leap and bounce in this colorful indoor and safe area that features play mats, slides, and climbing surfaces. Classes are also offered, such as Terrific Tadpoles for ages 1-3, Awesome Alligators for ages 3-10, and everything in between, including yoga, gymnastics, and Zumba. The facility hosts birthday parties for children ages 1-8, or Karaoke and glow-in-the-dark parties for children up to age 12.
360 Sandbank Road, Cheshire
Bartlem Recreation Area

This is a welcoming community gathering place (the Cheshire Fall Festival is held here) and park amenities include athletic fields, community gardens, a skate park, a picnic pavilion, a community pool (open to non-residents, but currently closed for renovations) and a large, fenced-in playground. Children of various ages - from toddlers to early tweens - are busy having fun here. You'll find swings, numerous slides, a climbing wall, a large climbing spider net, and other attractions. This Boundless Playground is in top shape, contains sufficient benches, a water fountain, and shaded areas. If you're seeking a smaller playground, check out Cheshire Park at 1000 Highland Ave.
520 South Main Street, Cheshire
Cheshire Public Library
Whether it's teens reading to tots, friendly Lego competitions, family yoga, or toddler dance parties, this library's staff knows how to keep kids (and grown ups) engaged and happy. Have a play date around the train table, listen to live music, pick out a movie for family night, play board games, or attend an art class. The possibilities are endless.
104 Main Street, Cheshire

Sweet Claude's


There are ice cream shops, and there are ice cream shops.This family-owned business has been satisfying sweet cravings for nearly 30 years and all frozen delights are made on the premises. Enjoy traditional ice cream flavors or house specialties such as Ram Trax, Claude's Cupcake, Mississippi Mud, tantalizing fro-yo flavors like Coffee Double Chip, or (wait for it) tofutti selections such as Pistachio and Vanilla Raspberry Swirl. I know. Dairy free. I nearly wept lactose intolerant tears of joy when I found out. Relax in the quaint, air-conditioned parlor, or at the outside picnic tables.
828 South Main Street (Route 10), Cheshire

Drazen Orchards
There's plenty of pick-your-own here: peaches, nectarines, plums, pears, and more than a dozen varieties of apples. Enjoy a picnic onsite, hitch a wagon ride to the orchards, or select from a wide variety of freshly picked fruits (grown in the orchard) and vegetables (grown locally) at The Farm Stand. Did someone say apple cider donuts? Or pumpkin pie?
251 Wallingford Road
Cheshire Hollow Farm
Children will delight in visiting this 100-acre working farm that is home to bunnies, horses, mini cattle, mixed-breed chicks, and pygmy goats. The farm is open to the public during its annual sales and offers year-round nature-based parties for children ages 3-9. Parties include a wagon ride, a farm tour, nature hikes, and scavenger hunts. Field trips are offered for students in preschool through sixth grade, allowing them the opportunity to interact with farm animals while learning about their needs.
1559 Peck Lane, Cheshire
Roaring Brook Falls
Connecticut's highest single drop waterfall is located at the end of Roaring Brook Road right here in Cheshire. The hike is 2.8 miles and locals say that the waterfall is spectacular after heavy rain, or when the snow melts in the spring. Children will have no problem climbing to the top, but toddlers should be carried in a hiking backpack. The woods are maintained by the Cheshire Land Trust, so no park entrance fees apply. Be prepared for a moderate uphill hike (via steep and rocky ravine) and a round trip that will take about an hour. The trail is open year-round and leashed dogs are allowed.
Mountain Road to Roaring Brook Road, Cheshire
No matter the season, there is always something fun happening in Cheshire! Whether you come for the arts, exercise, or ice cream you're sure to create memories that will last. Enjoy your visit and let us know about your favorite Cheshire spots in the Comments section.

Originally published on 7/31/15