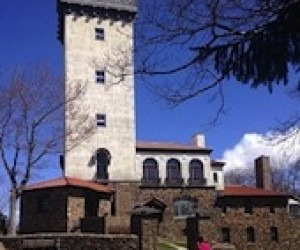 Connecticut Hiking Challenge: Have Fun & Win a Medal on These Family Hikes
Life in Connecticut is challenging... especially in 2015, when there are so many trails and so little time. Say what? You haven't started The Sky's the Limit hiking competition yet? Designed to encourage exploration of our state's natural wonders (all free!) while spending time together, this outdoor recreation campaign launched in January. Thus far, my family has visited seven state parks and we have three more to go before becoming eligible for a shiny medallion. With spring in full swing, it's time for your family to sign on. May the winner take all!
Alright, alright, there are plenty of medals to go around, and the "competition" really isn't that intense. In fact, it's fun and easy. The Connecticut Department of Energy & Environmental Protection has selected 14 state parks, seven of which are profiled below. To compete, all you have to do is hike there, take pictures at designated locations, and submit them by December 11. For 10 hikes, you get a medallion. If you complete all 14, you'll be entered to win one of 50 hiking staffs.
So, dust off the hiking boots, fill the backpack, and grab the kids (and dogs!). The lingering scent of evergreens, the spring songs of birds, and blooming wildflowers await.
Here are the parks we have hiked so far:

Dennis Hill State Park, Norfolk
The destination is the unique pavilion (formerly a summer estate) at the top of Dennis Hill where on a clear day, you can see as far as New Hampshire. Combine the yellow and white trails for a ½ mile hike through the woods, or, a nice option at this location is walking up (about 1/3 mile) along the paved road. Perfect for pushing a stroller, pulling kids in a little wagon, or even biking. The incline is moderate and a clean portable toilet awaits.
Route 272, Norfolk
Haystack Mountain State Park, Norfolk
The view from the tower atop Haystack Mountain, standing 1,700 feet above sea level, is one of the best, but you'll need to work up a sweat before you can peer over three state lines. A short scenic drive takes you to the foot of the mountain. From here, the hike to the top is short – less than .5 miles, but the second half is pretty much a straight up adventure. Prepare for rocky terrain and bring water. Toddlers might be best off in a hiking carrier. No restrooms.
Route 272, Norfolk
Hurd State Park, East Hampton
Take the yellow trail to Split Rock Vista – for what is more a 1-mile walk in the woods than a hike - and enjoy serene views of the Connecticut River. On the other side of the forest you will find a picnic pavilion, a clean portable toilet, and an open field perfect for chasing a ball – or each other.
Route 151, East Hampton
Mohawk State Forest / Mohawk Mountain State Park, Goshen
Vast and peaceful, the forest here accommodates even the youngest hikers. You can drive to the summit where picnic tables and views of the Berkshires await. The blue trail is about 6 miles, but you can park at numerous locations along Toumey Road and make the adventure as short or as long as you wish. A favorite kid attraction is Cunningham Tower, accessible by a flat, wide path, and the boardwalk leading to the only black spruce bog in the state (bring bug spray).
20 Mohawk Mountain Road, Goshen
Talcott Mountain State Park, Simsbury
The trail leading up to Heublein Tower is one of the most beautiful hikes in Hartford County. The views from the top (and along the upper part of the trail) are stunning. The first 10-15 minutes of the hike are borderline strenuous due to incline, but the rest of the trail is an easy walk. With young children (and a grandma with bad knees), ours was a 2-hour round trip, including lunch. Portable toilets located at the bottom and top of the trail, along with benches along the way, and picnic area and a water fountain at the top. The Heublein Tower is open Memorial Day through Labor Day.
Summit Ridge Drive, off Route 185, Simsbury
Fort Griswold Battlefield State Park, Groton
An excellent place to bring children, Fort Griswold offers sweeping views of the Thames River and important history lessons. The fort is a hilly meadow that is perfect for a picnic, kite flying, a few cartwheels, or imagining (perhaps through pretend play) the Revolutionary War battle that took place here. This is the site of the 1781 massacre led by Benedict Arnold. On-street parking could be limited on holiday weekends.
57 Fort Street, Groton
Macedonia Brook State Park, Kent
Well-marked trails, plenty of shade, and beautiful views will keep you happily lost in the forest for hours. Our family enjoys the blue-trail loop (nearly 7 miles), which took us about 3 hours with young children. The terrain is rocky and difficult at times, so pack plenty of water. Toddlers will be safest in a hiking carrier. The park offers a picnic pavilion, restrooms, water, and plenty of camping sites.
159 Macedonia Brook Road, Kent
For more information about the other destinations and where to send pictures, visit the state website. May the forest be with you!
Also, while not a CT State Park, check out our post about hiking Ward Reservation in Fairfield County.