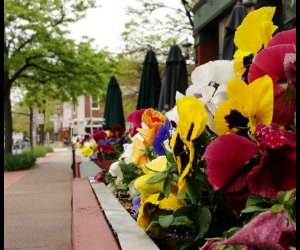 25 Things to do in Middletown with Your Kids
Middletown was once a historic port town and industrial center but has now become a hopping and eclectic place to bring your family for food and entertainment. Moms and Dads love Middletown for its simultaneous city/town feel and the variety of options available for entertainment such as KidCity and Middletown Roller Rink. You don't have to go far in in this town to find a great cultural restaurant, something to do with the kids, or places to shop and play.
Amato's Toy and Hobby Store
Amato's has two locations, one in New Britain and one in Middletown. They are a family-owned store with a ton of history and a certain destination for kids and parents who appreciate a cleverly made toy. This is a great store for the hobby collector too. Amato's has products for kids who love race cars, Thomas, art, RC vehicles, and of course... tons of trains! Amato's has a 3,000 sq. ft. train display which is open every Saturday.
395 Main Street, Middletown, CT 06457 860-347-1893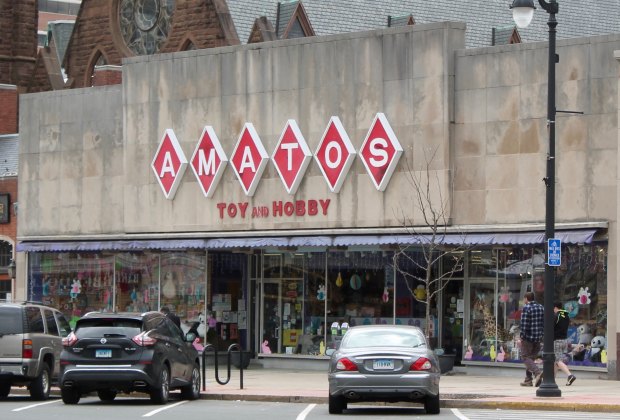 Tschudin Chocolates
After you have done some toy shopping at Amato's walk on down to this chocolate store and grab some goodies. This storefront location offers filled chocolates, both milk and dark, chocolate covered strawberries, seasonal chocolates, and molded chocolates. They are located on the corner of Main and Court Streets and won the Food Network show: "Re-Wrapped."
100 Riverview Center, Suite 110, Middletown, CT 06457 860-759-2222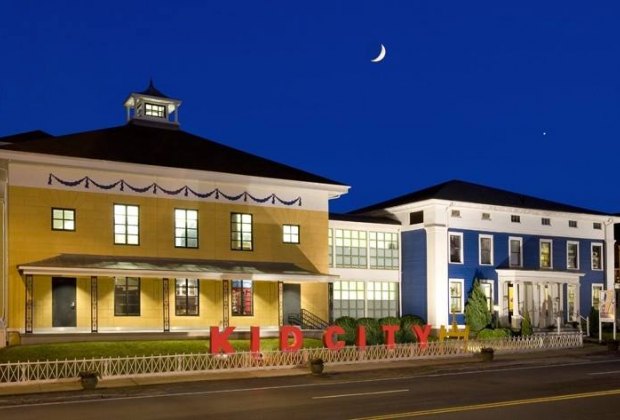 Photo courtest of KidCity
KidCity
No one with kids under the age of seven can come to Middletown without going to KidCity. This is a wonderful children's museum that offers kids several floors of interesting, hands-on entertainment and play. Some of the quirky exhibits include a spaceship, a mini-medieval village, farm, mermaids and dinos. All the exhibits are hand made by a team at KidCity in conjunction with local artists. KidCity offers memberships and member-only benefits and is open 361 days of the year!
119 Washington Street, Middletown, CT 06457 860-347-0495
NoRa Cupcakes
Cupcake lovers unite...at NoRa Cupcakes (that means North of Rapalla Avenue). Owned by fellow cupcake lover Carrier Carella, NoRa offers 20 different cupcake flavors with names like 50 Shades of Chocolate, Chocolate Salted Caramel, Oreo Cheesecake, and Chipocolypse. They even offer vegan and gluten friendly options. They have a Cupcake truck that they drive around and sell from. Check out their Facebook page to see pictures of the deliciousness.
700 Main Street, Middletown, CT 06457 860-788-3150
It's Only Natural
This all-natural grocery store has a yummy collection of candy for parents who don't want tons of fake colors and ingredients in their treats. You can also get fruit, chips, and gluten-free sandwiches to fill up your kids' bellies as you visit Middletown attractions.
575 Main Street, Middletown, CT 06457 860-346-1786
Metro Movies 12
Metro is an independent movie theater which does not belong to one of the major movie chains. What does this mean? It means that some movies (but not all) that come to Metro are unique flicks that you won't find in your major twenty-screen chain locations. If you have missed a kids movie that you wish you had seen with the family, Metro may still have it!
Metro Square Shopping Center, 140 Main Street, Middletown, CT 06457 860-346-4000
Fro Yo
What else can be said? Frozen yogurt with delicious toppings like mangos, cherries, berries, and watermelon. A friendly, affordable shop with lots of flavors for the kids.
386 Main Street, Middletown, CT 06457 860-788-6063
Middletown Roller Rink
Want to re-live the memories of getting blisters from a pair of rollers skates with your kids? Middletown Roller Rink is an old-fashioned rink located downtown and they have a brand-new shiny floor for beginners. 8-week lessons are available for kids ages 5 and up and they have afternoon hours during school vacations. The rink is open every evening and both Saturday and Sunday afternoons.
547 Main Street, Middletown, CT 06457 860-704-0064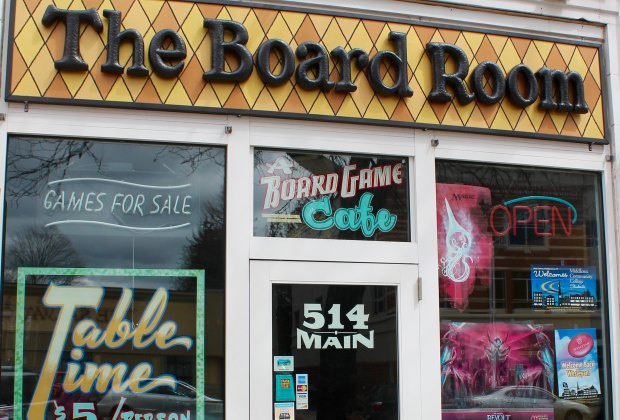 The Board Room
Do your kids love games? This quaint retail space is a great destination for older kids who like to play board games and role playing games. They have a wall stacked full of board games, many that you have never heard of. The Board Room has weekly meet-ups for Dungeons and Dragons, Magic the Gathering, and even Try-A-Game-Tuesday, where they crack open brand new games. A small cafe on site offers snacks and sandwiches.
514 Main Street, Middletown, CT 06457 860-788-7824
Willie Pep Skateboard Park
Opened about six years ago, this skateboard park is a small and simple 135 sq. ft of rolling fun for kids who love to trick out on their boards. It is located near a main road, but fenced in.
1 Green Street, Middletown, CT 06047 860-343-6620
Wadsworth Falls State Park
Enjoy the outdoors and see a stunning waterfall too. You can hike or bike on the trails as well as picnic with the kids. There are designated swimming areas (a pool) for hot summer relief. Bring your fishing rods as you can fish in the Coginchaug River waters.
721 Wadsworth Street, Middletown, CT 06457
Oddfellows Playhouse Youth Theater
In business for four decades, Oddfellows is dedicated to community and youth theater which annually serves 1,200 kids. The theater offers afterschool and Saturday classes which last for 12 weeks. Plays are produced for the Jr. and Teen production companies and have included shows such as: Headin' West, Alice in Wonderland, and A Comedy of Errors. They also offer a fun and unique Circus program which has been running for almost thirty years!
128 Washington Street, Middletown, CT 06457 860-347-6143
Empower Leadership Sports and Adventure Center
If your family is adventurous and likes to get outside, then check out this place. Empower has a tree-top zip-line canopy tour, offers tree climbing and rappelling, and map and compass scavenger hunts. Kids will experience the zip lines that average between 200 and 600 feet long as well as the beauty of the trails in Laurel Brook Forest. This is a real opportunity for a family bonding experience.
2011 S. Main Street, Middletown, CT 06457 860-638-4754
Wesleyan Center for Performing Arts - Wesleyan University
The Performing Arts Center located on the campus of Wesleyan University offers so many productions and concerts. Bring your children to the annual Ebony Singers gospel blow-out or to hear some amazing international music from Japan, China or Africa. Prices and times vary.
283 Washington Terrace, Middletown, CT 06457 860-685-3355
Family Wellness Center of Connecticut
This location offers many programs for children and most are free. Programming includes family yoga, art explorers, infant massage, Kids in the Kitchen, and Movin' and Groovin' with Miss Kim - just to name a few. The Family Wellness Center is affiliated with the Community Wellness Centers. Some programming is available in Spanish.
635 Main Street, Middletown, CT 06457 860-347-6971
Bobby's World of Cards and Comics
Do you have a comic book collector? Bobby's World is for the game playing, comic book reading, card collecting kid. They sell Pokemon, Magic, Star Wars and several different types of models and collectibles for kids who love Sci Fi and game-playing.
749 Saybrook Road, Middletown, CT 06457 860-788-3668
Middletown-Middlesex YMCA
The Middletown YMCA is located downtown and offers everything you would expect at a Y. There are swimming lessons, before and after school programs, a homework help club run by Wesleyan tutors, dance classes, and toddler enrichment activities. The Y also offers free community events periodically.
99 Union Street, Middletown, CT 06457 860-347-6907
Russell Library
This large, historic library has a lot to offer as well as a ton of regular programming. The children's department offers museum passes, an online database for homework and research, and a early learning literacy computer station. The kids calendar has a busy schedule including Healthy Me, Healthy Start, Baby Rhyme Time, Wonderful One's, and Terrific Two's. Open daily.
123 Main Street, Middletown, CT 06457 860-347-2528
Cherry Berry
Mmmm, another frozen yogurt cafe. The toppings at this yummy location include things like M & M's, coconut, sprinkles, and malted milk balls.
423 Main Street, Middletown, CT 06457 860-537-9999
Middletown Art Academy
The Academy focuses on fine art, drawing and painting skills and offers classes for all ages. Digital art classes are also available for kids 13 and up. MAA offers a 6-week long afterschool art program for kids ages 6 to 15 as well as a homeschool fundamental class which is 12-16 weeks. Children's classes include: art fundamentals, drawing and painting fundamentals, Manga, superheroes and fantasy figures, and urban art graffiti.
508 Main Street, Suite North 3, Middletown, CT 06457 860-344-0554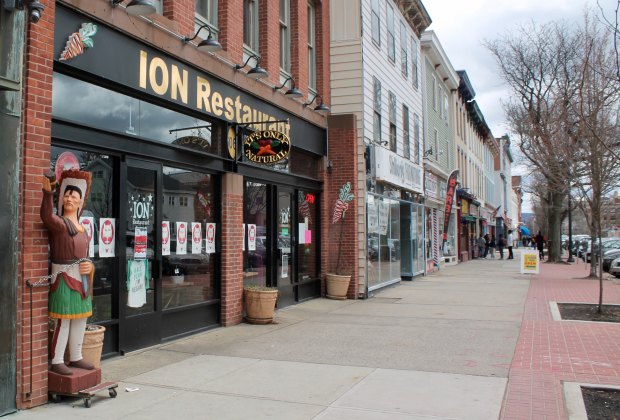 Butternut Hollow Park
Butternut Hollow is a very scenic 6 acre park with a water feature and playground. Great place for fishing, running, and playing. Handicap accessible. Check out their Facebook page to see more pictures.
66 Thomas Street, Middletown, CT 06457
Caffery's Dance and Gymnastics School
Caffery's offers wonderful opportunities for kids to become more sure of themselves and to grow in their physical strength. Classes are available for kids starting at 24 months up to teens. Choose from Mommy and Me, Preschool Gym and Dance, Kinder Gymnastics, Tumbling, Acrobatics, Cheer, and Teen Gym.
140-5 Main Street, Metro Square, Middletown, CT 06457 860-346-5678
Coming soon!
RJ Julia Bookstore
A new book store is opening on Main Street. RJ Julia Booksellers will be managing a Wesleyan affiliated book store located a couple doors down from Amato's Toy and Hobby.. Opening in late-May, the 12,000 sq. ft. book store will feature a children's section and a healthy food cafe. Work on the site has been ongoing since December.
413 Main Street, Middletown, CT 06457
And if you don't mind a short drive, check these out:
Levi A. Coe Library
Take a short drive to Middlefield, and you can enjoy the offerings for kids at Levi A. Coe's library. Besides regular programming such as story time for kids, they have fun classes which are open to the public. The cozy children's area has tons of books and other resources. Closed on Fridays.
414 Main Street, Middlefield, CT 06455 860-349-3857
Lyman Orchards
This massive picking farm is located in nearby Middlefield. They have miles of growing space where you can pick your own peaches, apples, strawberries, blueberries, and something called a Jostaberry. Besides regular events on their calendar such as the Strawberry Festival and the amazing corn maze in the fall, they have a store which is open year round with delicious homemade pot pies and delicious desserts. Call the 24-hour pick-your-own line before you come down to pick fruit: 860-349-6046.
3 Lyman Road, Middlefield, CT 06455 860-349-1793
Portland Reservoir Trail
Right up Route 66, is picturesque Portland. Spend some time with your family in the woods on the Portland Reservoir Trail. Unpaved but cleared and surrounded by woods, the trail is two miles long and goes around the reservoir.
379 Old Marlborough Turnpike, Portland, CT 06480
Photos courtesy of the author unless otherwise indicated.
Cover photo courtesy of Downtown Middletown, Ct.