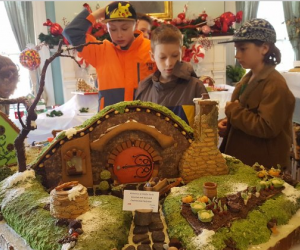 Wood Library and Museum Gingerbread House Festival: Parent Review
A trip to the Wood Library and Museum during the holidays is an annual event for our family. After discovering the Gingerbread Festival three years ago, I have made it a point to plan a morning to take my boys there every year. The Library itself is located in a part of South Windsor that could easily be transported back in time. The little, and I mean little, library is packed to the gills with books in every nook and cranny. But this time of year, also squeezed inside are hundreds and hundreds of handmade gingerbread houses made my children and adults alike.
Upon arriving at the building, you will notice that there isn't a big paved parking lot. You can park on the street or in the tiny lot behind the building.
As we entered through the front of the building, we were met by the faces of friendly volunteers who staff this seasonal, two-week long event.
Our first stop is always to the first floor of gingerbread houses. Displayed on tables, these houses reflect the personality of each of their creators. The children's gingerbread houses boast many different colors of frosting and sugary-goo as well as hundreds of kinds of candy and edibles. The creative use of some food items in the gingerbread houses is pretty amazing. This year we saw an entire roof made of rows and rows of individually placed uncooked oats! We also saw that someone used shredded wheat as a roof material, rock-shaped gum to create a walkway and pretzels to create a realistic fence.
A few of the amazing houses on the first floor include the Hobbit hole recreation, a favorite for my Lord of the Rings fans. There is also a Minion making factory and a mill complete with a waterwheel made of edible materials.
On the mezzanine, more interesting pieces awaited us. A map of the United States and a gingerbread laptop had all the boys stopping to look and admire details. There was also a Dunkin Donuts gingerbread house, which was definitely my personal favorite.
On the second floor, you can find even more amazing gingerbread creations. I carried my two-year old, but if you have a stroller, you may want to use the elevator. The decorations put up to add a party flair are festive and Pinterest-worthy. You will want to take note.
Also on the second floor is a recently expanded craft bazaar with lots of very unique holiday decorations and gifts. Hand made glass ornaments, hand sewn creations, Christmas treats for your canine family members, gift wrapped gingerbread houses and so much more.
Some tips for your trip to the Wood Library and Museum:
1. Park on the street for easy access.
2. Wear your toddler on your back or wheel him/her in a stroller. My son took to running around the second floor, so I couldn't really enjoy those too much for fear he would destroy something.
3. Bring your camera.
4. Prepare to have some kids who want to make gingerbread houses after your visit!
5. Stop by the sweet little candy shoppe outside.
6. Go soon! It's only open until December 10.
Wood Library
783 Main Street
South Windsor, CT 06074
(860) 289-1783
Photo Credit: Jennifer Coe and Kim Patterson