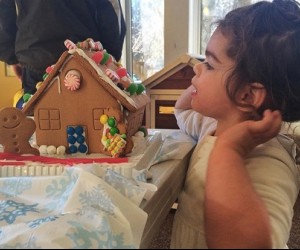 Decorating Gingerbread Houses in the Hartford Area
Gingerbread houses: delicious masterpieces decorated with edible pearls, sparkling sugar crystals, and windows crafted from melted yellow candy. Or, for some of us, efforts that culminate in soggy gingerbread walls crumbling under the weight of clunky frosting, and gum drops sliding off roofs. Decorating is best left to the experts, the kids, especially when they make the sticky mess somewhere else. So, if you're like me, desperate for a gingerbread house that is as beautiful as it is tasty, consider some of the classes offered in the Hartford area. They do fill up fast, so early registration is encouraged.
Stew Leonard's, Newington
Geared for ages 2-5 and 6-12, classes allow children to decorate their own gingerbread house using a variety of toppings. Little chefs also make gingerbread cupcakes, and bake gingerbread cookies.

3475 Berlin Turnpike, Newington 860-760-8100

Noah Webster House, West Hartford
Step back into history and create an edible masterpiece in the home where the creator of the first American dictionary lived.

227 South Main Street, West Hartford 860-521-5362
The Little Green Tambourine, Canton
Depending on your little chef's age, choose from five gingerbread house workshops offered at this creative arts studio. Geared for ages 3-5.
166 Albany Turnpike, Suite 3, Canton 860-352-5504

East Granby Recreation Department, East Granby
Little bakers ages 2-5 are invited to make a gingerbread house (out of graham crackers) and add their sweet decorative touches.

9 Center Street, East Granby 860-653-7660
The Wood Memorial Library & Museum, South Windsor
Take part in one of the largest gingerbread houses festivals in New England. Running from November 25 to December 10, the event is a great opportunity to showcase and admire sugary creations.

783 Main Street, South Windsor 860-289-1783
Berlin-Peck Public Library, Berlin
Gingerbread houses will be accepted December 10-13. The contest offers two categories: family/group or individual ages 13 and up, and individual children ages 12 and younger. Library patrons will vote for their favorite, and the owner will be announced December 17.
234 Kensington Road, Berlin