Brooklyn Bike Park Brings Mountain Biking to NYC Kids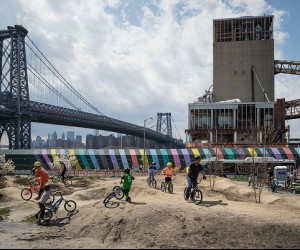 This bike park is now closed. The organizers hope to open a new one nearby in May 2015. We'll update this post if that happens. New York City never ceases to amaze me with its seemingly endless expansion in the "you can do that in NYC now?!" department. The people who don't understand why we raise our kids in the city just don't get the true awesomeness of the ever-changing playground in which we live. Stage combat, trapeze, cheerleading, Chinese—whatever your kids are interested in, there's probably a place to do it, plus the opportunity to discover new things they didn't even know they were into located around every corner.

I like to think I know most of what's going on in the city, but my jaw dropped the other day when I stumbled upon Brooklyn Bike Park, an incredible, dirt track, mountain biking park that sits on a full block on South Williamsburg's industrial waterfront. It was such a great find and since it's moving at the end of this summer, I just had to share right away.
Opened in summer 2013, Brooklyn Bike Park is a volunteer-run park that offers an off-road cycling experience for New Yorkers of all ages and abilities. The park is FREE to use (though donations are encouraged), and bike rentals are $5 to $15 based on age, and FREE for children under 5 (yes, there are bikes for preschoolers, too). The park has multiple tracks with different features where you can learn and practice your mountain biking skills, as well as a pump track, a course with humps that allows you to pump your body (like on a swing) so gravity gives you continuous motion without the need to pedal. There are also weekly classes available for children and adults.

While there are already mountain biking trails in NYC parks, Brooklyn Bike Park is a great place to get started since you don't need to own your own equipment, and the self-contained trail is easy and safe for children of all ages. However, if you have an experienced mountain biker in your family, check the New York City Mountain Bike Association website for more information about local mountain biking trails.

Brooklyn Bike Park is currently located at Kent Avenue and South 3rd Street in Williamsburg. However, since the lot is about to be developed, the park will be vacating the site on August 31 to move to a larger space directly across the street, right on the East River. The organizers are asking for donations and hands-on volunteers to help with the relocation. Until then, Brooklyn Bike Park is open on weekdays from noon to 6pm, and weekends from 11am to 5pm, but it's wise to check its Facebook page before heading over since it can close for rain or maintenance at any time. There is no phone number and the Brooklyn Bike Park website isn't updated very often.

I'm so thrilled that this place exists, offering another low-cost way for NYC kids to be active and try something you would never imagine was doable smack-dab in the middle of our huge metropolis. Thanks to all those who brought Brooklyn Bike Park into being.
Kid more into BMX biking? Check out our post about Staten Island's 5050 Skatepark, NYC's only public indoor skatepark.