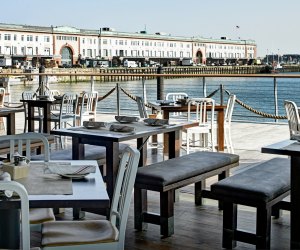 10 Outdoor Dining Spots for Families in and Around Boston
When the weather is so nice that you just want to spend every moment outdoors, you might wish you could find a restaurant with the elusive combination of good food, open-air seating, and a kid-friendly atmosphere. We've discovered a few places that meet all three of those criteria and will make a meal out with children downright enjoyable. Some of them even made our list of restaurants where kids can play while you relax, the ultimate combination for happy dining as a family.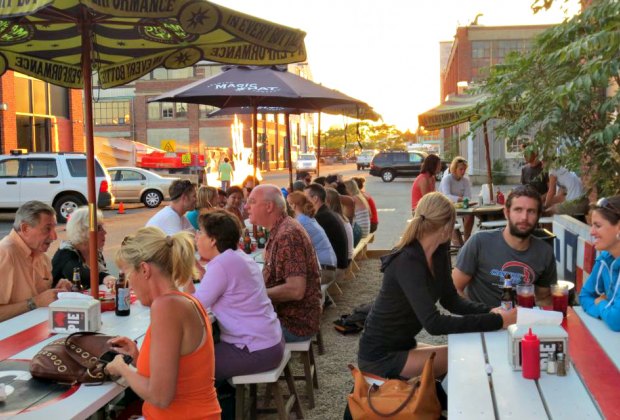 Everyone gets a personal pie at KO Pies at the Shipyard.
1. KO Pies at the Shipyard — East Boston
Get a taste of Australia without ever leaving Boston when you head to KO Pies at the Shipyard. Try one of the signature savory pies — they're individually sized, so everyone can have their own — on the restaurant's deck, which has stunning views of the city skyline. Top it off with a lamington (cake covered with chocolate and coconut), a true treat from Down Under.
2. Legal Seafoods Harborside and On the Mystic — Seaport and Somerville
Legal Harborside made our recent list of places to dine where kids can play and adults can relax. That's because it's one of the most scenic outdoor dining spots in town, with ample opportunities to watch boats cruise in and out of the harbor. Legal on the Mystic at Somerville's new Assembly Row development has a shady patio right across from the Mystic River and is right near LEGOLAND. Plus, the food at Legal is sure to please both kids and adults.
3. Naco Taco — Central Square Cambridge
Tuck into fresh tacos, tortas and shared plates at Naco Taco in Central Square. The simple, yet inspired food is sure to please even the pickiest palates. And you can enjoy it on the restaurant's ample patio, where the tables have umbrellas so can catch some shade on really hot days.
4. Picco (Pizza & Ice Cream Co.) — South End
There's plenty for kids to like at Picco (seriously, do you know any kids who don't like pizza and ice cream?), but this place is really a treat for the adults, with a nice selection of beer, wine, gourmet pizzas and desserts. The "Adult" Ice Cream Soda, with raspberry Belgian Lambic poured over vanilla ice cream, is reason enough to visit Picco. The large patio has ample seating and is great for people watching.
5. Shake Shack — Chestnut Hill
The delightfully decadent meals at Shake Shack will appeal to both parents and kids alike. Head to the Chestnut Hill location for juicy burgers, crunchy fries, and thick, creamy shakes. There's a big lawn with kid-sized benches so little ones can eat and run around while mom and dad enjoy their meal at nearby shaded tables. That's a win-win.
Sofra Bakery and Café — West Cambridge
What happens when you mix a New England bakery with cuisine from Turkey, Lebanon and Greece? You get the delights of Sofra, a Middle Eastern bakery and cafe. It's the perfect for breakfast, lunch, an afternoon snack, or cup of tea. They have a large variety for such a little place, with everything from a mezze bar to savory pies to palace bread. Your adventurous child might want to try a surprise filled donut (only available weekends). An outside table can be a little difficult to snag at this neighborhood favorite, so go early, especially on the weekend.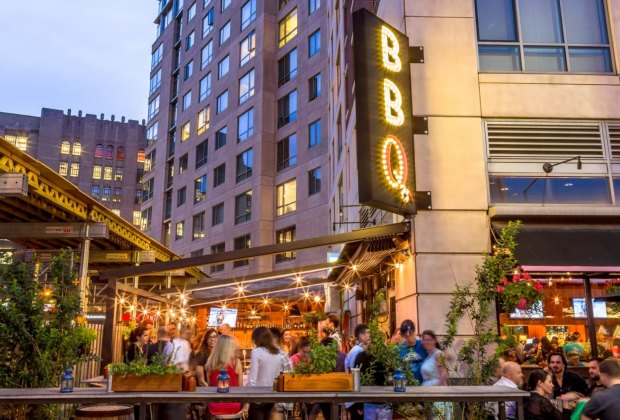 Score a patio table at Sweet Cheeks.
7. Sweet Cheeks — Fenway
This rustic BBQ restaurant is a sure crowd pleaser for diners of all ages. Serving some of the best barbeque in Boston, Sweet Cheeks has something everyone will love (don't miss the signature biscuits). This stick-to-your-ribs meal will taste even better when you enjoy it on the restaurant's patio.
8. Tatte Bakery & Cafe — Beacon Hill, Fenway, Brookline, Cambridge
The patios at Tatte, which now has several locations throughout the Boston area, are the perfect places to tuck into one of the cafe's hearty breakfasts or lunches. I can't resist the pastry case when I visit, so we usually indulge in a fresh baked good for a special snack. They taste even better when eaten outside.
9. The Neighborhood — Union Square Somerville
As anyone with kids knows, you can't wait un an hour-long line for brunch. Luckily, at The Neighborhood, you don't have to because it opens at 7 a.m., even on the weekend! There's a big, shady patio so you can sip your coffee al fresco while your kids dine on the restaurant's famous cream of wheat.
10. Wagamama — Faneuil Hall
Whether your child has a sophisticated palate or prefers the simplest of comfort foods, Wagamama likely has something on its kid's menu that will get a thumbs-up from your young discerning diner. The kids can slurp away on their noodles at an outdoor table while you all watch tourists and Bostonians flitting from shop to shop in Faneuil Hall.
---
Originally published May 2012; updated July 2015; updated July 2018. All photos courtesy of the restaurants