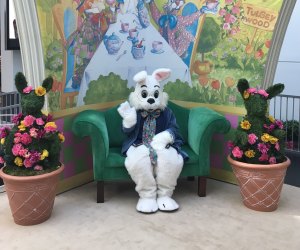 Hippity Hop! Where to Take Photos with the Easter Bunny in Westchester
Say cheese—er, carrots! Easter is almost here, making it the perfect time for family-friendly activities like Easter egg hunts, coloring eggs and of course, having a photo snapped with the Easter Bunny. This year, there are a number of places in and around Westchester where your kids can pose for a picture with Peter Cottontail himself.
Looking for more holiday ideas? Check out our Event Calendar and sign up for our newsletters!
The Westchester - White Plains
From now through April 15, 2017, the Easter Bunny will be calling The Westchester mall in White Plains home. He'll be on Level 1 at Center Court every day of the week, with times varying depending on the day. For $10 (which then goes towards your photo purchase), you can reserve your family's spot ahead of time. For children with special needs, the mall is hosting a private photo session with the Easter Bunny on March 26 from 10 a.m. to 11 a.m.
The Galleria - White Plains
The Easter Bunny is headed to The Galleria in White Plains from April 1-15, 2017, where kids can have their photo taken from 11am to 8pm on Monday to Saturday and from 12pm to 6pm on Sundays. This year, the Bunny will be set up on street level, near the Blink Fitness wall. Photo prices start at $23 and you can reserve an Easter Speed Pass (read: spend less time waiting in line) by making a reservation and purchasing your package ahead of time on their website. The party doesn't stop with photos, either: There will be a DJ playing tunes for kids and craft-making activities.
Ridge Hill - Yonkers
Who says selfies are just for high schoolers? The Easter Bunny will be taking his own selfies at the Ridge Hill Bunny Hop on Saturday, April 8, 2017, from 1-4pm—and your kids can get in on the action! Along with the photos, there will be other fun things to do, such as giveaways and a virtual Easter egg hunt.
Stew Leonard's - Yonkers
Parents and kids can enjoy breakfast—or brunch, or lunch—with the Easter Bunny at Stew Leonard's in Yonkers on April 1 or April 2, 2017. The Bunny will be available for photos, and some of the special Stew Leonard's characters, like Wow the Cow, will also be on hand to make the day full of fun.
Jefferson Valley Mall - Yorktown Heights
The Easter Bunny will be setting up shop at the Jefferson Valley Mall in Yorktown Heights from March 12 through April 5, 2017. this year. Time vary—you can find the full list on the mall's Facebook page—and the Bunny will be ready for prime picture taking at Center Court.
Palisades Center - West Nyack
Just over the Tappan Zee Bridge in Rockland County, the Easter Bunny is available for photos from now through April 15, 2017, at the Palisades Center mall. He'll be in the West Court on Level 1, with times varying depending on the day. There will also be a sensory-friendly photo session for children and families with special needs on March 26, 2017, from 9-11am, and parents can reserve their spot online.
Photo courtesy of The Westchester