Candytopia Brings a Sweet Escape to the Washington, DC Area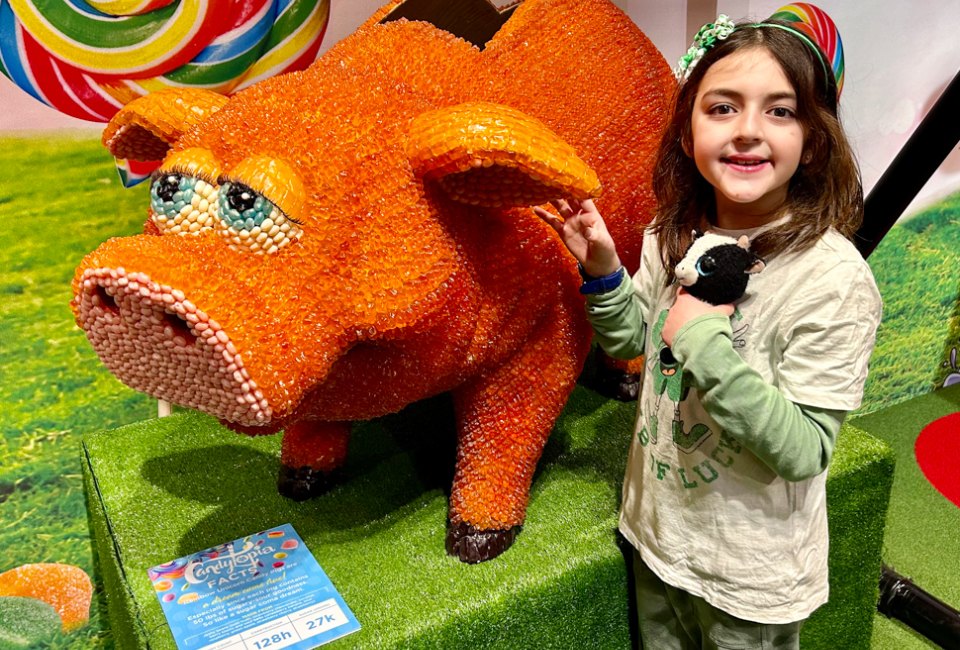 3/30/23
- By
Jennifer Marino Walters
You don't have to have a sweet tooth to be wowed by Candytopia, a new pop-up "museum" near Washington, DC. This candy-themed, selfie-inspired immersive experience opened March 17, 2023 on the first floor of Tysons Corner Center in Northern Virginia, following successful runs in Los Angeles, New York City, Houston, Atlanta, and other cities. Candytopia features 14 interactive environments with art and sculptures made entirely of candy, fun photo ops, a marshmallow pit to jump and play in, and so much more.
My family had the opportunity to visit Candytopia on the day it opened. Read all about our sweet experience, then make a sugar rush to get tickets—this candy wonderland is expected to leave town on June 30, 2023!

The art-gallery room features an American flag, the Mona Lisa, and other pictures and portraits made out of candy.
What to Expect at Candytopia - Tysons Corner
Actually, my crew—my husband, our 11-year-old twin boys, our 8-year-old daughter, my parents (AKA Grandma and Grandpa), and me—had no idea what to expect when we arrived at Candytopia. We were all thrilled by the sweet surprises we encountered throughout. The art-gallery room, filled with "paintings" made entirely of candy, was fascinating. The pieces include everything from famous works like Starry Night and Mona Lisa to portraits of pop-culture icons like Beyonce and, of course, Willy Wonka.
RELATED: Dinos Alive: Immersive Experience Brings Dinosaurs Roaring Into Washington, DC

Take a ride on a candy swing!
There are loads of intricate candy sculptures throughout the experience as well, such as a giant Sphinx, a dragon, the Statue of Liberty, various other animals, and—much to my daughter's delight—flying pigs wearing tutus. Plaques accompanying each artwork include fun facts like how many pieces of candy were used and how many hours it took to create the art.
Each room also has some kind of interactive element that delighted the kids (and grown-ups) of all ages that were visiting during our time slot. There are giant swings to swing on, structures to climb on, a spinning candy wheel to get dizzy on, a glowing archway to walk through, and more. My kids loved getting sprinkled with rainbow-colored confetti in the confetti room, some of which came courtesy of farting pig sculptures!
RELATED: Top Indoor Playgrounds in DC, Maryland, and Northern Virginia for Kids

Go for a dip in the marshmallow pit.
The last room features the most exciting element of all—a marshmallow pit filled with roughly 250,000 foam marshmallows to jump and play in. At first only my daughter wanted to go in it, but once my boys saw how much fun she was having—and the energy of the workers, who were shooting more marshmallows into the pit out of cannons—they kicked their shoes off and jumped right in to join her.
Finally, as you can imagine, there are loads of Instagram-worthy photo ops throughout Candytopia. I got tons of great pics on my cell phone, but I also took advantage of some of the Sugar Rush photo stations sprinkled throughout the experience. You just enter your email address, scan the QR code at each station, look into the mounted camera, and then receive a link via email to download the photos for free!
RELATED: Free Museums Near DC to Visit with Kids

Is it a unicorn or a candycorn?
But Do You Actually Get Candy?
YES!!! How could I forget the sweetest part? Every single room has trunks of candy you can help yourself to, except for one room where LINDOR truffles magically drop from the ceiling on a giant clock. With so many people in my party, my purse was loaded down with Blow Pops, candy necklaces, Haribo bears, and more by the time we left.
Visiting Candytopia - Tysons Corner with Kids
Candytopia is one of those experiences where kids of all ages will have fun. However, it may be stressful to bring toddlers or preschoolers, who will be (understandably) tempted to climb on the candy sculptures or grab fistfuls of treats. Older kids, tweens, and teens will get more out of the experience because they'll appreciate all of the photo ops.
If you're coming with an infant or toddler, note that Candytopia asks that you leave strollers at home. There is no stroller valet available, either. I did see one mom carrying her infant in a baby wrap with no problems.
RELATED: Where to Play Indoor Mini Golf Near DC with Kids

Enter the art-gallery room through a cool light tunnel.
More Tips on Visiting Candytopia - Tysons Corner
1. Hours and Tickets
Candytopia is open 10am-8pm on Wednesdays through Mondays, plus two Tuesdays, April 4 and 18. Tickets cost $30 for adults and $23 for kids ages 4-12; children age 3 and under are free. Tickets must be purchased ahead of time online.
2. Bathrooms
Bathrooms are located about halfway through the experience, so it's best to make sure everyone uses the restroom ahead of time to be safe.
3. Wear Socks
Shoes are not allowed in the marshmallow pit, so have everyone in your party wear socks if they plan to go in it.
4. Gift Shop
Of course, the experience ends in a large, pretty amazing gift shop that is completely unavoidable. Despite all of the free candy they get along the way, your kid will likely beg you to buy them even more candy. Not gonna lie—the fill-your-own candy bag station is pretty sweet. There are also stuffed animals, stationery items, and other little trinkets for sale.
5. Length of Experience
The entire experience took us about an hour. We were able to walk through each room at our own pace and never felt rushed.
RELATED: 7 Awesome Trampoline Parks Near DC for Indoor Family Fun

Frolic in a room full of rainbow-colored confetti.
6. Is It Worth It?
My family's answer to this question is a resounding YES! Any experience at which an entire family, from kids to grandparents, can have an equally good time—and walk away with tons of great photo memories—is a win in my book!
All photos are by the author.
Places featured in this article:
---
Tysons Corner Center Mall