Candytopia: A Candy Playground Pop-up That's Totally Sweet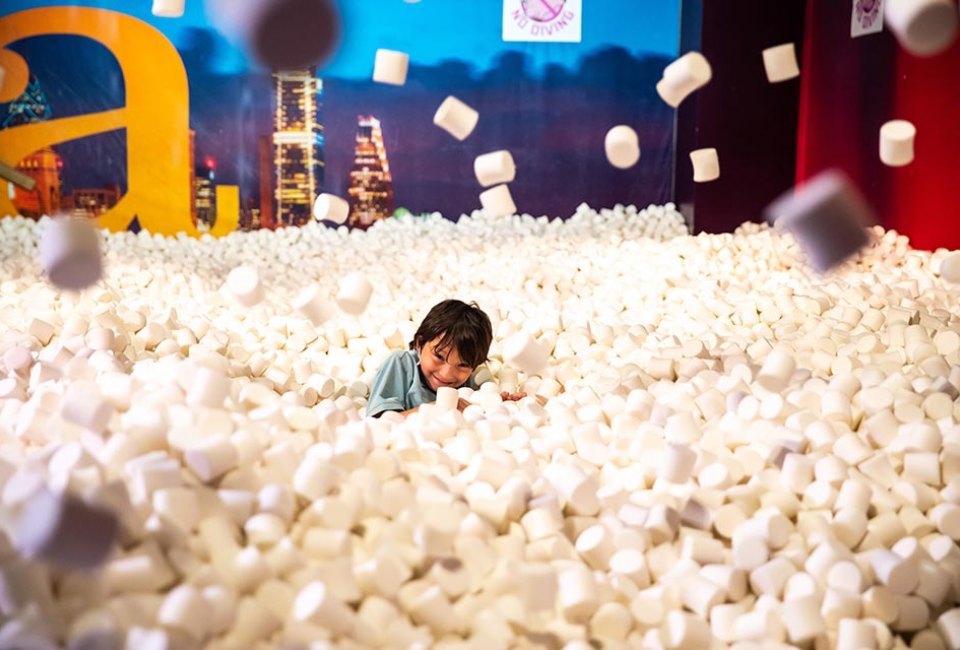 8/13/21
- By
Melanie Preis
Candytopia, an immersive, candy-themed pop-up experience is back to give the whole family a sugar rush of fun. Returning to Philadelphia, Atlanta, and Houston this summer, Candytopia has been a reliable source of indoor fun and a chance to momentarily live like Charlie and the Chocolate Factory. The experiential art exhibit is part Instagram-fodder, part sugary/rainbow explosion, with more than a dozen rooms featuring interactive displays, games, and candy to sample. Candytopia has toured the country previously—stopping in major cities and amassing selfie-snapping fans as it goes—and now it's time to close out summer once again with this tasty experience!
Mommy Poppins editors in NYC and Los Angeles have all raved about the experience (as well as previous visits to Philadelphia and Houston) but have a few tips to offer for those visiting the popular pop-up with kids. Read on for what to expect, including a marshmallow tsunami. Bonus: Kids ages 3 and under get in FREE.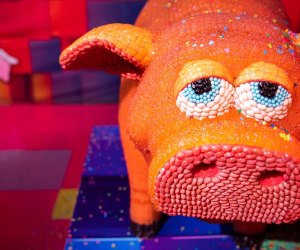 Candy or bacon? We'll take both, please!
Ready to dive in? Like a kid in a candy store, visitors to Candytopia are invited to journey from room to room, checking out whimsical artwork displays done with colorful bits of candy. Attendants dressed like workers in a Wonka factory help guide visitors along the way and add to the fantastical setting.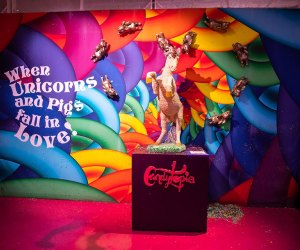 Everyone loves when a pig and a unicorn fall in love.
Candytopia welcomes visitors to sweet wonderment with a candy dragon, and everyone gets a confetti shower courtesy of some sweet unicorn pigs' derrieres. Wander the candy gallery and see notable artwork recreated from thousands of pieces of real edible candy. It's hard to pick out just one favorite experience in this massive candy playground, but it might be the massive marshmallow pool made with 250,000 faux foam marshmallows. Go ahead and jump in! There's no candy stickiness here. No actual diving, please.
Each regional Candytopia includes some sweet nods to local culture—for example, Philadelphia includes a Rocky tribute and special portrait of Will Smith.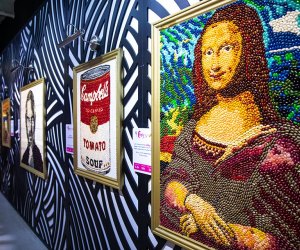 Even at Candytopia, the Mona Lisa's eyes still follow you around.
What ages is Candytopia best for?
Candytopia is an all-ages experiential event, but it might be better for older kids.
Our LA editor had a blast in the experience with two teens:
It's hard to do justice to the variety of whimsical settings; we cruised from room to room, munching on sweets, laughing at unexpected scenes made from candy, trying out all sorts of places to sit, stand, swing, or squeeze through, and of course taking photos from every angle. By the time we left, our hair was full of confetti, our bellies full of treats, and our phones full of memories—which reminds me of an important tip: bring a back-up battery!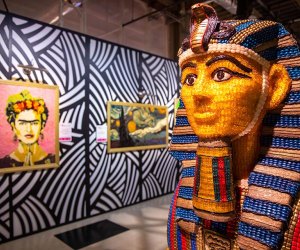 Candytopia features the tastiest art gallery ever.
In Houston, our editor and her toddlers giggled their way through the whole experience, but she did caution that some young kids, such as her 2-year-old might get overwhelmed by some of the noise and lights.
Candytopia Philly is in the Fashion District Philadelphia, a three-block-long retail behemoth, in Center City
Candytopia Atlanta is located at Piedmont Peachtree Crossing shopping center, near "Disco Kroger," in Midtown
Candytopia Houston is in West Houston's CityCentre.
By the way, don't lick the walls here, kids. The displays are just that...displays.
Candytopia — What to Know Before You Go
Candytopia is a limited engagement, scheduled to close in Philadelphia on January 9, 2022 and in Atlanta and Houston on April 30, 2022.
Tickets must be reserved online, so visit the website for available dates and times (closed on certain days depending on your city).
Prices in Philly, Houston, and Atlanta are $28 for adults, $20 for children ages 4-12. Kids ages 3 and under are FREE.
No strollers in the exhibit, but there is stroller parking.
The Marshmallow Pit requires you to take your shoes off.
There are confetti cannons, loud music, and some bright lights. Very young children may not enjoy the sensory overload.
Group tickets are available for up to 12 people; larger, private events can be accomodated by working with Candytopia staff.
Photos by Eddie Marenco for Candytopia
Places featured in this article:
---
The Fashion District Mall
---
Piedmont Peachtree Crossing shopping center