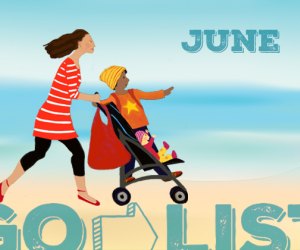 June GoList: Best Things to Do with NYC Kids
Get your calendars ready! Here are the top things to do with kids in New York City this June, and many are 100% FREE. The first month of summer brings a slew of incredible outdoor activities. But while no-cost festivals, fairs, and parades abound, there are a handful of truly spectacular ones that are musts for families.
Many of our favorite FREE annual events take place this month, including Coney Island's Mermaid Parade, the Lower East Side's Egg Rolls, Egg Creams, and Empanadas Festival, and the Museum Mile Festival, as well as Figment NYC, held this year on Roosevelt Island.
Find more great happenings this June in our event calendar and Guide to the Best Summer Events for NYC families.
As always, if an event piques your interest, be sure to click through to our listing for all the details, including addresses and times. And keep in mind: In NYC, really cool things to do with kids often get booked up quickly, so buy your tickets ASAP or, in the case of FREE events, arrive as early as possible.
Be sure to sign up for our FREE newsletter so you can get our weekend picks delivered to your inbox.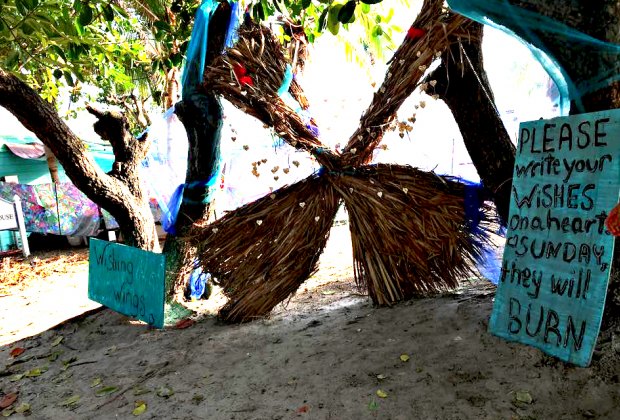 For one weekend, Roosevelt Island will be transformed into a large-scale collaborative artwork, where nothing is for sale and everyone is invited to create and connect. Photo courtesy of Figment NYC
Figment NYC — Roosevelt Island
Saturday, June 1-Sunday, June 2
This über-creative arts fest, in a new location this year at Lighthouse Park on Roosevelt Island (after several years on Governors Island), is filled with offbeat performances and interactive art, much of it collaborative. Another new feature this year, Figment After Dark, keeps the fun going after the sun goes down on Saturday with interactive displays and elements that light up the night. FREE
RELATED: Pick Your Own Strawberry Farms and Festivals Near NYC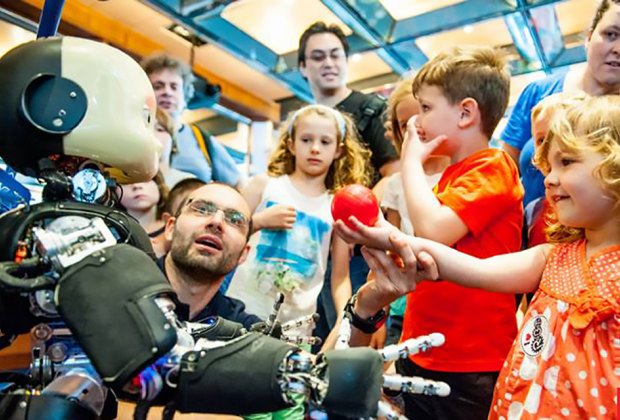 The World Science Festival hosts its interactive kids' science fair in the middle of Washington Square Park. Photo courtesy of the event.
City of Science — West Village
Sunday, June 2
The totally FREE event is part of the multi-day World Science Festival and is filled with hands-on tech, science experiments, and demonstrations. This year, kids can explore all manner of scientific disciplines in Washington Square Park. All-ages activities range from giant dominoes to gravity warps and a seismic accelerator, plus VR experiences, eco-friendly activities and so much more. FREE
New York Philharmonic Concerts in the Park — Citywide
Tuesday, June 11-Friday, June 15, and Sunday, June 16
Introduce kids to classical music with the premier New York Philharmonic as it once again kicks off its FREE summer concert series, including works by kids in the Very Young Composers program. Catch them outdoors in Prospect Park, Central Park, Van Cortlandt Park, and Cunningham Park, and indoors on Staten Island at the St. George Theater. All outdoor performances are followed by fireworks! FREE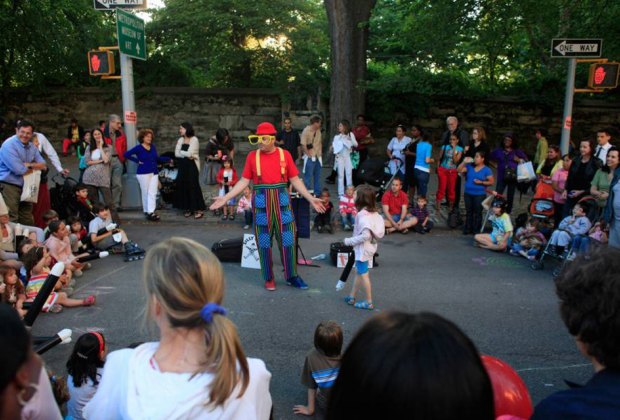 The post-dinner Museum Mile Festival celebrates art-making outdoors and in. Photo by Joe Buglewicz for NYCgo
Museum Mile Festival — Upper East Side
Tuesday, June 11
It's worth blowing bedtime for this annual celebration of art and culture when Fifth Avenue's Museum Mile is closed to traffic and turned into a massive art party. Everywhere you look, people are making art, plus local cultural institutions like the Metropolitan Museum of Art, the Museum of the City of New York, the Guggenheim, the Cooper Hewitt and El Museo del Barrio offer FREE admission. If you want to visit the museums, arrive early as lines usually stretch around the block, especially for the smaller institutions. Or you can do what we do and just stay outdoors and enjoy live music, theater and dance performances, jugglers, and a wide variety of art activities for kids. FREE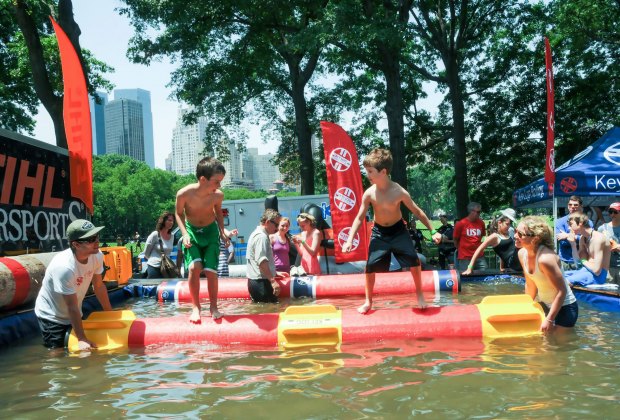 Test your balance log rolling in Central Park during the Parks Department's Adventures NYC fest. Photo by Daniel Avila for NYC Parks
Adventures NYC — Central Park
Saturday, June 15
Get outdoors and active at this annual family fest presented by the NYC Parks Department and partners. The alfresco fun includes rock climbing, zip lining, yoga, mountain biking, surfing VR, and obstacle courses. There are also water sports like paddle boarding and log rolling, so pack your swimsuit! Waivers must be signed on-site. FREE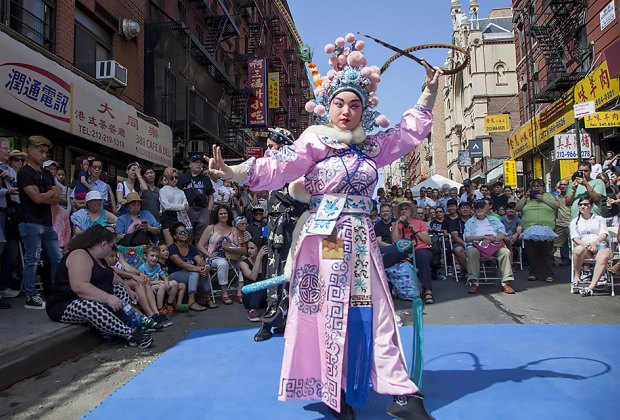 Savor the sights, sounds, and tastes of the Lower East Side at the joyous annual Egg Rolls, Egg Creams, and Empanadas festival, presented by the Museum at Eldridge Street. Photo by Kate Milford
Egg Rolls, Egg Creams, and Empanadas Festival — Lower East Side
Sunday, June 16
Celebrate the multicultural heritage of the Lower East Side at this tasty street fair hosted by the Museum at Eldridge Street. Tour the historic synagogue-turned-museum; learn words in Yiddish, Mandarin, and Spanish; enjoy live Chinese opera, klezmer, and bomba and plena music; plus try your hand at playing mahjong and making Puerto Rican-style masks. The egg rolls and empanadas are kosher, and the egg creams are made with NYC's classic Fox's U-bet chocolate and flavored syrups. Sounds like a tasty bet for Father's Day! FREE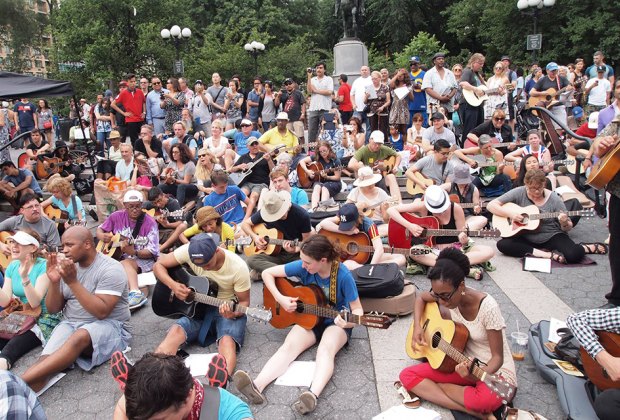 Take part in free events during the summer solstice fete, Make Music New York. Photo courtesy of the festival
Make Music New York — Citywide
Friday, June 21
Mark the official first day of summer by hearing (or making) beautiful music. From morning to night, over 1,000 no-cost concerts take place in public spaces like parks and plazas throughout the five boroughs. In the past, family-friendly performers have included Hopalong Andrew, Amelia Robinson of Mil's Trils, the Rock-a-Silly Band, and many more. A full schedule of performances by location is available on the organizers' website, or just head out and wander around NYC with your ears open. FREE
RELATED: Free Kayaking, Canoeing, and Rowing Spots in NYC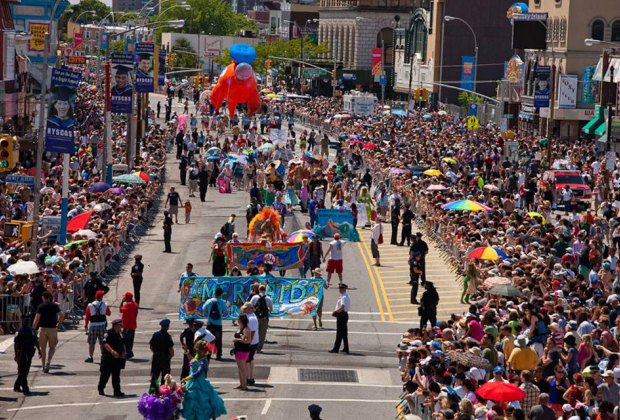 The Mermaid Parade is the largest art parade in the nation and one of NYC's greatest summer events. Photo courtesy of the parade
The Mermaid Parade — Coney Island
Saturday, June 22
A Coney Island tradition since 1983, the parade features revelers decked out in their most outrageous aquatic-themed costumes. No wonder it's one of the 100 best things to do with kids in NYC. Queen Mermaid and King Neptune will lead mermaids, mermen, pirates, fish, showgirls, vintage cars, funky floats and a fair amount of scantily clad folks through the streets and onto the boardwalk. Watching is FREE or you can register to march for a fee. Afterward, stick around to enjoy all the family fun the area has to offer. Three things to keep in mind: It is insanely crowded (hundreds of thousands attend every year), there is nudity (mostly topless ladies), and whatever you do, don't drive. There is literally nowhere to park—even the New York Aquarium's lot fills up long before noon with members' cars. FREE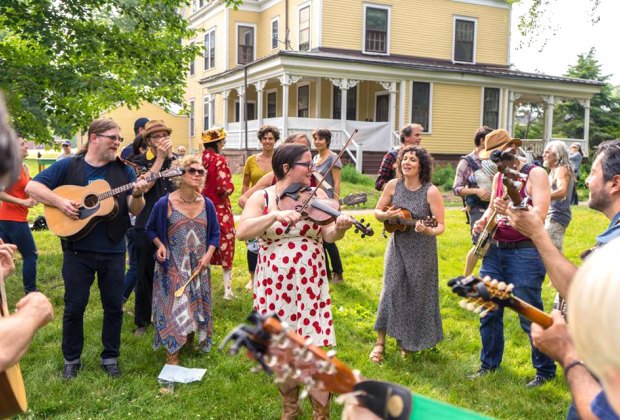 Get stompin' at Porch Stomp on Governors Island. Photo courtesy of Porch Stomp
Porch Stomp — Governors Island
Sunday, June 23
Governors Island is taken over by musicians at this fun day-long celebration of traditional music, where everywhere you turn, you'll hear bluegrass, banjos, and stand-up bass. With square dancing all day long and a special performance stage for family concerts, it's hard to resist getting on your feet and joining the dance party.

The gorgeous and massive Red Hook pool opens, along with all the city park district pools! Photo courtesy of NYC Parks
NYC Public Pools Open — Citywide
Thursday, June 27
As usual, NYC's FREE outdoor pools open the day after public school lets out and remain available through Labor Day. (Year-round indoor pools require a recreation center membership.) We have a roundup of our favorite places to take a no-cost dip but there are lots of options in all five boroughs. Most are open from 11am-3pm and 4pm-7pm daily, weather permitting. And before you go, be sure to read our post about public pool rules—some of them might surprise you. FREE
LGBT Pride Month — Citywide
All month
June is pride month; help kids celebrate diversity with a range of events all month long, from the more low-key Brooklyn Pride Celebration on Saturday, June 8, to the big annual march in Manhattan with NYC Pride on Sunday, June 30. The Manhattan fest also offers a family movie night (Friday, June 21), and a teen day, Youth Pride (Saturday, June 29), which will include an afternoon of games, performances, and celebrations. Another option to celebrate Pride on Sunday, June 9 when the Children's Museum of the Arts hosts a Pride Cultural Fest of its own, complete with an 11-year-old drag queen emcee and a special storytime. FREE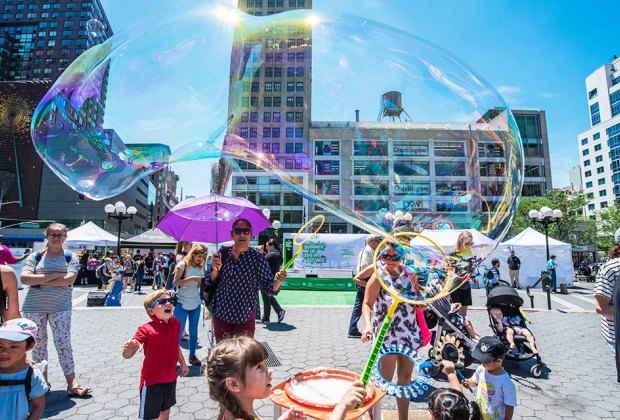 Celebrate summer at Citi Summer in the Square at Union Park. Photo by Liz Ligon
Honorable Mentions
NYC has so many amazing things going on, it's often difficult for us to choose our GoList picks each month. So here are a few more cool events worth considering for your June calendar.
Groove to a family dance party and more performances at the two-day Red Hook Fest, Friday, May 31-Saturday, June 1. FREE
One fish, two fish...participate in one of many New York City Fish Counts throughout the five boroughs on Saturday, June 1. FREE
Catch quirky, kid-friendly shorts at Brooklyn's annual KidsFilmFest on Saturday, June 1.
Geek out at the Staten Island Children's Museum's Carnival Science Spectacular with crawly animals, robots, and carnival rides and fun on Saturday, June 1.
Settle in the grass with a picnic dinner at the Washington Square Park family concert series, with FREE performances weekly on Thursdays (June 6, 13, and 20).
Celebrate the Bronx's beautiful waterfront at the annual Riverdale RiverFest, which includes live music, environmental activities and lots of fun for kids on Saturday, June 8 and Sunday, June 9. Most activities are FREE
Take part in a weekend-long celebration of Puerto Rican history and culture just for kids, with crafts, games, food, and storytelling, at the Children's Museum of Manhattan's Puerto Rican Day Parade on Saturday, June 8 and Sunday, June 9.
If the Mermaid Parade feels like a bit much for your family, the annual History Day at Deno's Wonder Wheel on Sunday, June 9 is a fun alternative, with performances that celebrate Coney's immigrant heritage, including Russian ballet, Haitian drumming, traditional Chinese dance, and mariachi. FREE
Climb aboard a vintage bus (no MetroCard swipe required) during the NY Transit Museum's annual Bus Festival on Sunday, June 9 at Brooklyn Bridge Plaza.
Head to Union Square Park for the annual Citi Summer in the Square, which kicks off on Thursday, June 13. Enjoy FREE, weekly, kid-friendly activities like yoga, storytime, and puppet shows, plus live performances.
Pack up your picnic blanket and get ready to hit the grass at the second annual Big Picnic at Snug Harbor on Saturday, June 15, with performances, games, and crafts.
Rejoice along with historical re-enactors at the Juneteenth living history event at the DiMenna Children's History Museum at the New-York Historical Society on Saturday, June 15.
The first Coney Island summer fireworks light up the sky Friday, June 21 and continue throughout the summer. Find more NYC summer fireworks before (and after) the July 4th show. FREE
Put on your cape and mask for the NYSoM Superhero SciFi Festival on Saturday, June 22 in Williamsburg, where kids in costume can meet real-live heroes (or at least their reasonable facsimiles).
Celebrate the opening of the Edible Academy at the NYBG on Saturday, June 22-Sunday, June 23 with cooking demos, hands-on gardening, and more entertainment.
Head to the bucolic Inwood Hill Park to experience Native American culture in action at the annual Drums Along the Hudson on Sunday, June 23. FREE
Learn old-school arts and crafts like blacksmithing, weaving, and even broom making at the annual Traditions Festival at the King Manor Museum in Queens. FREE