SPONSORED
Sneak Peek at the Newest Diary of a Wimpy Kid Book — Plus FREE Downloadable Activities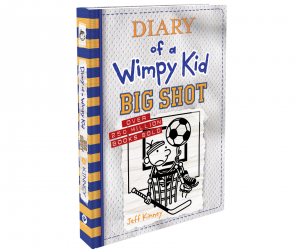 If you and your kiddos haven't had a chance to get to know Greg Heffley—the imaginative and quick-witted middle-schooler of the Diary of a Wimpy Kid series—you've got some reading to do! The latest addition to the Diary of a Wimpy Kid books, BIG SHOT, is about to drop this fall and, whether you're a newbie or a superfan, it's time to get caught up on the well-loved collection from #1 international bestselling author Jeff Kinney.
What's in store for the 16th book in the award-winning series that's sold more than 250 million copies worldwide? In BIG SHOT, Greg reluctantly signs up for basketball and unexpectedly lands a spot on the worst team. As Greg and his new teammates start the season, their chances of winning even a single game look slim. But in sports, anything can happen. When everything is on the line and the ball is in Greg's hands, will he rise to the occasion? Or will he blow his big shot? No sports knowledge required to enjoy this hilarious all-too-easy-to-identify-with story about fitting in—or not fitting in.
You can preorder the new book right now but, while you wait for the big release on October 26, 2021, there are plenty of Diary of a Wimpy Kid books—plus three books by Greg Heffley's best friend, Rowley Jefferson—to keep kids busy on long summer road trips and sunny days by the pool. Plus, for even more fun, you can download free activities that inspire kids to draw, plan their own adventures, or step up and test their Wimpy Kid knowledge.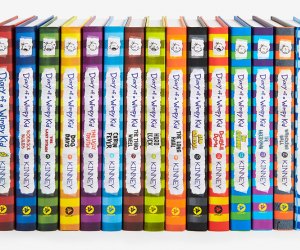 Free Downloadable Diary of a Wimpy Kid Activities
DRAW YOUR DIARY OF A WIMPY KID COVER
If you had to create your own cover, what would it look like? What would you name your diary? Draw it and label it. Play now >
SPRING INTO SUMMER VACATION
Make a bucket list of the adventures you want to have this summer. Check them off as you complete them! Play now >
WIMPY KID BINGO
Play this wimpified version of the game BINGO. Print enough copies of the "WIMPY" game board for all your friends. Play now >
TEST YOUR WIMPY KID KNOWLEDGE
Are you a Wimpy superfan? Decide if each statement is true or false. When you're done, check the answer key at the end of the packet. Play now >
Make sure to pre-order your copy of Diary of a Wimpy Kid: Book 16, and get excited for more Wimpy Kid this year—streaming this holiday season on Disney+, the story that started it all comes to life in the all-new animated adventure, Diary of a Wimpy Kid!
™and (c) 2007-2021, Wimpy Kid, Inc.