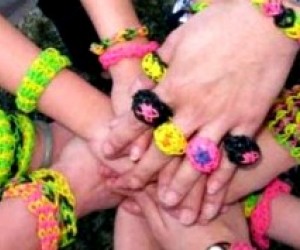 Rainbow Loom Craze: NYC Classes, Meet-ups, Parties & the Best Online Tutorials
My kids used to pick pennies up off the ground. These days I catch them trying to grab those small colorful Rainbow Loom rubber bands that seem to be scattered all over the place: sidewalks, school hallways (except where they're banned) and living room floors. It's a fad of course (remember Silly Bandz?) but one I can get behind. Crafting those intricate bracelets, necklaces and rings is fun and even challenging (have you tried some of those stitches?), and kids are even becoming entrepreneurs by selling their Rainbow Loom creations. Plus this hot hobby crosses the gender line: lots of boys are as into it as girls. (Heck, it was invented by a dad!)

While children as young as 5 seem to be able to master simple stitches as quickly as they do new apps on your smartphone, more complicated creations often require hours of experimentation or watching YouTube tutorials. So it's no wonder that local craft shops are capitalizing on the craze by offering Rainbow Loom classes, meet-ups and even birthday parties. Even if your kid can figure it all out on their own, it's a fun way to turn the obsession into a social outing.
Michaels – Upper West Side
808 Columbus Avenue between 97th and 100th Streets
Select Fridays 3-5pm and Saturdays noon-2pm
$5
The national crafts mecca hosts Rainbow Loom meet-ups at its Upper West Side location. Bring your own loom and bands, and learn new stitches and other style secrets from your fellow loom lovers. There is at least one session per week, sometimes two. Visit the website for the complete schedule or call 212-865-0813.

Make Meaning – Upper East Side
1501 Third Avenue near 85th Street
Sundays 1-3pm
$30
Make Meaning's Rainbow Loom Creativity Clique includes everything you need to get started: unlimited bands, a loom to use in class and an instructor, plus a guarantee of learning two new stitches per session. Register for upcoming sessions online.

The Craft Studio – Upper East Side
1657 Third Avenue at 93rd Street
Schedule varies; call 212-831-6626 for details
$25
Bring your own loom (unlimited bands are provided) and learn new tricks from the pros at this laid-back craft spot. Call to find out specific dates and to register. Private lessons are also available in the studio or at home. Rainbow Loom parties are also offered onsite or on the go at the location of your choice.

Learning Express Toys – Howard Beach
161-18 Cross Bay Boulevard between 161st and 162nd Streets
This national chain calls itself the "Rainbow Loom Headquarters" and it's not kidding. It offers Rainbow Loom Clubs at many of its locations, including the one in Howard Beach, Queens (though sadly not the one on Staten Island). The company also has a robust online tutorial catalog where you can click through to YouTube videos with step-by-step instruction for multiple stitches from basic to complicated.

You can find lots of other how-to videos of varying quality by searching Rainbow Loom on YouTube. Some of the best ones are highlighted on the site LoomLove.com. You really can make a lot more than jewelry with Rainbow Loom. Check out this awesome post from BuzzFeed featuring 30 incredible creations. I'm partial to the yarmulkes and those Minion figures!

Of course, retailers are trying to find ways to cash in on the craze, too. One cool add-on we found is Loomey Time, a watch face that attaches to Rainbow Loom bracelets. Maybe it will help encourage your kid to get to school on time.

Find out about other cool crafts for kids in NYC.

Photo courtesy of Learning Express Toys