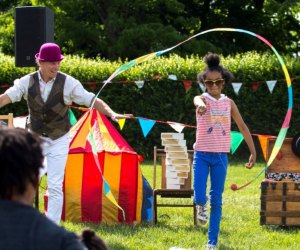 Weekend Fun for Philly Kids: Festivals, International Museum Day, Nature May 18-19
Decision, decisions! What should Philly parents plan for family fun during this May weekend? From checking out festivals to exploring museums to getting outdoors, kids and grown ups alike are bound to have a smile on their faces with the activities found in our event calendar.
Begin by attending a local festival. Some celebrate Italian cuisine and culture while others feature red-ripe berries and tasty rhubarb. Still others showcase comic book fun. As if that weren't enough, there is a country fair, carnival, and even a circus happening this weekend! After indulging in delicious eats and festival excitement, retreat inside to explore one of the many museums taking part in International Museum Day throughout the city. Round out the weekend by flying a kite at Fonthill Castle, racing duckies in the Rubber Ducky Regatta, or showing a park some love at Cedar Grove.
So pack up the diaper bag, message some friends, and check out the fun happening in the Delaware Valley.