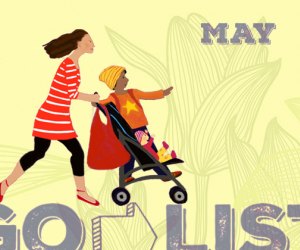 May GoList: Best Things To Do with Philly Kids
1. Chinese Lantern Festival- Philadelphia
​May 1-June 30, 2019
Franklin Square hosts the Philadelphia Chinese Lantern Festival, which features nearly 30 beautiful light displays, daily performances, culinary experiences, mini-golf, crafts, and more.
2. Philadelphia International Children's Festival - Philadelphia
May 2-4, 2019
From a circus to theater events, crafts and the outdoor FUN ZONE, the Annenberg Center Live's International Children's Festival is sure to please for kids aged 5 and up.
3. May the 4th Be with You - King of Prussia
May 3-6, 2019
Head to the Lego Store at King of Prussia to participate in a Star Wars themed Make and Take. Children can build this exclusive model for free; however, participants must register in advance as space is limited.
4. Radnor Hunt Pony Club Jumper Show and Mini Country Fair - Malvern
May 4, 2019
Come out to beautiful, nearby horse country at the Radnor Hunt Pony Club Jumper Show, in which kids and adults compete. In addition to the horses, guests can enjoy crafts, face-painting, and shopping at the Mini Country Fair.
5. South Street Spring Festival - Philadelphia
May 4, 2019
This free, all-day event kicks off Philadelphia's spring festival season. Live music, food, hands-on arts and crafts projects, face-painting, and dance and martial arts performances, plus the city's largest Maypole are found here.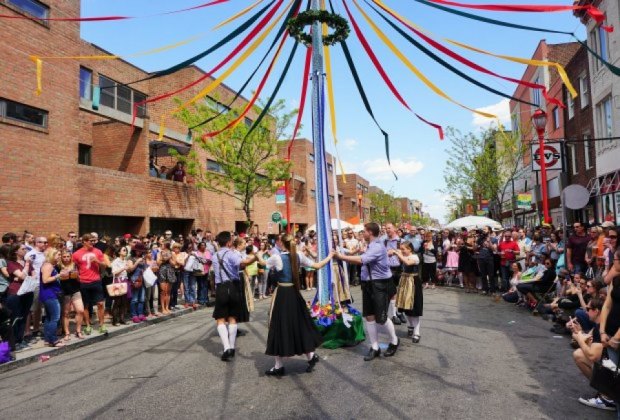 Enjoying the traditional May pole at the South Street Spring Festival. Photo courtesy of the festival's website
6. Philadelphia Renaissance Faire - Philadelphia
May 4 - May 12, 2019
Head down to Fort Mifflin and head back in time during the Philadelphia Renaissance Faire where costumed actors and performers engage with guests in games and music, activities, and food turn the fort's walls, moats, and underground barracks into a medieval setting.
7. Neshaminy Mall Spring Carnival - Bensalem
May 9-19, 2019
Held at Neshaminy Mall, this family-friendly event features favorite fair food, games and rides for all ages, from fun kiddie rides to state-of-the-art thrill rides, along the colorful midway. Admission and parking are free, but rides require tickets.
8. Mother's Day Hike - Huntingdon Valley
May 12, 2019
Spend time with mom and Mother Nature as participants enjoy a naturalist-led walk beginning at the ranger hut. Pre-registration is required for this scenic several mile hike.
9. Big Apple Circus - Oaks
May 16 - June 16, 2019
Step right up to experience Big Apple Circus as it sets up at Greater Oaks Expo Center. Guests can expect to see acrobatic acts, trampoline routines, and more.
10. Strawberry Festival - Lahaska
May 18-19, 2019
Strawberry jam, strawberry pie and strawberry fritters await visitors to Peddler's Village's Strawberry Festival. In addition to a variety of foods that contain this delicious berry, there is live entertainment and a Strawberry Pie-Eating Contest.
11. South 9th Street Italian Market Festival - Philadelphia
May 18-19, 2019
South 9th Street's annual Italian Market Festival is ready to celebrate its 104th year. The nation's oldest outdoor market, guests can expect live entertainment, family events, crafts and the Annual Procession of Saints. And, of course, this festival would not be complete with amazing Italian cuisine!

Children leading the procession at the South 9th Street Italian Market Festival. Photo courtesy of the festival's website
12. International Museum Day - Philadelphia
May 18, 2019
In celebration of International Museum Day, many museums throughout Philadelphia offer free admission to its visitors all day long. Over 35,000 museums throughout 140 countries are participating with the hopes of sharing the message: "Museums are an important means of cultural exchange, enrichment of cultures and development of mutual understanding, cooperation, and peace among peoples."
13. Rhubarb Festival - Intercourse
May 18, 2019
This two day festival offers lots of family-friendly fun. Guests can expect tasty homemade rhubarb desserts, a mini-parade, and the world's only rhubarb race-car derby. Be sure to check out the Rhubarb Whoopie Pie Filling Contest too!
14. Kennett Square's Memorial Day Parade - Kennett Square
May 27, 2019
Kennett Square honors local veterans at its traditional Memorial Day Parade. Crowds can expect at least a 90 minute parade featuring bag pipers, antique military vehicles, and Civil War and Revolutionary War re-enactors.
Be sure to subscribe to our email newsletter to get our weekly roundups of events delivered to your inbox!