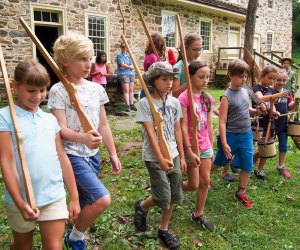 Fourth of July Weekend for Philly Kids: Fireworks, Festivals, and More Fun Things to Do
It's Fourth of July weekend! And, since this special summer holiday falls on a Thursday this year, many Philly parents find themselves with a four-day reprieve. What better way to celebrate our nation's freedom and independence than with fun-filled activities found in our events calendar!
Start off with an Independence Day celebration being held on the Parkway, in Peddler's Village, at a Park, or at the Plantation. Once the sun sets, watch the night sky illuminate in the city, in the suburbs, or down the shore. After Fourth of July events are over, families can load up baby in the stroller and wander about the Philadelphia Museum of Art for a Baby Bird Playdate, take the preschoolers to explore the Delaware Children's Museum during its discounted $5 After 5 PM event, discover fun facts with school aged kids at Penn Museum's Storytime Expedition, and try canoeing with tweens and teens at the John James Audubon Center. For family fun, head to the Great Plaza at Penn's Landing for its weekend long Hispanic Fiesta, ride the amusements at the Norco Fire Company Carnival, or spend some time at a museum such as the Brandywine River Museum or the Barnes.
So, dress up in your red, white, and blue and make it a great weekend!