Great Places to Eat with Kids Near Camden Adventure Aquarium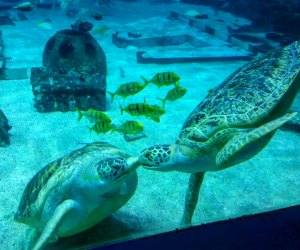 Let's face it, a day at the Adventure Aquarium can work up an appetite, especially if your experience is anything like mine: Frantically chasing my child through dimly lit exhibits to make sure he doesn't get away from me in his excitement. While there is plenty to eat at aquarium's newly remodeled Marketplace, an all-new eco-friendly dining experience with a focus on locally-sourced, seasonal options for the entire family. But if you want to explore more options, you're in luck - there are a handful of local options within walking distance of the aquarium.
The Victor's Pub: This is a great spot for tavern-style food including a great selection of different fry styles (always a kid favorite), but there are healthy eats as well. A rooftop also offers great views.
Market Street Bistro Pizzeria: If pizza is a household favorite, this family-friendly spot is a great place to carb up after running around the aquarium. Or if you are in the mood for Mexican, this spot has a surprising Fresh Mex option as well.
Bains Deli: Perfect if you want to grab a quick bite or sit outside and enjoy the riverfront view, Bains features classic deli options and customizable sandwiches so everyone gets exactly what they want.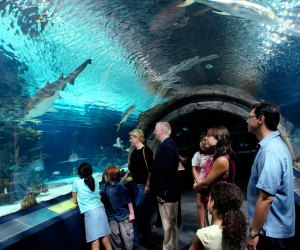 Photo courtesy of Visit Philly
Though truth be told, some of your best bets are a short ferry ride across the river into Philadelphia, you can grab a bite to eat at these spots just a short walk from the ferry stop. If you are up for the ferry adventure, here are a few places we recommend:
Spruce Street Harbor Park: In the summer, taking the ferry to this hot spot is probably our favorite. With food installations from some of the cities finest, you can expect delicious eats and a nice open space for your kids to continue to run. The lineup changes annually. This year you can enjoy the signature Crabfries at Chickie's and Pete's or a street taco at Distrito. Parents, take note, this isn't a dry town like the Shore. The Lazy Hammock sells the park's exclusive Yards Brewing Company beer, as well as a rotating cocktail list.
Moshulu: A once-in-a-lifetime experience, with delicious dining aboard the Moshulu, a 4-masted ship with an outdoor bar and a ton of great options on the menu with one of the best seafood selections in the area. Note this is going to be a pricier than average lunch
Rope and Anchor: Located inside the Hilton, the patio offers great river views and the restaurant serves a wide selection of American fare so you are sure to find something delicious for even your picky eaters.