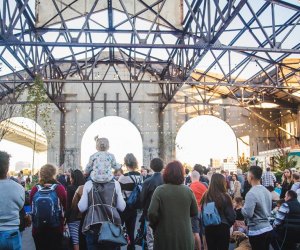 Cherry Street Pier Just Opened: Here's Why Families Need to Go
As the temperature drops and the days grow shorter, it becomes all too easy to simply hunker down and stay inside. But Philadelphia offers a number of alluring public spaces to help you shake off those winter doldrums, helping to get you and the kids off the couch and out into the fresh air. The recently opened Cherry Street Pier is one of the more intriguing options and makes a great destination for a quick and easy excursion for the whole family.
Cherry Street Pier is the latest product of Philadelphia's ongoing efforts to revitalize the Delaware River Waterfront. The nearby Spruce Street Harbor Park is already a popular summer destination, offering food, games, and a floating beach—and even sand and deck chairs. In the winter, visitors flock by the thousands to WinterFest, coming to skate at the BlueCross River Rink or simply grab a hot chocolate and soak up some holiday charm. The Cherry Street pier is a more modest, though perhaps a bit bolder, initiative, and it's definitely worth a wintertime visit. Read on to learn more about this latest outdoor Philly space that I recently visited with my own family.
In the shadow of the Ben Franklin Bridge, the pier sits alongside Race Street Pier, which has been converted into a lovely urban park. Refashioned from an abandoned warehouse, Cherry Street Pier has been carefully imagined into an urban space that fosters community and creativity. The space itself is light and airy. The vast main hall retains its concrete floors and portions of old trolley track, offering plenty off space to run around and explore.
There is plenty to look at, too, including a series of rotating art exhibits on display that blend art, science, and history in one, something older kids can appreciate. When I stopped by the brightly colored banners of Al-Bustan Seeds of Culture: An Immigrant Alphabet hung from the ceiling. The collaboration between Wendy Ewald and eighteen students from Northeast High School chronicles the immigrant experience in word and image. Visitors can also experience a different kind of history with James B. Abbot's Bridge Works, the photographer's truly amazing pictures of the Benjamin Franklin Bridge and the secrets chambers within.
But the artist lineups do change. In all, fifteen local artists and innovators work in refurbished shipping containers with big glass windows and doors facing out to the main hall. Visitors can see the creative process at work, getting the opportunity to watch a diverse arrangement of talented artists do their thing; for instance, you might catch Acori Honzo putting together his intricate African-American dolls or Carla Fisher spinning out her free-flowing fiber sculptures. Cherry Street has set up these studios to be accessible, and visitors may even have the chance to wander in and interact with some of the artists directly.
There's certainly more than art at Cherry Street Pier, which besides art studios, hosts an impressive slate of events, markets, and art exhibitions. On any winter weekend you might come across anything from a book festival or a candy sale to the Punk Rock Flea Market . During the month of December, The Christmas Tree Stand Holiday Market has set up shop near the front of the pier, selling fresh trees, greens, ornaments, and other holiday goodies.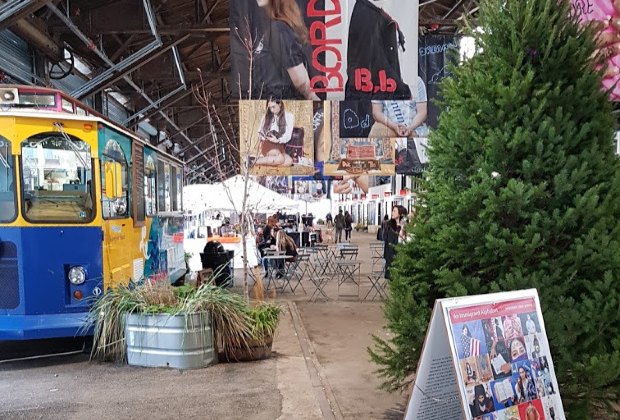 Oh, and there are plenty of snacks! Many tasty treats are sold out of colorful trolley cars refitted as food trucks and dispersed throughout the pier. You can get sandwiches at Big City, ice cream at Little Baby's, and Indonesian street food from Hardena. You can also get wonderfully fluffy biscuits from Birdie's (even if they are sold from a cart and not a trolley car). The offerings are truly decadent—Blueberry Cheescake and Mushroom and Brie, for instance. As a simple man, I find the classic honey butter biscuit hits the spot every time.
The highlight of Cherry Street Pier may be the open-air garden looking out over the river. A vibrant green space, complete with café tables and benches, this is a perfect spot to eat, drink, climb, or simply sit and watch life on the river go by. Located nearby Old City's many shops and restaurants, and, of course, the aforementioned river rink, a trip to Cherry Street Pier is a quick way to get out of the house and see some of the city.
Things to Know Before You Go:
The park is open 11 AM to 10 PM Sunday through Thursday and 11 AM to 11 PM on Friday and Saturday.
On weekends, the restaurants open when the park does, closing at 10 on Saturday and 9 on Sunday.
The space is entirely unconditioned so de sure and check the weather and bundle up.
Feel free to bring Fido along. Leashed dogs are welcome.
Use this address to find Cherry Street Pier: 121 N. Columbus Boulevard Philadelphia, PA 19106
If you're driving, the closest parking lots are located at Market Street, as well as Vine Street and Columbus Boulevard.
If you sneak out without the kids, Cherry Street runs a pretty spiffy bar too. See their Facebook page for more on that.
Top photo courtesy of Cherry Street Pier on Facebook.