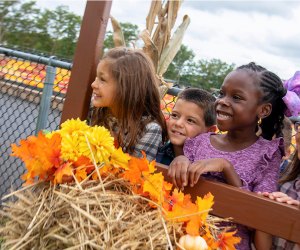 Best Things To Do in Philadelphia in September 2021 with Kids
September is a transitional month as Philly families go from the carefree days of summer to the excitement that a return to school brings. Mommy Poppins Philadelphia has rounded up some perfect ways to spend this special time of year, taking advantage of engaging activities in our event calendar.
Families can soak up the last bit of summer at Blue Cross RiverRink Summerfest or a Shady Brook Farm's Summer unWINEd Concert. Kids are sure to enjoy one of many festivals such as the Chester County Balloon Festival in Toughkenamon or the Polish-American Family Festival & Country Fair in Doylestown. And don't forget about Nana and Pop Pop!: Celebrate Grandparents' Day with a train ride at Wilmington & Western Railroad.
Be sure to visit Candytopia in the Fashion District, Ralston Crawford: Air + Space + War at the Brandywine River Museum, and The Pigeon Comes to Philadelphia! A Mo Willems Exhibit at the Please Touch Museum before they conclude this month.
Don't forget to schedule time to pick Golden Delicious or Granny Smiths at one of these spots on our list of the best apple picking orchards in the area, and browse through our fall activity guide for Philadelphia kids, which is jam-packed with fun. For now, scroll below to see the fun that awaits Philly kids in September.
As the Philadelphia area deals with the delta variant, some events might again require social distancing and masking.