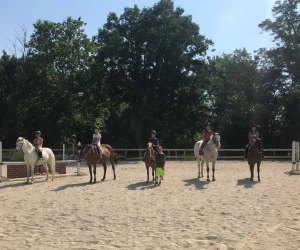 18+ Spots for Horseback Riding Camps and Classes Near Philadelphia
With hundreds of miles of riding trails in Philadelphia and the surrounding suburbs, there are so many places to learn to ride a horse in the Philly area. Riding is an exhilarating experience, a surprisingly good workout and teaches children responsibility and self-confidence. Regardless of experience, young horse lovers can find some great lessons and summer camp experiences.
Looking for some other class or camp ideas for your children? Check out our Philly Classes Guide and Camps Guide.

Horseback Riding Classes/Lessons near Philadelphia
1. Biamont Stables—Jamison
Biamont offers horse training, riding instruction, horse boarding, horses for sale, and even horse consignment. Children age 5 and up are provided with riding lessons and horsemanship instruction to establish a solid foundation with a balanced seat and independent, gentle hands.
2. Bill Picket Riding Academy—Philadelphia
In addition to teaching riding, this riding academy also teaches self-esteem and life skills by teaching grooming and care in addition to riding. They are low-tech, so the best way to reach them and set up lessons is to message them through their Facebook page.
3. Branchwood Stables—Telford
This is a great spot for both the first-time rider and experienced riders. The farm has a large, indoor, heated poll barn to learn in as well as outdoor rings, so the weather is never a factor in lessons or training. Choose between English or Western lessons. Your child can ride solo or take lessons with a friend.
4. Chamounix Equestrian Center—Philadelphia
Chamounix's Work to Ride Equestrian Program offers public riding lessons for both adults and children from April through November. Winter lessons are held as weather permits. With a history of training hundreds of riders and a selection of professionally trained school horses, Chamounix provides safe and gentle mounts for beginning riders and more challenging horses for advanced riders.
5. Courtesy Stable—Philadelphia
Head to the stables for "barn days" at Courtesy Stable. In addition to mini riding lessons, learn all about the care and feeding of horses. You can also sign up for private lessons and enjoy one-on-one coaching in English or Western disciplines while learning the foundation for a lifetime of horsemanship.
6. Haycock Stables—Perkasie
Equestrian Training at Haycock Stables is a full-service horseback riding lesson program taught by Abe Moore Jr., who has been training for more than 25 years. Haycock focuses on horsemanship and quality fundamentals. Lessons are offered Tuesday through Saturday by appointment.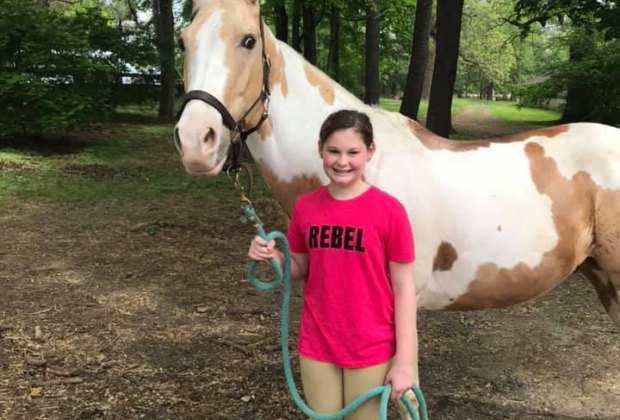 Learning to ride brings smiles! Photo from Northwestern Stables
7. Northwestern Stables—Philadelphia
Lessons in English and hunter style are available for all ages and levels. Besides the basics of horsemanship, riders also learn responsibility, confidence, self-esteem, and compassion. Lessons run every Monday-Friday in hourly slots from 4-8 PM, and on Saturdays from 10 AM- 2 PM. Be aware, Saturday classes are the most popular day and often there is a waitlist for new riders.
8. Oakbourne Equestrian Center—West Chester
Oakbourne meets all riding needs, from pleasure riding to show, and even beginner lessons. The barn also offers boarding if your plan is to own as well as ride.
9. Out of Reach Farm—West Chester
This is a great, budget-friendly location for kids ages 5 and up to learn hunter or equitation lessons. Lessons are available Monday through Saturday.
10. Village Farm—Langhorne
Riding lessons here are more for kids who want to ride in show. If your young rider fancies more than just trail rides, this might be the perfect place.

Horseback Riding Camps near Philly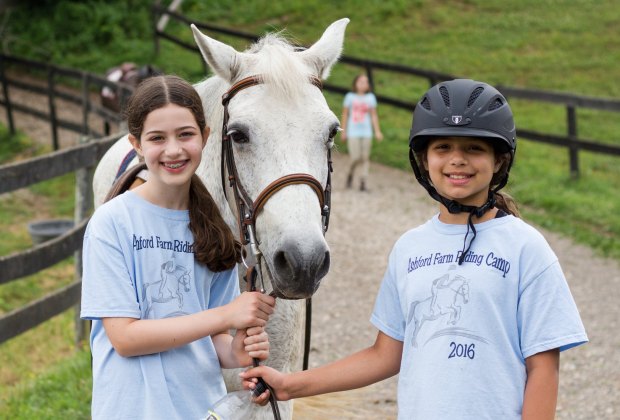 Whether your child is beginner, intermediate, or advanced, there's a horseback riding camp just for them! Photo from Ashford Farm
1. Ashford Farm - Miquon/Lafayette Hill
Summer horseback riding day camps at Ashford Farm run for eight weeks. Riders learn based on their experience level, from beginner to advanced, in a gentle, safe environment. Extended care and transportation to and from camp are available at an extra cost.
2. Chamounix Equestrian Center - Philadelphia
Making it onto our list for both classes and camps, Chamounix offers week long, full day horseback riding camps for children ages 5 and up. For youths who are older than eight, there is also a five-day polo camp.
3. Durango Farm - West Chester
Durango Farm offers full- and half-day horseback riding camps throughout the summer. Family discounts are also available if more than one sibling is interested in attending a camp session. For campers who don't have a horse, a well-trained and gentle mount is provided to ensure a safe and fun experience.
4. Heaven's Gate Farm - Pipersville
Located in Bucks County, Heaven's Gate Farm offers summer camp sessions that include lessons on riding and equine care, as well as fun camp experiences like pizza lunches and a pool party.
5. Northwestern Stables - Philadelphia
For children between the ages of 7 and 13, Northwestern offers five-day camps throughout the summer. Regardless of riding experience, campers will learn riding and equine care skills and enjoy an hourlong riding lesson each day, as well as play games and do arts and crafts.
6. Painted Dreams - Wrightstown
Painted Dreams offers horseback riding day camps for children between the ages of 6 and 14. Besides improving riding skills and learning how to care for and groom the horses (including mane braiding), campers will get time each day for a craft and open swim. The final day of the five-day camp includes a Friendly Camp Horse Show to which family and friends of the campers are invited to watch.
7. The Red Buffalo Ranch - Collegeville
The Red Buffalo Ranch offers five two-week camp session throughout the summer. This in-depth camp offers everything a horse lover could want, including a field trip to a horse auction, riding lessons, classroom lessons about horses, and finally a cook-out and camp-over for campers and their families on the final night of camp. The ranch also offers a three-day Christmas camp during winter break.
8. Reinbow's End Farm - Malvern
Touted as the perfect camp for kids that are "horse crazy," the summer camp at Reinbow's End Farm offers campers a chance to experience English and trail riding, tackle care, grooming, and more. There is a parents' day horse show and arts and crafts, as well.
9. Saddlebrook Equestrian Center - Schwenksville
The five-day camps at Saddlebrook offer campers a chance to learn and improve their riding skills, as well as care for the horse they are assigned. With chances to practice both English and Western riding, arts and crafts, and even learning equine first aid, the camp is great for horse lovers ages six and up.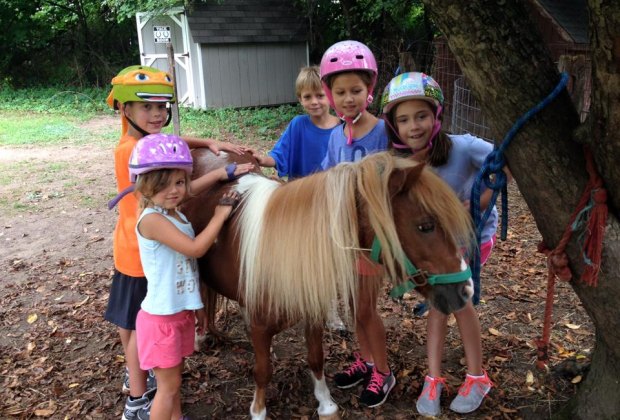 Young campers can learn pony care at camp. Photo from Sandy Hill Farm
10. Sandy Hill Farm - Plymouth Meeting
Sandy Hill Farms offers a variety of camping experiences for animal lovers, from half-, full-day, and week-long camps that include such as activities as hayrides, swimming, pony trail ride and grooming, farm animal care, and arts and crafts. Children who have completed kindergarten up to the age of 11 will learn the basics of riding and care. There is also a one-night sleepover camp option as well.