16 Teen Birthday Party Ideas in Philly: Cool Party Places for Teens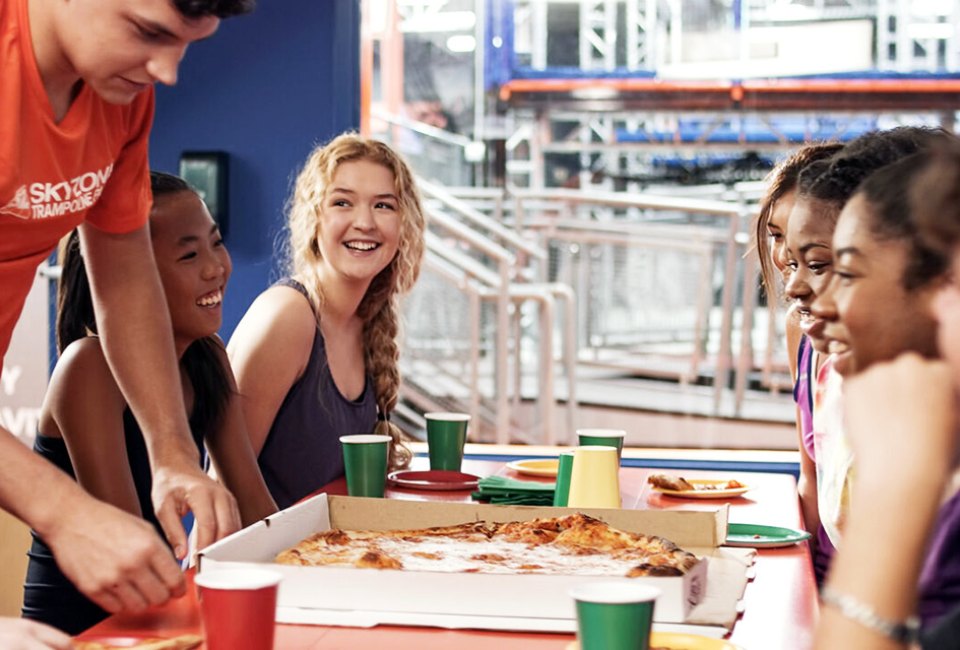 7/24/22
- By
Alyce Wilson
Kids' parties evoke images of indoor gyms, party games, and cake. But what to do when your kid is no longer little? Teens want to have fun, too, and these birthday party places near Philadelphia will help you celebrate in an age-appropriate way. For more birthday party ideas for teens, tweens, or the tiniest party-goers, check out our guide to 30+ Indoor Kids' Birthday Party Places Near Philly.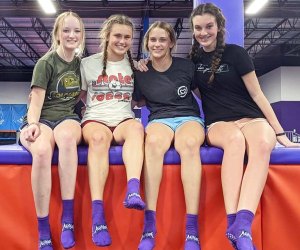 Gather friends for a bounce party at Altitude Trampoline Park. Photo courtesy of Altitude

Sporty and Active Birthday Party Places Near Philly
Giving new meaning to the term "rock and roll," party guests at Aerial Fit 'n' Fun Gymnastics Center receive 60 minutes of supervised instruction in the gymnastics facility and space in a private party room for 30 minutes. The party package also includes balloon decorations, invitations, drinks, plates, cups, napkins and utensils, and a special T-shirt. This party could be a good fit for preteens or young teenagers who aren't quite ready to give up all the playful fun of an indoor gym but would like to take it to the next level. Parties are $299 for members and $335 for non-members.
2. Altitude — Feasterville
Altitude offers wall-to-wall trampolines, as well as a foam pit, rock wall, zip line, and more. Party guests can also participate in a private dodgeball game and dine on pizza. Add-ons include frozen treats and party T-shirts. Birthday parties can be scheduled for kids of all ages, and pricing is based on the number of jumpers, starting at $290 for 10 jumpers at a first-floor picnic table, with higher fees for a private room.
Bowlero offers a special bowling party experience for teens, allowing them to bowl on blacklight lanes, relax on laneside loungers, and sample shareable foods such as a pizza cake or the Behemoth Burger. In addition to bowling, they can also play the latest arcade games. Parties run at about $30 per person, depending on which package you select.
Offering over 12,000 square feet of indoor rock climbing surfaces, Doylestown Rock Gym Adventure Center can appeal to climbers of all levels. The Ultimate Climbing Party, for kids 9 and over, offers a structured program where climbers move from activity to activity as a group, starting with some low climbing and a few roped climbs and focusing on the challenge course as the main event. Prices are based on the number of climbers, starting at $265 for up to 10 climbers. Or, for something really special, sign up for the Outdoor Climbing Party ($530 for up to 8 climbers), a four-hour party for partiers ages 9 and over, complete with hiking, climbing, and other excitement.
5. Sky Zone — multiple locations
With various locations in Oaks, Chalfont, Philadelphia, and New Jersey, Sky Zone parties include an event host who will set up, supervise the event, and clean up afterwards. The birthday teen and friends can bounce on wall-to-wall trampolines, try their hands at basketball or the rings, and then sample tasty food afterwards. Parents are also welcome to join in. In addition to birthday parties, they also can host graduation parties, sweet sixteens, or parties for any special occasion.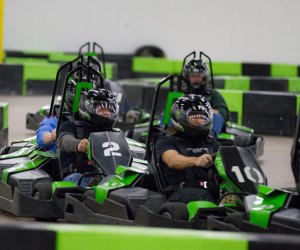 Race on indoor go-karts at Speed Raceway. Photo courtesy of the raceway
If your teen has a need for speed, plan a party at Speed Raceway, where they can race their friends on indoor go-karts. Party packages include a reserved start time, a themed party room for two hours, a dedicated event host, arcade time, and medals for the top three finishers. You can opt for two or three races per party, which can be for any age from kids to teens to adults, starting at $50 per person.
7. Topgolf — Philadelphia
The Philadelphia-Northeast location of Topgolf offers climate-controlled hitting bays. Party packages for teens include two hours of game play, Junior Lifetime Memberships for all party guests, a dedicated team to set up and manage the party, and a party menu featuring such tasty items as angus beef sliders, chicken tenders with honey mustard dipping sauce, mini hot dogs, seasonal fruit, and drinks. Packages start at $420 for up to 12 teens.
Build a custom birthday party at Urban Air, opting to include any of the following: a ropes course, climbing walls, the Warrior Course, Battle Beam, trampolines, and more. Teens might particularly enjoy the Glow Theme party, where the normal lighting gets replaced with black lights, strobes, and lasers. Party guests can play glow-in-the-dark dodgeball or jump to their favorite music.
Artsy and Creative Birthday Party Places Near Philly
For creative teens looking for a unique experience, try a private event at East Falls Glassworks. The group is paired with a professional glass-blowing instructor who will give an introduction to the studio and the tools, then demonstrate the item to be made. Prices start with a studio fee, based on the number of people, starting from $100 for 5-10 people. Then there's an additional fee per person for the items that the group will make, such as paperweights, ornaments, candy dishes, or wavy bowls. Another option is be a musical chairs collaborative activity for up to 7 guests. In this process, everyone takes turns to work on one vessel, at a cost of $300.
Your teen and friends can express themselves with a 1.5-hour party, hosted at your place by an artist. All painting supplies is provided; you just supply the tables, chairs, food, and drinks. The party rate (starting at $200, based on group size) includes guided painting time, all supplies, and set-up. You can host the party at your office, home, at a public place such as a park, or at a number of local venue partners. Virtual events can also be booked, for those who'd like to include friends both far and near. Painting supplies will be shipped directly to each guest.
What's better than eating at a party? Making the food yourself! All parties at Really Cooking with Robin focus on hands-on cooking, especially designed for the age group. Choose between themes such as Pajama Party, Cupcake Wars, Mystery Box, Star Wars, or Karaoke Cooking Party, among others. Or, if you prefer, you can work with the chefs to design your own theme. Themed parties start at $350, with add-ons available, such as a photo booth or custom embroidered aprons.
12. YayClay! — Port Richmond
Up to 24 guests can join in a private party where instructors will walk them through every step of making their own clay vessel. The pieces will then be dried, glazed, and fired over the course of three weeks, with the finished creations finally ready to pick up. This is a do-it-yourself party in terms of food and snacks, but music, a free arcade, and party lighting are included. The group rate is $50 per person during the week and $65 per person on Friday, Saturday, and Sunday.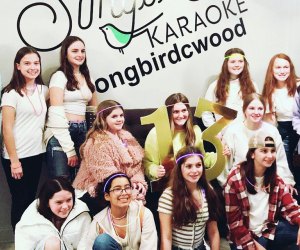 Channel your inner rock star at a Songbird Karaoke birthday party. Photo courtesy of the facility
More Fun Birthday Party Places Near Philly
13. Drone Zone — Flemington, NJ
Just across the border from Doylestown and Bucks County, Drone Zone will appeal to teens who love science and technology. Your birthday celebrant can choose between two options, both of which cost $500 for a maximum of 10 guests. The FPV Party Package gives guests 30 minutes with FPV (first-person view) drones and 30 minutes with FPV remote-controlled cars. The Tello Party Package offers an hour of flying drones which are controlled with your smart phone. Both parties include 30 minutes in a party room with pizza and drinks included.
Partiers of any age from elementary school up through college can work together to solve a mystery, with the age level determining the difficulty. Up to 10 guests can participate in one escape room, while 11-20 guests split between two rooms, running simultaneously. The cost is $28 per guest. For an after-celebration, take the party to a nearby eatery such as Lorenzo's Pizza or Gemelli Gelato and Dessert Cafe.
Film buffs or animation fans may enjoy having the historic Newtown Theatre to themselves for 2.5 hours. As guests arrive, the birthday teen's name is displayed on the big screen. Once everyone is present, the film begins, which can be any movie that you bring along on DVD or Blu-ray. For $425, the party can accommodate up to 30 teens and an unlimited number of adults. Guests receive free popcorn, access to the concession stand, tables and chairs for an eating area, and staff assistance. You can bring your own cake, food, non-alcoholic beverages, plates and utensils, and decorations.
Party guests can exercise their vocal cords with a karaoke party at Songbird Karaoke, near Cherry Hill, in Collingswood, New Jersey. Book according to the size suite you'll need (a petite suite for 1-4, small suite for 5-7, and midsize for 8-16). Kids will have access to 37,000 karaoke songs, along with a free app to download songs ahead of the party. The party package also includes decorations, snacks, and drinks; you bring your own cake. Prices vary based on the size of the group and the time the party will last, starting at $120 for 2-4 guests.