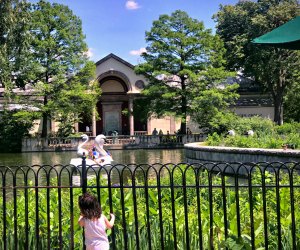 20 Things to Do with Your Preschooler in Philadelphia this Summer
Entertaining a preschooler is no joke, especially if they have moved on past their nap times! Some parents are truly excellent at coming up with daily plans for their little ones, exposing them to all the arts and sciences and play, making creative quiet books, and other Pinterest-worthy activities. Whether you are excellent at curating preschooler activities or not, you can always count on Philadelphia's selection of parks, playgrounds, and programming throughout the city to expand your little one's interests and experiences. If you want to beat the heat or embrace the summer swelter, here are 20 spots that are sure to be family favorites for you and your crew this summer:
Take in some nature while enjoying the best of the cities views at Sister Cities, where kids can explore a toddler-sized trail complete with a stream that they can race their sailboats down. A big splash pond at the entrance and spray pads make it a perfect spot to cool off on hot days. Bonus, all summer long Sister Cities hosts Parkway Pals, featuring free museum fun, games and more every Monday-Wednesday through August.
Beat the heat with playspaces like PlayArts or Nest. These whimsical play and programming spaces specialize in entertainment for the preschool-aged set.
Take a mid-day trip to Adventure Aquarium and get close to some of the deep seas greatest marvels.
Enter a world designed with preschoolers in mind at the Please Touch Museum, where little ones can play pretend in almost every way imaginable.
Enjoy some al fresco dining and drinks at a new venue every week with Parks on Tap, where games and hammocks make for great fun for your kids plus an incredible opportunity to take in all the different city views.
Engage their imaginations at the Free Library. With locations across the city, most feature a children's section in addition to preschool story hours.
Burn off energy in one of the many bounce houses around Philadelphia. Many of which host special toddler-hours which allow your little ball of energy to bounce around without worrying about "big kids."
Cool off with one of the many spray gardens and splash pads throughout the city.
Spend the day at the Philadelphia Zoo. Learn about lizards, big cats, hippos, zebras and more. Take a spin on the carousel or get a birds-eye view of the city from the hot air balloon.
Visit Barnes and Noble to explore their extensive children's book collections, then grab a tasty treat and enjoy people watching from Rittenhouse Park.
It's never too early to check out the Franklin Institute which offers tons of educational fun for toddlers, preschoolers, and beyond. From stars in the planetarium to climbing through the heart, your child will have so much to see and do!
Enjoy classic Philadelphia with ice cream at Franklin Fountain - either at their original location in Old City or their summer pop-up shop at Spruce Street Harbor Park
Speaking of Spruce Street, head down on a weekday and enjoy a swing in a hammock. While you are there you can indulge in fun carnival rides during Summerfest at Penn's Landing.
With a growing list of parks and playgrounds, you can go for a playground crawl and see if you can decide which is the best!
Take a nature walk and explore more than 45 acres of parkland and wildlife habitat at Bartram's Garden.
Visit Greensgrow and not only do you get to meet a few farm animals, but your little one can also learn all about the importance of community farming from their local and friendly experts.
Swim during family swim time at the more than 70 free public pools.
Play at Smith, the ultimate playground featuring an indoor playhouse that is ideal for younger kids, and 6.5 acres of outdoor playground space.
Check out one of the delicious water ice shops, both refreshing and sticky sweet - your toddler will love it!
Travel to Bucks County and visit Giggleberry Fair in Peddler's Village. Also make sure to explore the village while you are there, beyond the amazing toy and book stores, the village is an adorable place to visit with little ones.
Going out with preschoolers can be extra stressful, especially if you have a runner! Most of these spaces are open daily, but quiet times tend to fall Tuesday-Thursday in summer months so hit them early and mid-week for a more relaxed experience.
Photos by the author.