Swim Philly Pop-Up Pool Project: Public Pools with a Fun Twist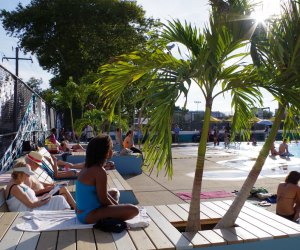 The heat of summer is upon us. Kids haven't been out of school that long yet and already they're getting fidgety. One of the many great things that Philly has to offer its communities is the sheer number of free public pools- there are over 70 outdoor pools! Philadelphia has more outdoor public pools per capita than any other city in the country.
If you're looking for more free water fun this summer, be sure to check out our roundup of the city's free spraygrounds.
Opening on a rolling basis between June 17 and 28, Philly pools are the perfect respite from summer boredom and sweltering heat. The Pop-Up Pool Project initiative, funded by the Knight Foundation and led by Group Melvin Design has transformed many spots throughout the area.
Featuring brightly colored lawn chairs and umbrellas, beautiful plants, oversized boardgames, yoga, and more, these Swim Philly pools are an exceptionally fun place to spend warm summer days. The idea of this initiative is to refresh the stale and dated institution that is the public pool to make it a brighter and more fun environment for the community to join together and have fun.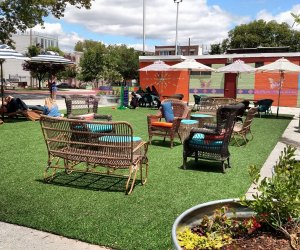 Francisville- North Philly, 18th and Francis
Francisville is the flagship location of the project. It features a picnic spot as well as bright umbrellas, tropical plants, and really neat raised decks to lounge on. Francisville also offers activities for children of all ages. The pool is open from 11 AM- 7 PM during the week and 12 PM- 5 PM on weekends.
O'Connor Pool- Graduate Hospital, 26th and South
O'Connor Pool was probably already the fanciest and nicest of the public pools, but Swim Philly has made it even better! Planters galore, beautiful, bold umbrellas, lounge chairs, and a rainfall shower with privacy screen are all new additions. There are open swim, family swim, and adult swim too! Aqua Zumba classes and poolside yoga are also offered.
Lee Cultural Center- West Philly, 44th and Haverford
Featuring freshly painted pavement, and the usual Swim Philly fare: colorful umbrellas and lawn chairs, tropical plants, and rainfall showerheads, Lee is a great spot to visit. Guests can expect Open Swim as well as family swim times.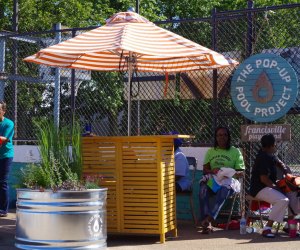 Lawncrest- Northeast Philly, Rising Sun and Comly
If you live nearby Lawncrest, you'll find it's received the same colorful treatment as the other pools on the list including plastic adirondack chairs and huge tropical banana plants. In addition to pool offerings, Lawncrest features monthly summer movie nights.
Marian Anderson Rec Center Pool- 17th Street near Graduate Hospital
Plenty of fun awaits families at Marian Anderson Rec Center Pool. From children's programming to comfortable seating for moms and dads, pool days are sure to be filled with refreshing excitement.
Pleasant Playground- Mt. Airy, Boyer and Pleasant
Located just outside the city in Mt. Airy, Pleasant Playground is just that: quite pleasant. Kids can enjoy the pool and fancy outdoor showers while parents can relax on the colorful chairs-- a far cry from some of the other public pools that strictly prohibit chairs and, at best, offer bleachers outside of the pool area.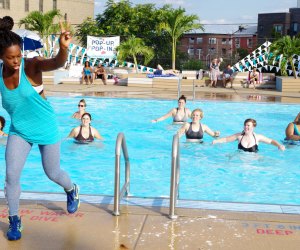 For a full list of Philly's public pools, check out the Parks and Rec website.
All photos courtesy of Group Melvin Design and Sikora Wells Appel.