9 Best Philly Mom and Pop Water Ice Shops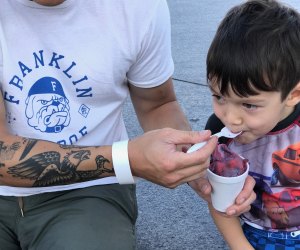 Water ice is one of those classic Philadelphia traditions. Like the cheesesteak or the soft pretzel, it's definitely a food staple in this area. Delicious, especially on a hot day, this cold treat is one of my favorite ways to beat the dog days of summer. We've rounded up our top 10 favorite local shops to treat yourself to this authentic and yummy Philly treat.
Dati's Homemade Water Ice—Passyunk
Dati's offers lots of fruity water ice flavors like peach, tangerine, blackberry, and passion fruit.

Famous Italian Ices—Kensington
For 52 years, Famous Italian has served a wide variety of flavors, now up to 48! It may come as no surprise that water ice pairs perfectly with the hot dogs they also sell on-site.
John's Water Ice—South Philadelphia
This is one of the top spots on every list to get water ice. John's has been in business since 1945. You'll find only the traditional flavors (pineapple, lemon, cherry, and chocolate) here, except on weekends when you might find a surprising special. Pick up a single serving or take some home to the family in a pint or quart.
Joseppi's Water Ice—West Oak Lane
This North Philly staple features water ice made on-site in flavors like passion fruit, mango, and even margarita. Sizes range from child to large, but even the biggest servings won't break the bank! Ice cream and milkshakes in a variety of flavors are also on hand in case your hankering for something a little creamier.
Mancuso and Sons—South Philadelphia
Mancuso has been making water ice since he was eight years old, so if you want to be sure you have the real deal, look no further than this spot in South Philly. You will only find the classic flavors of lemon, cherry, and chocolate, but you may be delighted to find chunks of real fruit mixed in, not just the puree or juice.
Pop's Homemade Italian Ice—South Philadelphia & Havertown
Pop's has been serving up water ice since 1932, starting with a street cart and working its way to a brick and mortar. Try a classic or a surprising flavor, like an iced-tea water ice. Mix it up with a gelati- layers of water ice and hard or soft ice cream.
Rose's Real Italian Water Ice — Roxborough
With two brick and mortar locations in Roxborough, as well as a traveling food truck, there are several ways to taste Rose's delicious classics like lemon and cherry. Pop into their original site on Pechin street for breakfast sandwiches and other goodies as well.
Tranzilli's—Germantown
This spot is great if you want water ice for a party or picnic; you can grab a gallon or individual servings. Tranzilli's features classic flavors like cherry, granny apple, and lemon.
Rosati Ice- Clifton Heights
That signature rose logo is unmistakable. Whether you've enjoyed Rosati's on the beach from the Fudgy Wudgy man or from your local ice cream truck, you know there's something different about this sweet Italian ice. The manufacturing building just outside Philly in Clifton Heights has a summer walk-up window where you can order their signature Classic Rainbow, the sour Crybaby Rainbow, or a number of the other classic flavors.
Photo courtesy of the author