Best Breakfast Restaurants in Philly for Kids and Families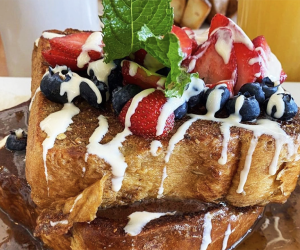 2/6/23
- By
Hillary Moses Mohaupt
They say breakfast is the most important meal of the day, but it can be tough pulling together a meal that makes everyone happy. And it can be harder still to take the kids out for breakfast. Luckily, Philadelphia is home to kid-friendly breakfast places that will please egg lovers, waffle fans, and more.
We take food seriously at Mommy Poppins, so if breakfast spots aren't enough, check out this list of our favorite brunch spots, too. And if you just need some coffee to start your day (don't we all?), we've got you covered with this guide to the best kid-friendly coffee shops in Philadelphia and the suburbs. Find all this and more in our Guide to Restaurants in Philly.
Technically, Booker's on Baltimore Avenue is open for brunch, from 10am to 2:30pm every day, and they recommend reservations (but you can choose where exactly you want to book at table). The menu is inspired by Southern specialties, and it features gluten free, vegetarian and vegan options, plus lots of sweet and savory choices, which means it's likely to please even picky eaters. Find more Black-owned businesses in Philadelphia in our guide to shops, restaurants and other landmarks in Philadelphia.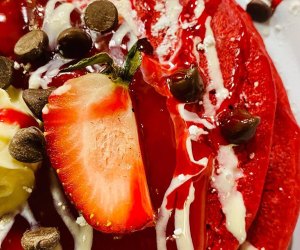 Dig into Red Velvet Pancakes with chocolate chips, strawberry compote, and sweet buttercream at the Breakfast Boutique.
One of the best things about Breakfast Boutique is that it serves breakfast all day. Locations in Mt. Airy, Chestnut Hill, and River Falls feature fancy pancakes (red velvet pancakes, need we say more?) plus eggs and more than a dozen side options which might make it easy to put together a bespoke breakfast for your littlest foodie.
Nothing fuels a Saturday afternoon exploring Philadelphia like a well-timed sweet treat, and that's exactly what this food truck on Cherry Street Pier specializes in: snackable French toast with all kinds of toppings and sauces. It's the perfect pairing for looking at the Delaware River and enjoying the views with little ones.
Their tag line is "Healthy. Sustainable. Soul satisfying." and they don't disappoint. Served from 8am to 3pm daily, breakfast options include huevos rancheros and an egg taco. Plus there's lots of outdoor seating in a private garden away from the street.
Breakfast all day (except Mondays, when they are closed) makes this an immediate favorite destination for anyone who had trouble getting kids out the door on time for anything. Most of the breakfast items comes with toast and tater tots, to the delight of kids and kids-at-heart.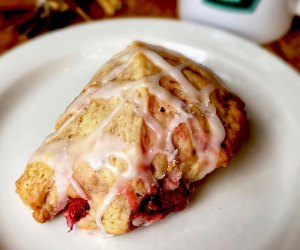 Get freshly baked pastries for a morning perk at Green Line Cafe, where vegan options are always available.
Green Line Cafe's five locations (all of them green) will set you and the kids up with fresh baked goods or breakfast burritos. We especially love the one right next to Clark Park where the kids can play while you sip your coffee.
You won't find actual green eggs (or green ham) on the menu at any of the locations, but you will find decadent stuffed challah French toasts (like pecan pie and cookie dough French toast) and unusual eggs benedict combinations, plus breakfast sides you can mix and match. Note that Green Eggs Cafe is cash only.
There are two locations in northwest Philadelphia, and one of them is at Allen Lane train station, making it the perfect breakfast destination for your favorite tiny train lover. The cafe itself is also on the small side, though that often isn't a problem, since there's also bench seating with great views of the tracks. In addition to pastries and coffee, High Point features sweet, savory, and customizable crepes.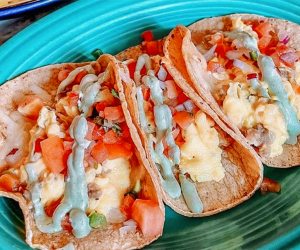 Breakfast tacos are the number one selling breakfast item at Luna Cafe.
The folks at Honey's in NoLibs are up and running by 8am Thursday through Sunday so head here for breakfast, featuring everything from challah French toast to huevos rancheros.
Kick off breakfast with one of Luna Cafe's smoothies to sneak in a little extra fruit (and spinach!) to start the day. Mini pancakes abound on this menu, sure to make little ones smile, and kids and parents alike can build their own omelet.
There are three locations in the city (Fairmount, Grad Ho, and University City), plus two in the burbs, and each spot has its own flare. Your kids probably won't care about the Rom-Com Brunch Specials, but they'll give you a giggle, and you can channel your own little superstar toward French toast, eggs of all kinds, granola, and more.