The Adventures of Tortoise & Hare The Next Generation
The Sheen Center

The Very Hungry Caterpillar Show
DR2 Theatre

NYC Easter Brunch Cruise 2023
Event Cruises NYC
Sign up for our free newsletters.
Special Needs-Friendly Ski Resorts Near NYC: Adaptive Winter Sports Programs for Kids of Different Abilities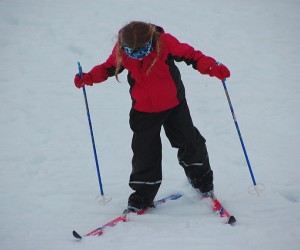 2/2/14
- By
Michaela
Winter is a wonderful season for outdoor fun—just ask my three young snow-loving kids. In fact, there are so many fantastic skiing, snowboarding and snow tubing resorts near New York City, it's difficult to choose.

But since I'm also a mom to a teenager with special needs who isn't into winter sports, that makes our decision all the more challenging. He is both physically and cognitively disabled, and the thought of struggling onto lifts, into gear, up hills and through crowds doesn't appeal to him—not to mention the possibility of wiping out. So my family needs a resort that's able to accommodate children of all ages as well as abilities.

Happily, there are some amazing adaptive winter sports programs at resorts within a few hours of NYC, and some are low cost or even FREE. Here are five ski programs for special needs families.
Adaptive Sports Foundation
Windham Mountain, Windham, NY
Based out of the Gwen Allard Adaptive Sports Center at Windham Mountain, ASF is the largest adaptive ski and snowboarding program in the Northeast. The program caters to people with special cognitive or physical needs ages 5 and up. There are also several racing/competition options to choose from. Windham Mountain is about a two and a half hour drive from Manhattan in the Catskills. For more information or to fill out a registration form, email asfwindhma@mhcable.com or visit the website.

STRIDE Adaptive Sports
Catamount Mountain, Hillsdale, NY
Jiminy Peaks, Hancock, MA
Ski Sundown, New Hartford, CT
STRIDE offers a slew of adaptive sports programs, including skiing and snowboarding, sled hockey, snowshoeing and a ski race team. The organization runs adaptive winter sports programs at three different Northeastern mountain resorts: Catamount in Hillsdale, NY, Jiminy Peaks in Hancock, MA and Ski Sundown in New Hartford, CT. While STRIDE's lessons are FREE, each resort charges a $50 to $75 fee per lesson, which includes equipment and rentals. Read the "social stories" on the STRIDE site to help prep your child with special needs for the experience. To participate, fill out an application and then register for specific lessons in advance.

Best Day Foundation
Thunder Ridge, Patterson, NY
Tuxedo Ridge, Tuxedo Park, NY
(Unfortunately, Tuxedo Ridge will not open for the 2015-2016 season but hopes to reopen in 2017.)
This national nonprofit provides adventurous seasonal experiences for children with special needs. Its Best Day in the Snow events take place in upstate New York at Thunder Ridge and Tuxedo Ridge, and feature snow obstacle courses, snow tubing, sledding, snowman building and an awards ceremony. Complimentary snacks, drinks and a hot lunch are provided for participants (but not their families). Note: Siblings can only join in if space is available. Advance registration is required and these events tend to book up quickly (though I've found that it's worth getting on the wait list in case of cancellations).

Belleayre Adaptive Snowsports Program
Highmount, NY
Also located in the Catskills, Belleayre offers an adaptive snowsports program with lessons for people with physical challenges, blindness, autism or developmental delays. In 2010, Belleayre opened an adaptive lodge that is completely handicap accessible. All lessons require an application and advance registration, and start at $80 or $100 with equipment included.

Double H Ranch
Lake Luzerne, NY
Located in the Adirondacks, Double H Ranch is pretty far away from NYC (about a four-hour drive). However, its adaptive winter program is worth a mention. Children ages 6 to 16 with chronic or life-threatening illnesses can participate in downhill and cross-country skiing, snowboarding and snowshoeing. All programs and equipment are FREE of charge, and there is a 1:1 adult-to-child ratio for most programs. There are also Family Sleepover Weekends, when siblings and parents can hit the slopes as well.
Find out about other great programs for children with special needs or check out our Winter Guide for fun seasonal activities.
Creative Commons image credit: AnneCN