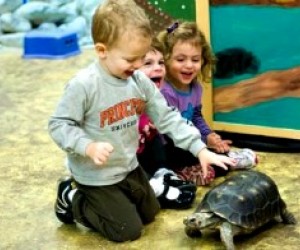 Best NYC Kids Birthday Parties: 5 Amazing Birthday Party Ideas
If you're the type who likes to go big, New York City certainly offers some over-the-top party ideas that will make your child's birthday a magical, memorable, only-in-NYC experience for kids and parents alike.

We've come up with five Manhattan party packages where young kids can enjoy unique activities worth the splurge. You can find even more party inspiration to suit every budget in our Party Guide.
Best Sugar Rush: Chocolate Works – Upper West Side
641 Amsterdam Avenue at 91st Street
A party at this awesome interactive candy shop lets kits make sweets and eat them, too. During the two-hour drop-off party, guests mold and decorate their own chocolate creations on the shop's centerpiece: a 20-foot chocolate conveyor belt. Packages include paper goods, invitations as well as pizza and beverages for the kids. There are cute mostly edible add-ons, too, like make-your-own sundaes or a chocolate fountain to drench marshmallows and pretzels.
Best for Wannabe Celebrities: Red Carpet Kids – Upper West Side
Lincoln Center Film Society, 144 West 65th Street
For an authentic VIP experience, indulge in an immersive Hollywood-style party. The birthday child chooses a theme centered around a movie premiere, a VMA-esque music video production and award show or a Fashion Week-inspired runway spectacular. No matter the theme, the birthday kid is treated to a party geared exactly toward their tastes, whether they want to jam to their favorite tunes on stage or strut their stuff in a self-styled fashionista get up on the runway, Red Carpet Kids aims to infuse the birthday child into every party and uses its expertise as an improve school to highlight kids' creativity.
Best for Animal Lovers: Art Farm in the City – Upper East Side
419 East 91st Street between First and York Avenues
We've been raving about the programs at this indoor farm and play space for years. For urban kids, the chance to celebrate a birthday with cute and (for the most part) cuddly creatures is a dream come true. The Art Farm offers a variety of party packages that all come with face time with the animals. Get up close and personal with chickens, rabbits, ducks or more exotic lizards and snakes. All packages last two hours and include a pair of coordinators, food and beverages, invitations and activities.
Best (Age-Appropriate) Adrenaline Rush: the Central Park Carousel – Upper East Side
Mid-park at 64th Street
Even if your kids have already taken a spin or 10 on this NYC landmark, nothing beats going on rides over and over and over (preschoolers, they love repetition.) Sure, you could just pay for all your guests to go. But if you book a party package, the carousel gives your group a nice shady spot outside the gates with tables and benches and hands children and adults rolls of tickets to go around as many times as they want. No more whining about "just one more ride!" Visit the Wollman Rink website for booking details. If you live in (or are willing to go to) Queens, you can do a similar party at Fantasy Forest at the Flushing Meadows Carousel, where your preschooler can enjoy four mild rides along with the historic merry-go-round.
Best Dance Party: Downtown Dance Factory – Tribeca
291 Broadway
Grab your dancing shoes and be ready to cut the rug at this self-proclaimed "hippest dance studio" in NYC. Party goers can pick from a variety of themes such as the usual princess and superhero or opt for something more off the beaten path like a disco party or the hip-hop centered "Block Party Jam." All parties include 50 minutes of dance time, plus 40 minutes in the party room where parents are responsible for providing all the food and drinks.
Find out about other great birthday bash ideas in our Party Guide.
This post originally published in June 2013.