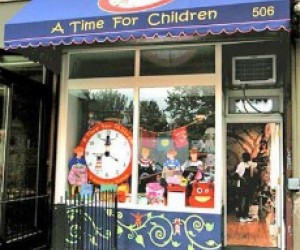 Gifts That Give Back: NYC Retailers That Donate to Charity
Have you ever looked at a kid's birthday party haul and wondered what kind of message it sends? All those shiny new toys and clothes and books stuffed into a clear garbage bag with a ribbon on top so they can be carted home with ease. There's no way the birthday child will ever use (or even open!) all of them. No wonder a lot of families have taken to asking for charitable donations in lieu of presents.

But there's a way to give cool creative gifts while also giving back to those in need. There are several New York City children's stores as well as online retailers that donate a portion of their proceeds to various charities. So the impact of your gift continues long after the wrapping paper has been thrown away.
NYC Kids' Stores That Donate to Charity
A Time for Children – Upper West Side
506 Amsterdam Avenue between 84th and 85th Streets
One of our favorite boutiques on the Upper West Side offers a fabulous selection of gifts, books and clothing for newborns through tweens. Every purchase makes a difference, too, since 100% of the profits go to the Children's Aid Society, which has been helping NYC families in need since 1853. In addition to financial support, the shop's Retail Readiness Program provides employment and training for teens from Children's Aid Centers.

Exit9 Gift Emporium – East Village & Cobble Hill
51 Avenue A between 3rd and 4th Streets
127 Smith Street between Dean and Pacific Streets
This local chain "takes fun seriously." The owners are known for hosting frequent promotions that benefit community charities like the Lower Eastside Girls Club. For example, during the back-to-school season, you can pick up State brand "GiveBackPacks." For every one purchased, State hand delivers a backpack to a U.S. student in need.

Stoopher & Boots – Upper West Side
385 Amsterdam Avenue
Another Upper West Side favorite, Stoopher & Boots is an Etsy-style boutique which caters to local kids and tweens. Proprietor Stephanie Goldstein (Stoopher to her friends) and her dog Scout offer gifts, clothes, toys, jewelry and a signature line of sparkly custom T-shirts and tanks. Stoopher carries individual items that give a portion of proceeds to charity, like SpiritHoods, those super-cute faux fur animal hats with long "ears" that include "pawkuts" for your hands. Ten percent of every SpiritHood purchased goes to saving endangered animals.

And remember, a lot of New York City thrift stores are charities like Housing Works, which benefits people living with and affected by HIV/AIDS and Goodwill, which helps those in need.

Online Retailers That Donate to Charity
Mightee Kids
Each month, Mightee Kids partners with a different charity and designs a creative kids' T-shirt for that particular cause. Every shirt comes with a card with info about the nonprofit it benefits. The shirts sell for $22 each with $5 donated to the chosen charity. You can also purchase a Mightee Kids membership as a gift and send a new shirt each month.

Rosie Hippo
Rosie Hippo's owner, Kim Bloom, is a mom and breast cancer survivor who offers high-quality handcrafted natural toys that were created under fair working conditions and are eco-friendly. The online shop also gives back to the community by donating a portion of the proceeds to charities like Room to Grow, charity: water and the Young Survival Coalition.

Grandmas2Share
Grandmas2Share's Marguerite Spagnuolo started her Staten Island company in memory of her grandmothers, Nini and Mamu, who didn't live long enough to meet her daughter. Through the company, Spagnuolo crafts 20-inch dolls in their likeness and packages them along with a storybook so that every child can know the love of a grandmother. Beyond that, though, Spagnuolo donates $1 from the sale of each doll to the Hope & Heroes Fund at Columbia University Medical Center, which raises money for the childhood cancer and blood disorder research there.

DonorsChoose
DonorsChoose allows public school teachers to post classroom projects they are trying to fund, both big and small. You can purchase a gift card, which lets the recipient to choose a project they want to support or you can choose from great T-shirts or tote bags. You can also donate your birthday and set up a giving page for your own child to encourage donations in lieu of gifts.

CommonThreadz
CommonThreadz offers a variety of retail and sponsorship opportunities that help empower disadvantaged children in rural villages. T-shirts feature artwork created by African children and each item purchased provides a school uniform for an orphan, or meals for a month. You can also start a virtual book drive, buy a pair of shoes in a child's name or sponsor a child and become pen pals—a great way for older children to learn firsthand about the challenges of growing up in a developing country.

ECHOage
This website allows birthday guests to make a monetary gift of any size. That amount is split 50/50 between a charity of your child's choosing and your kid. ECHOage takes care of everything including online invitations, secure gift and charity giving, contribution tracker, RSVP management and even thank-you notes. It truly is a win-win.

Read about other great local places to buy gifts in our NYC Kids' Shopping Guide.