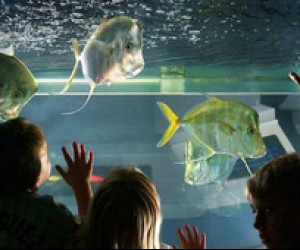 Staten Island Zoo
It's true that the Staten Island Zoo isn't the most extravagant and is the Bronx Zoo's smaller cousin, but its still has a whole lot to offer and is a great place for kids to really hang out with animals.

In 2007, a newly renovated Reptile Wing opened with an extensive collection of reptiles and amphibians, and a "Fear Zone" that teaches visitors the truth, and talks about the myths behind venomous creatures. It really is a lot of fun and teaches kids respect for these animals, instead of fear.


There's an African Savannah that houses mandrills, lizards, lemurs, antelope and the ever-popular leopards. Another memorable exhibit is the Tropical Rain Forest, which is very aesthetically cool, but physically hot, as to mimic the environment of a South American tropical forest. There's bats and monkeys and crocodiles and alligators—oh my! There's also an aquarium, which is worth checking out if you are already there, but it isn't the most impressive—though it has some cool sharks.
Arguably the most kid-friendly part of the zoo is the aptly named Children's Center, home to an extremely interactive petting zoo. In this farm-like setting, kids can feed baby goats (which they can pet, too), donkeys, pigs, deer, Alpacas and other farm animals. There are also Clydesdale horses and some ponies that little visitors can take a ride on.
The zoo also has special events for families and ones just for parents, too, in addition to all the exhibits. Check the website for more information and for more events.
How to get here
The Staten Island Zoo
614 Broadway, 10310
718-442-3100
www.statenislandzoo.org

OUR LATEST VIDEOS