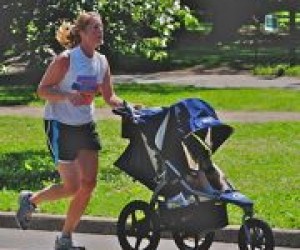 Outdoor Fitness with Babies and Toddlers in Northern New Jersey
We want to spend as much time as possible with our kids. They grow up so fast; we don't want to miss a thing. Sometimes that means sacrificing the gym for time with our little munchkins. However, since we all still need to burn those extra calories before our skinny jeans become a distant memory, here are some ways get your heart pumping without losing out on those precious moments.
Outdoor Fitness Classes
Getting to the gym isn't as easy as it seems. Having a structured schedule gets us out of the house and on the right track. Kickboxing, yoga, spin… leave those classes behind and join one of the outdoor Mommy & Me fitness classes throughout Northern New Jersey. It doesn't matter what fitness level you are at – it's about setting goals and sticking with a routine.
Stroller Strides of New Jersey (Ridgewood, NJ) Fitness for mom, fun for baby. The motto says it all. Stroller Strides of Northern New Jersey offers fun and social fitness classes at the Ridgewood Duck Pond for moms of all levels. If exercising outdoors it not your forte, Stroller Strides also hosts indoor classes at the Garden State Plaza (Paramus), World Gym (Paramus) and the Shops at Riverside (Hackensack). Both monthly memberships and drop-in classes are available.
Stroller Power Fitness (Hoboken, NJ) Stroller Power Fitness currently hosts four classes a week. These 60 minute total body workouts for moms are a mix of cardio, core stretching, power walking, squats and power jumps, along with lots of upper body work with resistant bands. "We modify each workout for the moms involved," said Stroller Power Fitness Owner Sherri Satz. "We want to keep our moms motivated, but also involve babies and toddlers into our workouts." For more information, call Sherri at (973) 615-9960 or email sherri@strollerpowerfitness.com.
NJ Fit Mom (Blairstown, NJ)
NJ Fit Mom is a homegrown mom business dedicated to helping local women look and feel great through fitness and a healthy lifestyle. With Boot Camp for Moms, supervised play dates at the park, personal and small group training, Mother Runners, and more, owner Jessica Griffin is dedicated to helping women and moms change their bodies and their lives. 973-229-5788
Baby Boot Camp (Hoboken, Jersey City, NJ)
Baby Boot Camp is an innovative stroller fitness program designed to balance the fitness needs of moms while spending time with their children. Delivered by nationally certified fitness professionals throughout the United States, Baby Boot Camp stroller-fitness classes include STROLLFIT, STROLLGA, 5K Training Program, and Nutrition Solutions. Created in 2001 by Kristen Horler, Baby Boot Camp strives to help moms regain or enhance their pre-pregnancy fitness levels and meet the physical challenges of parenting by emphasizing strength training in a supportive environment.
Fitness Trails: Your outdoor gym solution
With hectic schedules and tight budgets, our lives don't always allow us to take an organized class. Many parks in Northern New Jersey and Rockland County have flat surfaces -- great for walks or runs with a stroller or toddler in tow. If you are up for an extra challenge, find a local fitness course. Located in numerous local parks throughout northern New Jersey, these parcourses have 18 or so stations to provide additional physical training. Most stations post instructional guides, along with ways to increase difficulty. They are quick and easy, so your toddler won't get bored. In fact, you can ask him to sign the alphabet during each of your station workouts. So the next time you are out and about, put the brakes on the stroller and jump onto a fitness trail!
Union County
Cedar Brook Park (Plainfield), Rahway River Park (Rahway), Warinanco Park (Elizabeth/Roselle), Briant Park (Summit), Phil Rizzuto Park (Union) Nomahegan Park (Cranford), Jaycees Park (New Providence) and Echo Lake Extension (Mountainside)
Essex County
Brookdale Park (Montclair/Bloomfield), Glenfield Park (Glenridge/Montclair) and Verona Park (Verona)
Bergen County
Riverside County Park (Lyndhurst/North Arlington) and Overpeck Park (Leonia)
Passaic County
Rifle Camp Park (Woodland Park), Main Memorial Park (Clifton) and Richardson Scale Park (Clifton)
Morris County
Traction Line Recreation Trail (Morristown), Loantaka Brook Reservation (Morris Township), Lewis Morris Park (Morristown), Mahlon Dickerson Reservation (Jefferson Township), Emmet Park (Florham Park) and Old Troy County Park (Parsippany)
photo credit: Ed Yourdon via photo pin cc
Originally published 2012