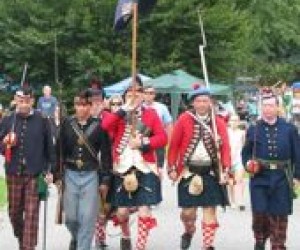 Long Island Weekend Round-Up of Events August 28th-29th
Here we are in the last weekend of August, the last gasp of summer. Feeling pressure to get out there and do something memorable? Have no fear, we've got some great ways to cap off your summer days. You can revel at the annual Scottish games, celebrate the 68th birthday of the Cold Spring Harbor Whaling Museum, have a massive play date at the Toy Tech Exhibit, or even ride a miniature train at the Riverhead Railroad Festival. Whatever you decide to do, have a great weekend.
August 28th
THE ANNUAL SCOTTISH GAMES
Old Westbury Gardens
71 Old Westbury Road
Old Westbury
Time: 8-5 p.m.
This is not a simple picnic and bagpipe playing affair. You can play odd sounding games like the Caber Toss, Putting the Stone and Tossing the Sheaf. Enjoy the programs, demonstrations and performances of traditional Celtic dance, pipe band performances (of course), folk and rock concerts and the Celtic rock band, MacTall Mor. And they haven't forgotten your kids--they'll love the races, children's Caber Toss, pony rides and petting zoo. When you get hungry there are various food booths offering Scottish specialties, you can visit the Café in the Woods, or bring a picnic.
Special Scottish Games admission:
General:$15; Seniors, 62+):$10; Children 7-17, Old Westbury Gardens Members:$5; 6 & under: Free.
August 29th
Cold Spring Harbor Whaling Museum
279 Main Street
Cold Spring Harbor, N.Y.
(631) 367-3418
Time: 2:00 pm.
For all ages
Fee: Members, free; non-members, adults $6, seniors $5, students $5, children under 5 free, family $19
Partake in whale games, decorate a birthday card for the museum, and, of course, enjoy a bit of birthday cake. Help the Whaling Museum celebrate it's 68th birthday!
August 28th - 29th
Railroad Museum of Long Island
416 Griffing Ave.
Riverhead, NY 11901-3012
Phone: 631-727-7920
Fee: Adults are $6, children $3 and under 5 years FREE
Time: 10 a.m. - 4 p.m. both days
Bring your train crazy little ones to the Riverhead Railroad Festival. They have model and real trains, and lots of extra exhibits for the event. The admission charge includes a ride on a World's Fair miniature train.
Long Island Science Center
11 West Main Street
Riverhead, NY 11901-2818
(631) 208-8000
Time: 10:00 a.m. - 4:00 p.m.
Fee: $8 per person for an all day pass
The Long Island Science Center comes through with another great exhibit. It includes mechanical toys, paper rockets to design and launch, a cool wind tunnel where you can test the flying cone you just built--you can even design a boomerang. Your kids will love playing, designing, building and even learning about how toys work in what may be their dream exhibit.