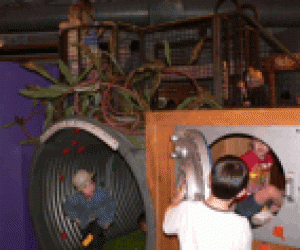 Weekend Events for Kids on Long Island, January 22-24: Night at the Museum, Family Theater and More
Here we are, folks—the heart of Winter. Despite the sunny skies we saw this week, there's just no avoiding the fact that this time of year we spend the majority of our time indoors. So why not find something fun to do or enjoy? We've rounded up some of the best indoor activities to enjoy with your kids this weekend on Long Island. Take a look:
Hairspray at the Tilles Center
Friday and Saturday, show times at 2pm and 8pm
Tilles Center, CW Post Campus, Long Island University
RT 25A, Old Westbury

You don't have to trek all the way to Broadway to enjoy great theater. The Tilles Center is a great spot to check out serious theater and this great show. There is plenty of parking, and you don't have to walk far once you've parked; plus tickets are a fraction of the cost of seeing the Broadway version. To buy tickets, or for more information, just check out their website.

FairyTale Follies
Friday and Saturday
Clare Rose Playhouse, St. Joseph's College
155 Roe Blvd, Patchogue

Once a cottage, this quaint theater features student and local actors throughout the year performing terrific children's theater and storytelling. This weekend, it plays host to a great family play, featuring traditional fairy tales with a twist of modern humor. For specific show times or more information, click here.

Night at the Museum: Sleepover at LICM
Saturday, January 23, 6:30pm
Long Island Children's Museum
11 Davis Avenue, Garden City

We love the Long Island Children's Museum, but I've never enjoyed an overnight there! This sounds really fun. Here is your chance to do all things unusual at the museum: weird and wacky experiments, silly science demonstrations, sleep studies in sleep labratories, and plenty more. Plus, you get a bedtime snack and breakfast in the morning. There is a minimum age of 6 and the cost is $45 for the event. Click here for more information.

Doll Show
Sunday, January 24, 10am-4pm
Patchogue Manor Catering Facility
9 Railroad Avenue, Patchogue

For a fun afternoon, take your doll lover or collector to this display of modern, antique and vintage dolls and accessories. If your 14 or younger, the show is FREE, otherwise the cost is $5. For more information call 631-585-2297.