Viewing Tips for NYC Elephant March 2010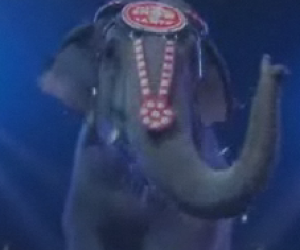 Staying up late and seeing the annual Ringling Brothers' elephants exit The Midtown Tunnel is a fairly exciting event for city kids--afterall it's not every day you see pachyderms parading down 34th Street in the middle of the night to herald the Spring opening of the circus. No secret there.
But we do have some tips on seeing the elephants this year:


Whereas nearly everyone just mentions what happens when the animals come out of the tunnel (i.e. on the Manhattan side), nobody mentions that you can see the elephants go into The Midtown Tunnel on the Queens side at 11:59 pm. In fact, many Queens parents have been very quietly doing this for years. Admittedly, the Manhattan side IS still best for optimal viewing of the procession and enjoying this year's extra fanfare (more on that in a moment). But those gentle giants don't emerge in Manhattan until 12:20am, so seeing them enter in Queens shaves a good 20 minutes off your kids' bedtime and still lets you witness the nevertheless very cool site of catching a good glimpse of a lotta pachyderms and horses entering a major underground thoroughfare. Plus it's far less crowded.
We understand that there is a nice location right near the tunnel entrance (off on the side and out of the traffic zone) that typically is used by those "in the know." Local police can also guide curious onlookers to good viewing spots.

As far as this year's extra fanfare goes, they are trying out some new guests including the following: stilt walkers, dancers, ponies and even a Watusi. And, of course, there are clowns. Only if it rains will it just be the animals.

Whether you watch the Elephant Walk happen before their amazing journey into the tunnel begins or after they emmerge, it's a pretty incredible thing for kids to see and that's worth more than a few peanuts!

Queens Side Viewing: elephants enter entrance to Midtown Tunnel at 11:59 pm on Monday, March 22nd

Manhattan Side Viewing: elephants exit Midtown Tunnel at approximately 12:20 am on Tuesday, March 23rd and continue their walk down 34th Street all the way to Madison Square Garden

Tips: Arrive early wherever you decide to view and bundle up. (Cameras optional but highly recommended!)