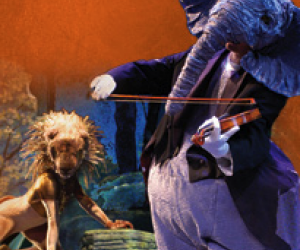 Theater for Kids on Long Island
There's nothing better than live theater to ignite our childrens' imaginations. Here on Long Island, there are a number of theaters that hold performances geared towards children. Of the productions listed below, several are puppet performances, which are a great way to introduce children to the world of theater.

Long Island Children's Museum
11 Davis Avenue
Garden City, N.Y. 11530
(516) 224-5800

THE MAN WHO PLANTED TREES
Saturday, February 27th at 1 & 3 pm.
Ages 3 & up.
Fee: $5 with museum admission; $9 theater only.
Puppet State Theatre Company of Edinburgh, Scotland performs this show. A unique blend of comedy, puppetry and inspired storytelling combined with the captivating adaptation of Jean Giono's environmental cult classic.
"SCIENCE OF THE CIRCUS" with Ringling Bros. and Barnum & Bailey Circus
Sunday, March 7th at 1 & 3 p.m.
Ages 3 & up.
Free with Museum Admission. Same day tickets only.
The talented performers of Ringling Bros. and Barnum & Bailey astound audiences across the country with acts of daring and skill that require concentration, timing, patience, dexterity and courage!
MAGICAL MASK, MIME AND MUSIC OF JAPANESE STORIES
Sunday, March 21st at 1:00 p.m.
Ages: 3 and up
Fee: $4 with Museum Admission ($3 for LICM members) $8 for theater only
Folktales from Japan are combined with folk songs, original masks, origami, highly stylized movements and a touch of magic to entertain the entire family.

Landmark on Main Street
Jeanne Rimsky Theater
232 Main Street
Port Washington, N.Y. 11050
(516) 767-6444

Theaterworks USA's "Click, Clack, Moo"
Saturday, February 27, 2010 2 PM
All day long, Farmer Brown hears "click clack moo, clickety clackety moo..." – the cows are typing and protesting their working conditions! See this fun, "moo-ving" new musical about collaboration, cooperation and conciliation, based on the award-winning book by Doreen Cronin and Betsy Lewin.
Mermaid Theater of Nova Scotia:
"The Very Hungry Caterpillar and Other Eric Carle Favorites"
Sunday, March 14, 2010 11 am and 2 PM
The magical stories of award-winning illustrator and author Eric Carle come to life with beautiful puppetry: The Very Hungry Caterpillar, Little Cloud and The Mixed-up Chameleon. Two performances are available.
ArtsPowers' "Are You My Mother?"
Saturday, April 17, 2010 2 PM
When Baby Bird emerges from her shell, she expects to be greeted by her mother's song – but mother is not there. With the help of Dog, Cat, and Hen, Baby Bird sets out in search of her Mom in this musical adventure based on P.D. Eastman's whimsical and well-loved picture book.
Catskill Puppet Theater's "The Villain's Moustache"
Sunday, May 2, 2010 2 PM
Children who were educated at the Main Street School one hundred years ago would have enjoyed a show just like this one – complete with Tin Pan Alley show tunes and a trouble-making Villain!
Children's Series Ticket Prices and Information
Individual Performance $18; $15 for Friends of Landmark.
Shows in this series run from 50-75 minutes and are suitable for children ages 3 and up.
Everyone must have a ticket.

Hofstra Cultural Center
Hofstra University
Hempstead, N.Y. 11549
(516) 463-6644

THE NATIONAL CIRCUS PROJECT: Mini-Circus performances and workshops
Sunday, March 21st, 11 a.m.-12 Noon and 2-3 p.m. (two shows)
Monroe Lecture Center Theater, California Avenue, South Campus
Tickets: $15; $10 Senior Citizen (over 65); $10 youth (18 and under) Children under 3 are Free.
The National Circus Project's performances and programs provide an opportunity for everyone to experience the unique cultural traditions and the incredible fun of the circus! This five-artist extravaganza showcases a variety of skills, comedy, and plenty of audience interaction.
Each performance is followed by a 45-minute circus arts workshop under the "little top tent." The interactive workshops for all ages are a hands-on experience with traditional circus skills, including juggling, plate spinning, devil sticks, and balancing. This is a fun and exciting way to be coached directly by world-class circus professionals.

Smithtown Center for the Performing Arts
2 East Main Street
Smithtown, NY 11787
(631) 724-3700

SEUSSICAL
Running February 13 - March 7
All ages Price: All Tickets $15.00 Members $13.50
Your favorite Dr. Seuss characters, including Horton the Elephant, The Cat in the Hat, Gertrude McFuzz, Lazy Mayzie, and a little boy with a big imagination - Jojo. "Oh, the Thinks You Can Think" captures the show's spirit of imagination, as the colorful characters transport us from the Jungle of Nool to the Circus McGurkus to the invisible world of the Who's.

101 DALMATIONS - KIDS
Running March 27 - April 10
All ages Price: All Tickets $8.00
In this 40-minute musical adventure, our youngest performers bring you to the loving London home of Dalmation parents, Pongo and Perdita, who are happily raising their Dalmation puppies, until the monstrous Cruella De Vil plots to steal them for her new fur coat.

Simple Gifts Production
97 Little Neck Road
Centerport, N.Y. 11721
(631) 261-5999

THE MAGICAL LAND OF OZ
Thursday, March 4th at 10:30 a.m. Friday, March 5th at 10:30 a.m. & 7:30 p.m. Saturday, March 6th at 11:00 a.m. & 2:00 p.m. All ages. Price: $16 a ticket.

Van Nostrand Theatre
Suffolk County Community College
Crooked Hill Road
Brentwood, N.Y. 11717
(631) 851-6589

THE LITTLE MERMAID
Saturday, March 6th at 1:00 and 3:00 p.m.
General Admission: $5
American Family Theatre's adaptation of Hans Christian Anderson's beloved fairy tale. Enjoy the story of a little mermaid who longs to live in the world above. This production is suitable for the entire family.

Staller Center For The Arts
Stony Brook University
Stony Brook, N.Y. 11794
(631) 632-ARTS

DARWIN
Sunday, March 14th at 3:00 p.m.
Tickets: $12
Not Just For Kids Series
Darwin is a truly unique and innovative theatre experience where electroluminiscent crayon-like creatures light up the stage with a tale of Darwin, the dinosaur, discovering the true meaning of love. It's a creative and exciting journey recommended for children 7 and older.

DO JUMP
Sunday, May 2nd at 3:00 p.m. and 7:00 p.m.
Tickets: $12
Not Just For Kids Series
DO JUMP offers an abundance of fun. Aerialists who act! Vaudevillains who fly! Acrobats who dance! Kites fly indoors, humans dance in the air and everyday objects take on lives of their own.

Tilles Center for the Performing Arts
C.W. Post Campus
Long Island University
720 Northern Blvd.
Greenvale, N.Y. 11548
(516) 299-3100

"THE ADVENTURES OF HAROLD AND THE PURPLE CRAYON"
Saturday, April 24, 2010 at 2:00 pm
Tickets: $20
Harold jets to Mars, joins a circus and meets a king in an enchanted garden.
Life-size puppets, masks, magic and music will delight and amaze audiences.
Family Workshops complement shows for younger audiences in a small-scale setting.
To purchase tickets for the Family Workshop preceding the show, contact the Box Office.

New York Theatre Ballet in "CARNIVAL OF THE ANIMALS" and "SLEEPING BEAUTY"
Sunday, May 2, 2010 at 2:00 pm
Tickets: $20
Appropriate for ages 3 and older.
Beautiful costumes, stunning scenery and brilliant dancing bring these two classic fairy tales to life. There is a Family Workshop associated with this performance. For more information, and to purchase tickets, please call (516)299-3100.

Patchogue Theatre for the Performing Arts
71 East Main Street
Patchogue, N.Y. 11772
(631) 207-1313
Some of the shows listed below are primarily meant for school groups, but children not in school at the time may attend as well.

THE MAGIC OF LYN
March 15th at 10 a.m. & 12 p.m.
Tickets: $8.00
All ages.
Deemed America's Premier female Illusionist by the Society of American Magicians, Lyn Dillies is taking the magic world by storm with her stunning array of astounding illusions.
Lyn's talent ignites each show with energy and excitement. Children of all ages will be mesmerized and enchanted by the spectacular magic of Lyn Dillies.

LYLE, LYLE CROCODILE
March 23rd at 10 a.m. & 12 p.m.
Tickets: $7.00
All ages.
This classic story comes to life on stage, before your very eyes. The children love this story.

SCHOOL HOUSE ROCK
April 8th at 10 a.m. & 12 p.m.
Tickets: $8.00
All ages.
Many of you will remember the songs "Conjuction Junction" and "I'm a Bill" from Educational Television.

THE MAGIC OF SCIENCE
April 22nd at 10 a.m. & 12 p.m.
Tickets: $7.00
All ages.
Magic tricks, circus skills and audience participation help explain atoms, molecules, the elements, compounds, solutions, magnets, and static electricity.

LASER VAUDEVILLE CIRCUS
May 17th at 10 a.m. & 12 p.m.
Tickets: $8.00
All ages.
This wonderful program connects science (What is black light?), history (What was Vaudeville?), theater and physical education (What is an acrobat?) in an exciting show.